UTA hosts national gathering of leading scholars and historians of disability history
More than 50 archivists, curators, librarians, disability studies scholars, disability historians, and disability rights activists gathered recently at The University of Texas at Arlington to discuss the process of creating a national Disability History/Archives Consortium.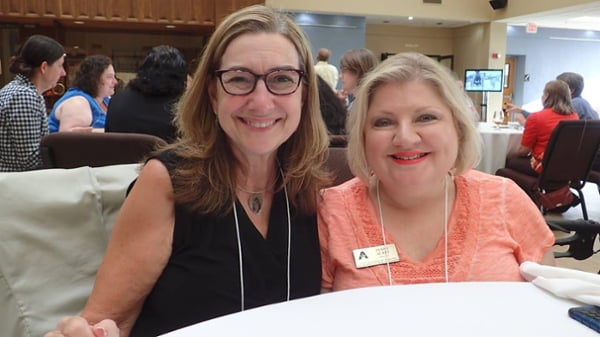 The Consortium will promote the integration of collections, preservation, access and development of educational resources about disability history. UTA was chosen to host the meeting because of its national leadership in preserving disability history.
"We are grateful for this extraordinary opportunity to host colleagues from institutions like the University of California, Berkeley, Association of University Centers on Disabilities, and United States Holocaust Memorial Museum at UTA," said Rebecca Bichel, dean of UTA Libraries. "Together, we can increase the visibility and resonance of these important and often overlooked disability collections."
Conference attendees have holdings associated with the disability rights movement as well as disability history.
Sarah Rose, director of the UTA Disability Studies Minor program and conference co-organizer, underlined the significance of the conference and of focusing attention on people with disabilities. "People with disabilities are the largest minority in the country – they're 20 percent of the population," Rose said. "We have only just begun to integrate this story into a larger picture of the Civil Rights era as well as U.S. history more broadly."
UTA has a long record of serving people with disabilities as evidenced by the adoption of curb ramps on campus in 1970, the establishment of an Office for Students with Disabilities, and the first adaptive sports programs in the mid-1970s.
UTA also was the first university to offer full-tuition scholarships to student-athletes in adaptive sports in 1989. In 2013, the University established the first Disability Studies Minor program in the South, which is offered through the College of Liberal Arts.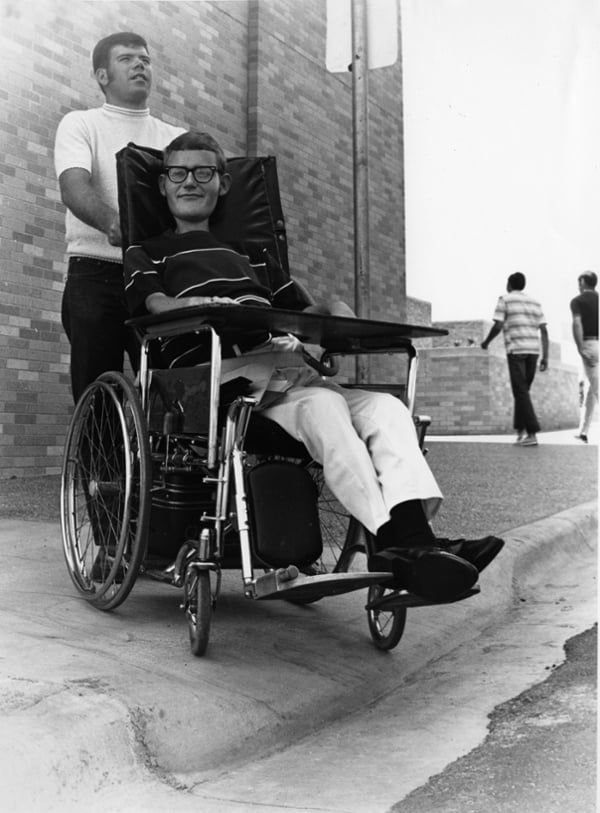 "Development of the Disability History/Archives Consortium and portal is representative of UTA's increasing expertise focused on exploring the social context of health and the human condition under the University's Strategic Plan 2020: Bold Solutions | Global Impact," said Elisabeth Cawthon, interim dean of the College of Liberal Arts.
"We believe the relationships we are building nationally between UTA Libraries, other university libraries, and external organizations are a natural progression to making disability history accessible to all."
Archivists who work with disability history collections often work in isolation. Many archivists are not at university libraries where there is steady student-faculty traffic from which to engage. They work at organizations like the March of Dimes, or agencies and schools like the National Technical Institute for the Deaf, Perkins School for the Blind, American School for the Deaf, and the National Federation for the Blind. 
"Having a room full of archivists who care for disability history collections that illuminate more than 200 years, talking about how they can help a broad public discover this history, is a step towards establishing a way to frame this vital story," said Laurie Block, founder of the Disability History Museum and a conference attendee. "It's a tale about the building of a national civic infrastructure, one that has had fits and starts, but that has worked in many ways."  
Some of the projects emerging from the conference may include determining a technique to preserve Braille records that makes them accessible and interpreting American Sign Language and/or captioning as a priority in a collection. Other projects focus on partnering with the current advocacy community to ensure that records created by post-World War II advocates of civil rights, universal design, and adaptive sports are preserved.
"One great outcome of the conference is that simply by participating, these archivists had the chance to network, meet one another, discuss problems and issues in their special area that few archivists nationally encounter," said Block. "For many, it was the first time they had met other people working on these issues." 
Disability Studies is a developing interdisciplinary field. Over the last two decades, archivists have seen growing interest by scholars in the history of disability​ and disabled people, especially following the grassroots Civil Rights movement that eventually led to the passage of the Americans with Disabilities Act.
A major problem, according to researchers, has been the development of archival collections that reflect those activities and people.
David de Lorenzo, associate director of The Bancroft Library at UC Berkeley, noted that a core group of archivists met in Berkeley last February and, "to our great surprise, quickly came to consensus on the idea that we need to form a consortium to create a support structure, to build on each other's strengths, and to stand stronger as a group in seeking financial support."
Lorenzo said the group's first objective will be to create better access to what has already been documented in institutional silos and progress to seeking and obtaining funding for increased cataloging and digitization.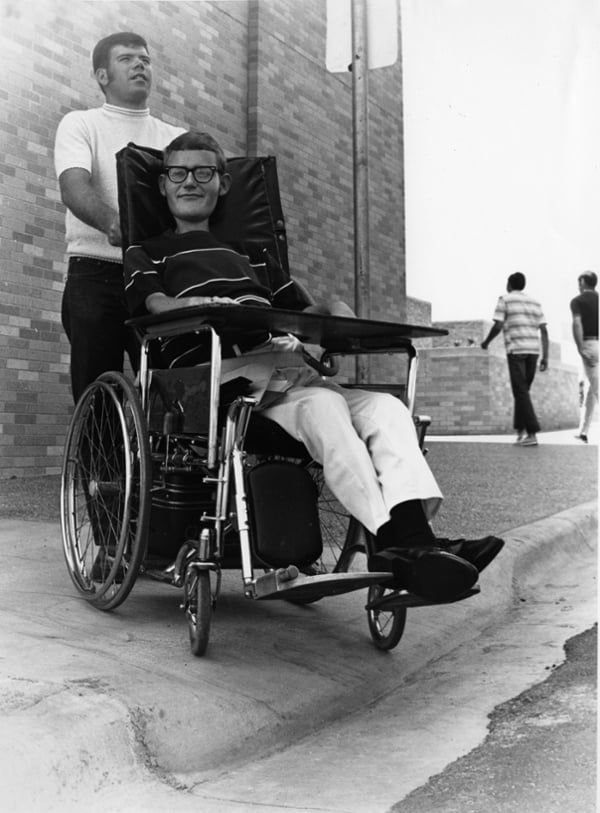 The conference at UTA was made possible, in part, by a $40,000 National Endowment for the Humanities grant. The vision for bringing the group together was to move toward creating a single point of access to a wide-ranging number of websites representing collections from archives, museums, colleges and universities, and nonprofit organizations throughout the nation featuring historical materials on disability history.
"I felt the diversity of representation from different institutes gave us more clout than if we tried to pursue the portal alone," said Joan Naturale, national reference librarian at the Rochester Institute of Technology Wallace Center.
"It also reminded me of many different perspectives in the field, and the possibilities for sharing our knowledge and resources would do so much to educate the world."
Over the next nine months, the governance, digital technology, collections and preservation, communications and outreach, and education committees will all collaborate on a white paper to be submitted to the NEH in April.  
Some aspects of the work include:
Identifying existing disability history collections in archives and developing metadata tags and a glossary of disability history terms for cataloguers;
Developing a technical survey of archives and libraries about their current standards for digital materials (including accessibility) and cataloguing disability terms;
Helping to team donors with institutions willing to serve as repositories, such as UTA's Texas Disability History Collection;
Developing guidelines for teachers about disability history;
Surveying existing disability history curriculum materials.
As the portal is developed, the Consortium hopes to help transform how people think about the history in terms of social welfare and human rights. "As many Americans have experienced, disability can happen at any time, to anyone, at any point in the lifespan, regardless of race, class, gender, nationality, or ethnicity," said Block. 
"We have developed all kinds of resources to facilitate the needs of individuals and families and to foster the capability of all," de Lorenzo said. "Developing the tools to discover how this happened over time, its successes and wrong turns, is what the Disability History /Archives Consortium portal will help citizens, scholars, people with disabilities, and their allies to do."
For more information about the Disability History/Archives Consortium, contact NEH grant principal investigators Brenda McClurkin at mcclurkin@uta.edu and Sarah Rose at srose@uta.edu.
--Written by Catherine Page
About The University of Texas at Arlington
The University of Texas at Arlington is a Carnegie Research-1 "highest research activity" institution of about 55,000 students in campus-based and online degree programs and is the second-largest institution in The University of Texas System. U.S. News & World Report ranks UTA fifth in the nation for undergraduate diversity. The University is a Hispanic-Serving Institution and is ranked as the top four-year college in Texas for veterans on Military Times' 2016 Best for Vets list. Visit www.uta.edu to learn more, and find UTA rankings and recognition at www.uta.edu/uta/about/rankings.php.
For more on the Strategic Plan, see Strategic Plan 2020: Bold Solutions | Global Impact.