UTA official named to Committee on Economic and Social Sustainability for Airports by the national Transportation Research Board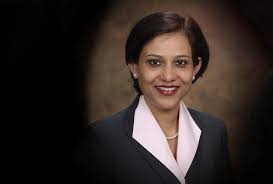 Meghna Tare, executive director of UTA's Institute for Sustainability and Global Impact, has been named to the Committee on Economic and Social Sustainability for Airports by the Transportation Research Board.
This Board is one of seven program units of the National Academies of Sciences, Engineering and Medicine, and provides independent objective analysis and advice to the nation to help solve complex problems and inform policy decisions.
"I am the only representative from a university campus on the committee of 11 people," Tare said. "My participation will give us greater understanding of the sustainability needs of airports and will open up new research collaboration and partnership opportunities."
The committee includes representatives from San Diego and Atlanta International airports, United Airlines and the City of Oregon, among others. The senior program officer of the Health and Medicine Division of the National Academies of Sciences, Engineering, and Medicine and the senior program officer of the Transportation Research Board are also committee members.  
"The nomination and selection of Meghna Tare for this committee is a clear recognition of her high reputation and expertise around sustainability," said John Hall, UTA's vice president of Administration and Campus Operations.
"Her work at UTA improving our environmental footprint, along with experience developing a Sustainability Action Plan for Dallas International Airport, have both provided an excellent basis for this participation on a national level."
Tare's committee term is for one year.
UTA was recently recognized for completing the Sustainability Tracking, Assessment & Rating System Silver rating through the Association for the Advancement for Sustainability in Higher Education. The University is carrying out multiple programs in areas such as energy efficiency, green purchasing, carbon management, waste reduction and water conservation.
About The University of Texas at Arlington
The University of Texas at Arlington is a Carnegie Research-1 "highest research activity" institution. With a projected global enrollment of close to 57,000 for Academic Year 2016-17, UTA is one of the largest institutions in the state of Texas. Guided by its Strategic Plan 2020 Bold Solutions|Global Impact, UTA fosters interdisciplinary research and education within four broad themes: health and the human condition, sustainable urban communities, global environmental impact, and data-driven discovery. UTA was recently cited by U.S. News & World Report as having the second lowest average student debt among national universities. U.S. News & World Report cites UTA as having the fifth highest undergraduate diversity index among national universities. The University is a Hispanic-Serving Institution and is ranked as the top four-year college in Texas for veterans in Military Times' 2017 Best for Vets list.