Biologist receives NSF early career award
Ravenscraft's research focuses on how insects disable plant toxins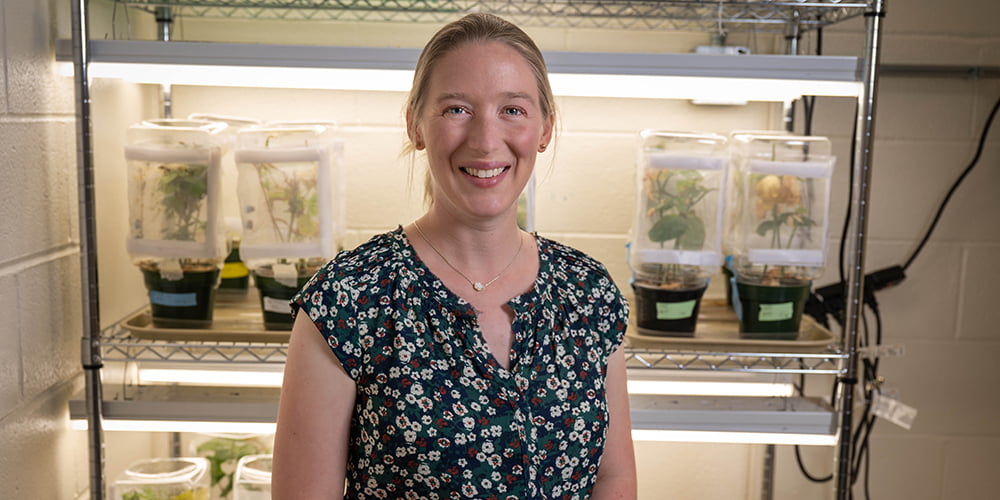 A biologist at The University of Texas at Arlington has received a prestigious national award for her research into how bacteria in the guts of insects break down natural defense toxins produced by plants, making them consumable for the host.
The research could prevent both the large loss of food crops and the need for costly pesticide treatments. The Food and Agriculture Organization of the United Nations estimates that pests destroy up to 40% of global crop production annually. Invasive insects cost the global economy at least $70 billion a year.
Alison Ravenscraft, UTA assistant professor of biology, is the recipient of a five-year, $895,000 grant from the National Science Foundation (NSF)'s Faculty Early Career Development Program, known as a CAREER award. Her project, titled "CAREER: Prevalence, magnitude, and importance of gut microbial detoxification services in insect herbivory," will help provide answers to how much help insects receive in detoxification from their gut microbiota. Doctoral and undergraduate students in her lab will assist in conducting the research.
Rachel Vargas, a first-year doctoral candidate in Ravenscraft's lab and member of UTA's Maverick Bridge Doctoral Fellowship program, is among the students who will work on the project.
"I'm so excited to finally have the chance to do this research," Ravenscraft said. "I first learned about symbiont-mediated detoxification over six years ago and I've been wanting to study its effects on insect herbivory since then. I'm also really excited to bring more hands-on research opportunities to undergraduates at UTA."
"The goal of this research is to identify which bacteria break down plant toxins and measure how much these bacteria help insects eat plants," Ravenscraft said. "Understanding the different ways insects disable plant toxins will help us design more effective, targeted insect control strategies. Ultimately this could reduce crop losses and lessen the need for broad-spectrum pesticides."
The study will utilize beetles, grasshoppers and caterpillars feeding on plants with different defense chemistries. The project's main goals include:
isolating bacteria from herbivorous insects' guts and identifying what plant toxins these bacteria can degrade,
measuring the ability of these bacteria to detoxify plant chemicals when inside the insect, and
quantifying the impact of gut microbial detoxification on insect fitness and plant consumption.
"I want to congratulate Dr. Ravenscraft on this tremendous honor," College of Science Dean Morteza Khaledi said. "Her study could provide important new evidence of how insects are able to neutralize plant toxins, which could have major implications for agriculture regarding the number of crops lost to insects and the kinds of pesticides used to protect crops."
The CAREER award is heavily focused on undergraduate STEM teaching and will enable Ravenscraft to develop related hands-on lab activities for her current class, "Microbial and Evolution," which a total of up to 120 students will take over the five-year duration of the grant. She also will develop a course-based summer research experience in which up to six students per year will assist with insect rearing and data collection.
In addition, the award will enable Ravenscraft to recruit two students per summer starting in the second year of the project to design and conduct independent research projects.
CAREER awards are the NSF's most prestigious awards in support of early-career faculty who have the potential to serve as academic role models in research and education and to lead advances in the mission of their department or organization.
- Written by Greg Pederson, College of Science