Meet Kevin
CAPPA Student Voices - Your story could be next.
Bachelor of Science in Interior Design
Kevin Nguyen is a senior student pursuing a Bachelor of Science in Interior Design. His experiences so far are profound, and he continues to make significant progress in achieving his degree. Kevin has a passion for design, and he continues to find things that inspire him, "the interior design program has greatly opened my mind about what it takes to be a designer", he said. Kevin acknowledges the impact of this program on his future career and is very optimistic about this journey. He added, "It has been a wonderful experience and the potential is exceptional."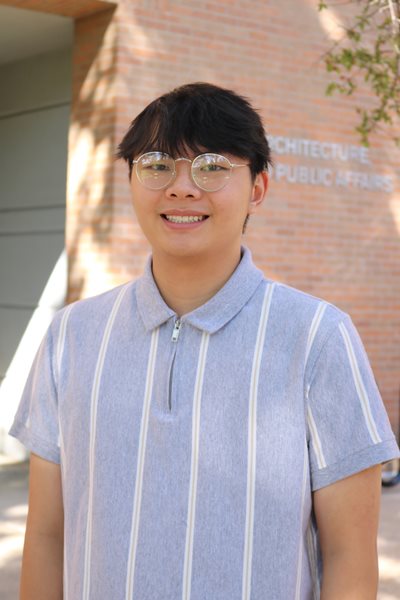 Kevin has made great strides not just academically, but also in finding opportunities to help build a career in interior design. Recently, he traveled with the university to Miami, Florida for an Interior Design conference. While there, Kevin was able to listen to lectures on the latest innovations in interior design from professionals from around the nation. Kevin believes he gained significant knowledge, which is very important in this industry, as it helps broaden his horizon.
The Bachelor of Science in Interior Design requires students to take 128 credit hours for an average of 17 credit hours per semester with labs. As a senior, Kevin has already completed many drawing courses, studio hours, and mathematics courses such as Architectural Calculus with Analytic Geometry. The program is designed so that students are prepared for entry-level positions upon graduation. Kevin hopes to take a design internship next semester, which will give him the opportunity to connect with fellow designers. Kevin says one of the reasons he chose CAPPA is the positive environment and the community spirit. He also added "students should choose CAPPA because they provide a unique learning experience, particularly with the interior design program and students being able to communicate with architecture students in their first few semesters." Kevin is most proud of the connections he has made with his peers, and believes making friends is important for a successful college career. Kevin described the Interior Design program as "close-knit," and looks forward to more positive experiences.
Bachelor of Science in Interior Design
Study Interior Design at UTA
The program strengthens public decision making and the delivery of public services in a globalized and diverse society.