Meetings and Events
Upcoming SAC meetings, SAC events, and UTA events.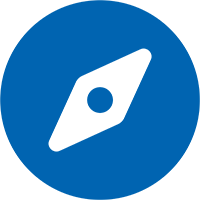 Contact Us
SAC Meetings
SAC general assembly meetings are held at 3 p.m. the second Tuesday of every month in the Trinity Hall 104, located at 800 Greek Row Dr.
The meeting is open to all staff, as well as members of the UTA community.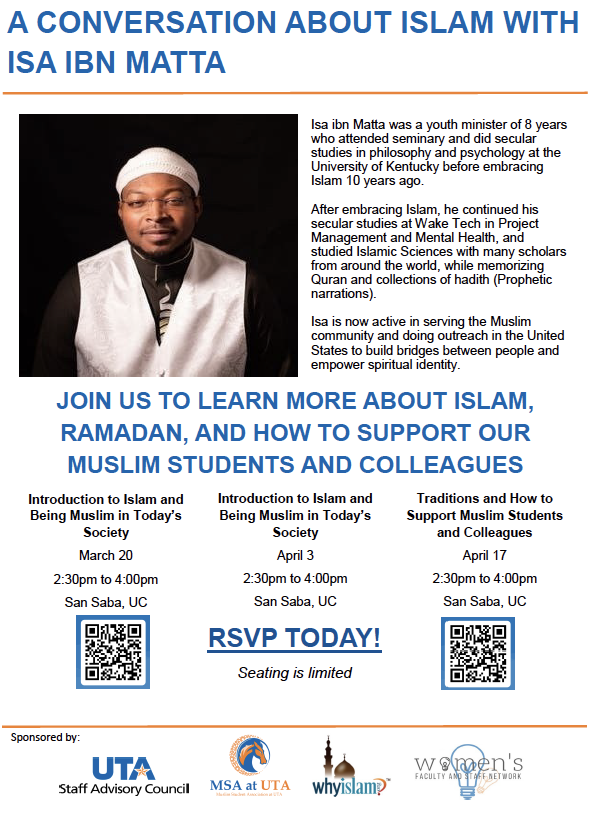 Introduction to Islam and Being Muslim in Today's Society
March 20, 2023 & April 3, 2023
2:30pm - 4:00pm
San Saba, University Center


Traditions and How to Support Muslim Students and Colleagues
April 17, 2023
2:30pm - 4:00pm
San Saba, University Center

Join us as we learn about Islam, Ramadan, and ways we can support our students and colleagues.

Isa ibn Matta has a background in philosophy, project management, mental health, as well as Islamic Studies. Having embraced Islam 10 years ago, Isa is now active in the Muslim community and works to build bridges between people while empowering spiritual identity.

This event is free and for staff/faculty only. Seating is limited so please RSVP at the link below.

Register Now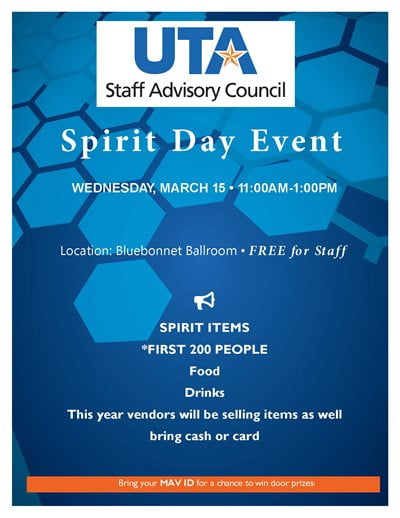 Staff Advisory Council Spirit Day is Wednesday, March 15th 2023 from 11:00 am to 1:00 pm in the Bluebonnet Ballroom at the University Center.

This is a free event put on by Staff Advisor Council. All staff are invited and encouraged to come out to Bluebonnet Ballroom. There will be spirit items for the first 200 people who attend. We will have vendors from around the Metroplex that will be giving away free items, and selling things, so please bring money if you are interested.

If you bring your MAV ID Card you will be able to get your name in a drawing for door prizes
Vendor Registration
January 27th
7pm - 10pm

EV1287 -WBB vs California Baptist
Women's basketball will host California Baptist Thursday evening at CPC. Parking for this event will be free- available at the Park Garages and Lot 45
January 27th
10am - 4pm

EV1421 -MODL 2nd Annual Open House
Dept. of Modern Languages will be hosting its open house this Friday in Hammond Hall. 150 high school students and their teachers will be attending, buses will use the bus parking spaces on West St.
January 27th
5:30pm - 8:30pm

EV1476 - Gallery at UTA Art Exhibition Reception
Fine Arts will host an art exhibition reception in The Gallery this Friday evening. Around 200 are expected to attend, parking will be in West Campus Garage.
January 28th
12pm - 6pm
EV1493 -AICP Exam Workshop I
This is the first of two AICP Exam Workshops.Around 35 are expected to attend this in CAPPA, parking in West Campus Garage.
January 28th
5pm - 9pm

EV1456 - Softball First Pitch Banquet
Athletics will be hosting this banquet in CPC Saturday evening, expecting around 80 to attend. F13 will be reserved for this event.