Meet Jessica
CAPPA Student Voices - Your story could be next.
Ph.D. in Urban Planning and Public Policy
Jessica Suma is a graduate student pursuing her Ph.D. in Urban Planning and Public Policy (UPPP). She has always been passionate about development and strategic planning and is glad to be taking successful strides with CAPPA. Jessica has enjoyed the discovery that comes with the UPPP Doctoral Program. The program has two centers - the Centre for Transportation, Equity, Dollar, and Decisions (CTEDD) and the Institute of Urban Studies (IUS) and Jessica had the opportunity to work with both as a Graduate Research Assistant (GRA). By participating in many research projects in both centers, Jessica has been able to connect with the other disciplines in CAPPA beyond her current program. "Every day is new learning--culture, people, knowledge, perspectives, and of course research," she said.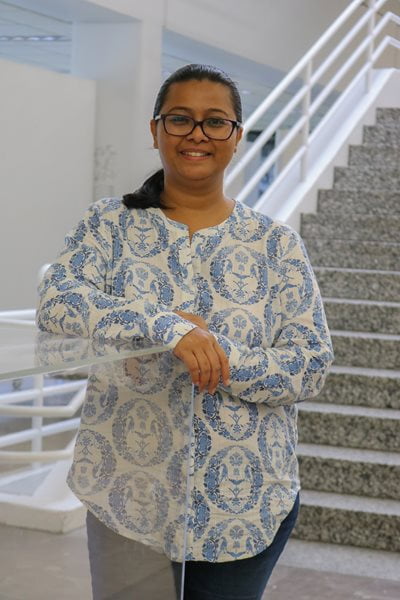 The UPPP program can be challenging and requires students to make substantive contributions to their chosen field. Jessica is preparing to write and defend a research work dissertation, which is one of the most important aspects of this program. This program requires 48 credit hours beyond the master's degree, including a minimum of 39 credit hours of coursework and 9 dissertation credit hours. Jessica has been working hard for two years now in the program. She has made significant contributions to the UPPP program in her work with the CTEDD and IUS, aiming to increase the efficiency of transportation policies, and aid government and non-profits in urban affairs.
Before transitioning to UTA, Jessica worked as a Senior Lecturer for the Department of Global Studies and Governance and the Department of Media and Communications at Independent University in Bangladesh. While managing a career and family, she has been able to publish many articles and be a part of multiple research projects at UTA. While it has been a fascinating journey, Jessica is persevering to achieve her personal and professional goals.
Jessica says the college environment is very welcoming and encourages prospective students to consider CAPPA. Jessica added, "I feel at home thanks to the accessible mentorship of the faculty that is ready to assist their students." Jessica has made significant progress since joining UTA and continues to look forward to more research projects, working with professors, and hopes to gain first-hand experience in the public sector. This has helped guide her Doctoral Research Projects and she looks forward to completing this program. As Jessica continues her studies, she hopes to spend time teaching, enjoying the outdoors, concerts and meeting new people.
Ph.D. in Urban Planning and Public Policy
Study Urban Planning and Public Policy at UTA
The program strengthens public decision making and the delivery of public services in a globalized and diverse society.