Recent PhD Alumni Wins Early Career Author Distinction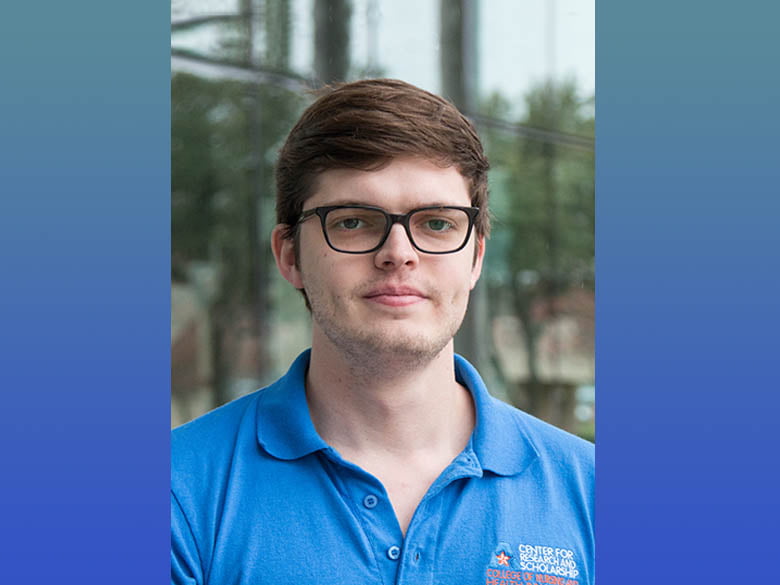 Kinesiology alumnus Ben Young has won the prestigious Experimental Physiology's Early Career Author Prize for 2020/2021. Young graduated in 2020 with his PhD in Kinesiology from the Department of Kinesiology where he worked in the Human Neural Cardiovascular Control Lab at UTA led by Dr. Paul Fadel, Associate Dean for Research and Professor. Young won the award for his research paper titled "Augmented resting beat-to-beat blood pressure variability in young, healthy, non-Hispanic black men," based on research conducted in Dr. Fadel's lab.
"I am very happy that I have been selected for this award among all of the great entrants this year. I think this award exemplifies the quality of work conducted not only in Dr. Fadel's lab, but across the entirety of the College of Nursing and Health Innovation at UTA," said Young.
Young came to UTA in 2016 to join Dr. Fadel's team as a PhD student, and is now moving on to start a postdoctoral fellowship in the Department of Applied Clinical Research at UT Southwestern.
Dr. Young's interests span neural control of the circulation and metabolic organs in human health and disease, with a particular emphasis on populations with a greater propensity for the future development of cardiovascular disease.
"I'm basically interested in clinical pathologies associated with autonomic nervous system dysregulation, and how autonomic dysfunction contributes to the future development of cardiovascular disease" said Young. "The research conducted in Dr. Fadel's lab has real tangible clinical relevance, we are conducting studies which we hope can lead to clinical application, and down the road therapeutic strategies."
"We focus on the regulation of the sympathetic nervous system to better understand the autonomic dysregulation that is present in individuals at risk for the development of cardiovascular disease" said Fadel. "Ben has been a major contributor to these research efforts over the past few years."
While his dissertation focused on type 2 diabetes, the article that Young has won acclaim for was related to research on blood pressure regulation in Black men, which is one component of many studies conducted in a series of collaborative studies funded by the National Institutes of Health between Dr. Fadel and Dr. David Keller, also a Professor in Kinesiology at UTA and an Associate Dean within the College of Nursing and Health Innovation.
It is well known that the prevalence of hypertension in Black individuals exceeds that of all other racial groups. However, the underlying factors remain incompletely understood. Most notable about this research was that it was the first quantification of a greater heartbeat by heartbeat variability in blood pressure in young healthy Black men. This type of variability has been suggested to be more closely reflective of physiological control mechanisms and thus may provide additional information beyond standard monitoring methods.
"What was interesting, was that the Black men exhibited a greater number of their cardiac cycles (i.e., heartbeats) on not only the high end, but also the low end of their blood pressure distributions. We took this to suggest that the Black men may be experiencing greater oscillations in blood pressure over time," said Young.
This research article authored by Young was published in 2020 in Experimental Physiology. This article was also notably selected as the editor's pick for the issue and therefore includes a video summarization of the findings.
The Experimental Physiology Early Career Author prize was established in 2009 to reward early career authors who publish outstanding research papers in Experimental Physiology that best meet the journal's remit of translation and integration.
Young has had an impressive start to his career during his time at UTA, also having received an American Heart Association Predoctoral Fellowship and several research awards from the American Physiological Society.