College of Engineering Facilities
Aerodynamics Research Center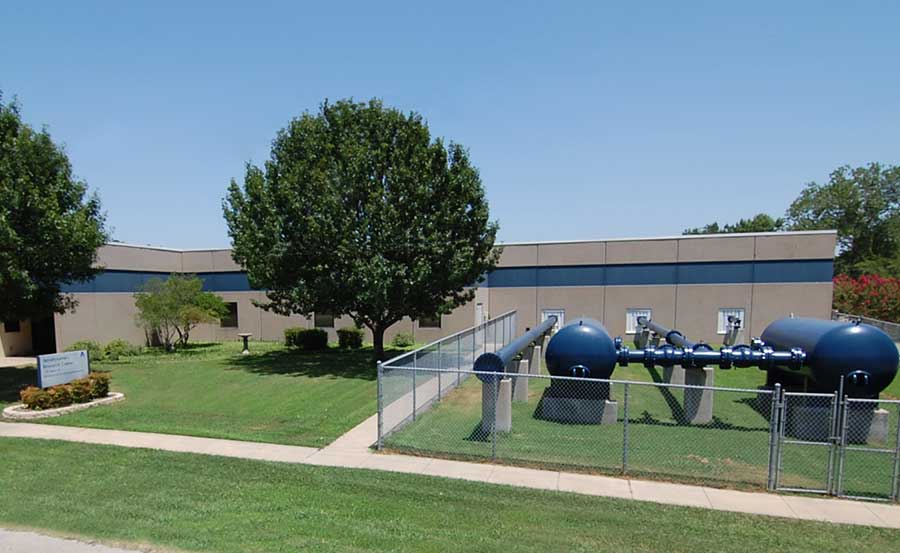 The Aerodynamics Research Center has existed at the university in one form or another since the 1930s, when it was an aircraft maintenance and fabrication facility. In 1986, the present building was constructed to allow for a large expansion of equipment which now includes low speed, transonic, supersonic, and hypersonic facilities, including a new arc-heated, hypersonic wind tunnel, one of just a handful of its kind in the United States and the only one at a university. Current research has focused on high speed aerodynamics, shock/boundary layer interaction, and various engineering aspects of detonation (which includes pulsed detonation engines). In addition to the experimental facilities, there are extensive capabilities to study and test aerodynamic models using Computational Fluid Dynamics. The experimental test results can be used to validate the CFD models, and vice-versa.
Civil Engineering Lab Building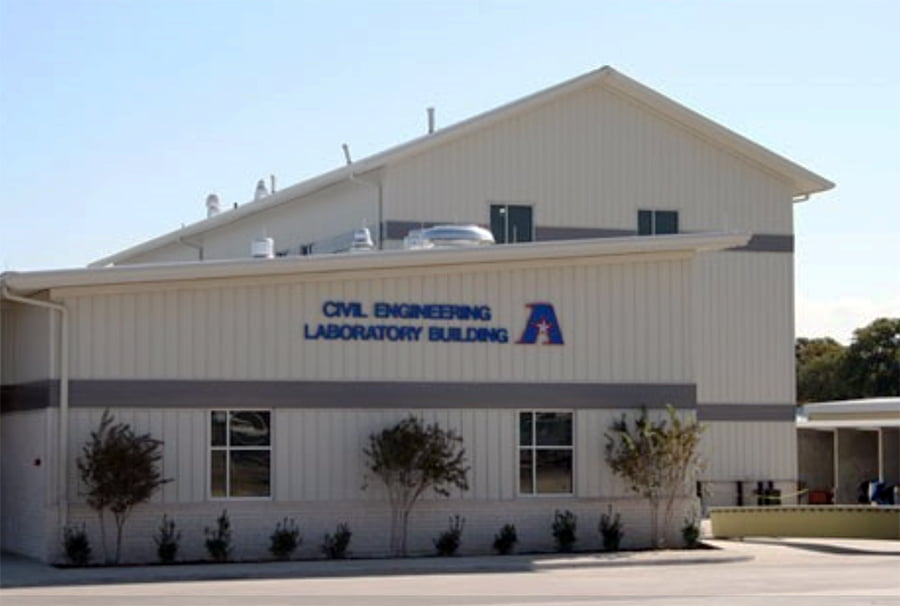 Situated on the west side of the UT Arlington campus, the Civil Engineering Lab Building replaces labs formerly located in the Engineering Lab Building and provides enhanced teaching and research facilities for civil engineering faculty members, students and staff. Completed in 2008, the 26,000 square foot facility houses areas for the study of asphalt/pavement, construction engineering, materials/structures, and geoenvironmental and geotechnical systems. The new facility includes state-of-the-art laboratories that enhance the learning experience of the students in the rapidly growing department, plus space for areas of high-demand research.
Engineering Lab Building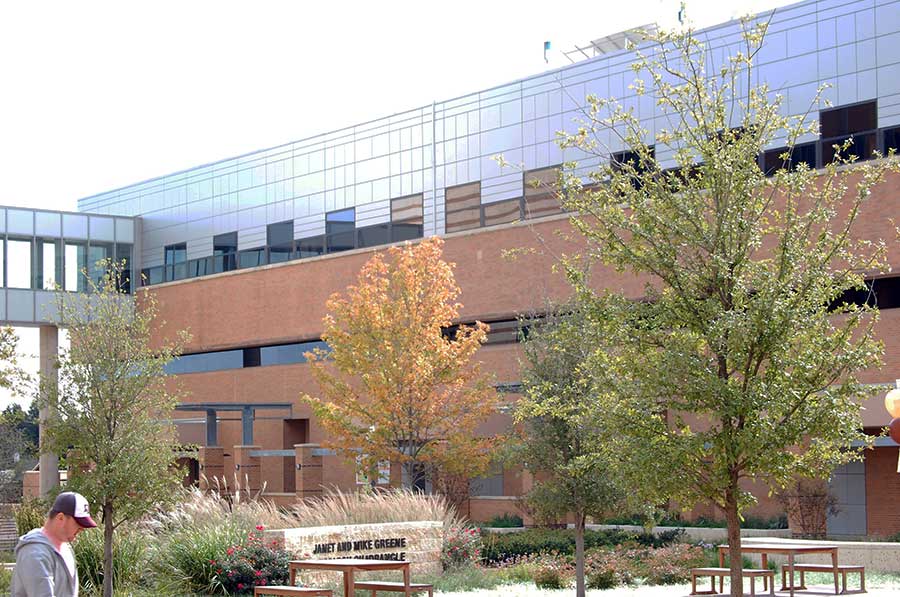 Completed in 2009, the $22 million expansion of the Engineering Laboratory Building provides an additional 27,000+ square feet of space through the addition of a third floor. New laboratories and offices are occupied by the Electrical Engineering and Materials Science and Engineering departments.
Several energy-saving features were incorporated into the new construction, including the use of 1" insulated tinted glass that can transmit much of sun's visible light while blocking more than 80% of its solar energy, panels located on the south elevation to bounce daylight deeper inside the building, and a reflective system that channels daylight down to interior classroom ceilings.
Engineering Research Building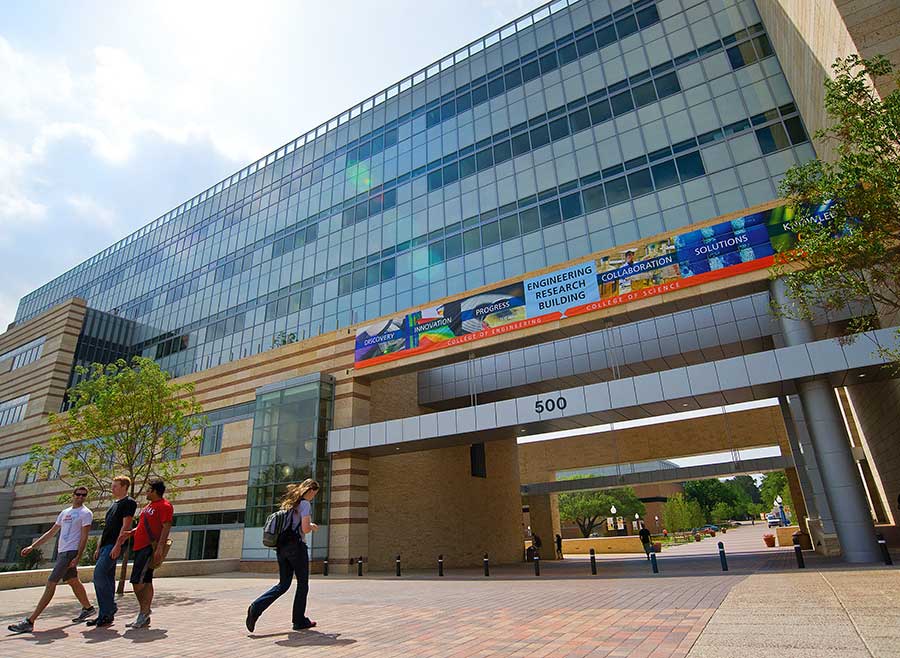 The Engineering Research Building provides approximately 234,000 square feet of space for state-of-the-art, multidisciplinary research and teaching labs and classrooms, faculty and graduate student offices, administrative offices, conference rooms and support areas. The building's design incorporates several energy-saving features, including green and light-reflecting roofs, window designs for improved use of available light, rain and condensate water capture and storage for landscaping, use of recycled materials, and others that will allow the facility to meet requirements for LEED® Gold certification. The building houses offices and labs for the Bioengineering and Computer Science and Engineering Departments, as well as offices and labs for the College of Science.
Nedderman Hall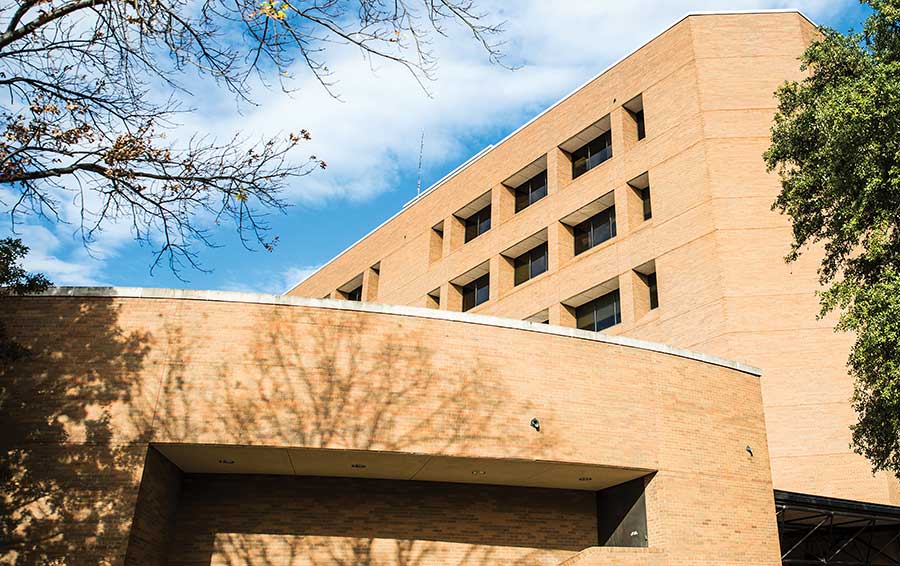 Nedderman Hall is the College of Engineering's primary facility. In it are the office of the Dean of Engineering; offices of the Civil Engineering and Electrical Engineering Departments; the Science and Engineering Library; several laboratories and classrooms, and a large auditorium. The two-story atrium features banners representing the nations of all students who have pursued engineering degrees at UTA.
Constructed in 1988, Nedderman Hall is named for Dr. Wendell H. Nedderman, the first dean of the College of Engineering and president of the University from 1972 to 1992. Dr. Nedderman continued to teach civil engineering courses for several years after being named president emeritus.
Science & Engineering Innovation & Research (SEIR) Building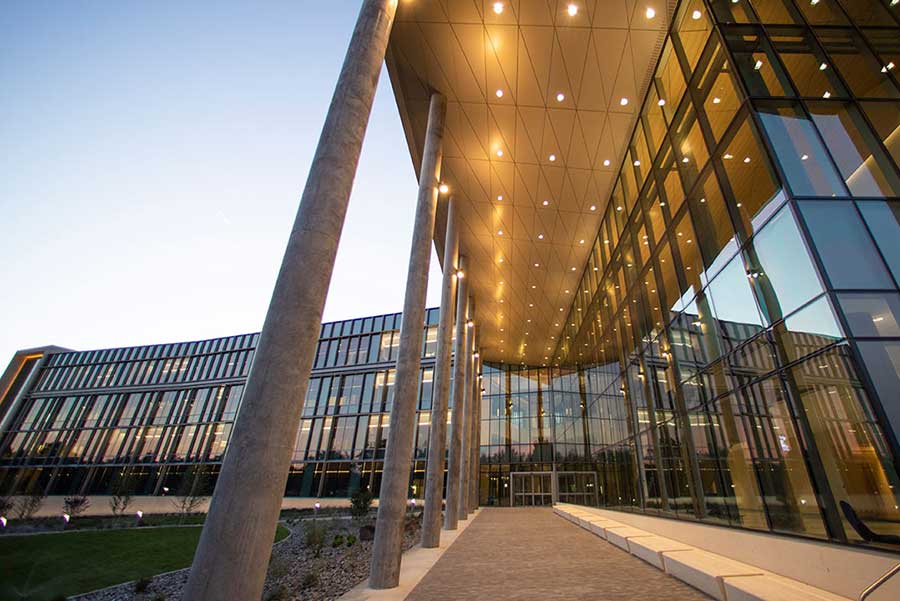 The state-of-the-art teaching and research space allows researchers to advance health-science discoveries and society's understanding of today's most pressing health issues. SEIR promotes an interdisciplinary approach to research built around engineering, science, nursing, kinesiology, and public health.
The building is divided into research neighborhoods, which brings together teams from a wide range of disciplines to work in close proximity, allowing for a freer exchange of ideas. Instead of disparate labs across campus, these neighborhoods are large, multidisciplinary spaces where researchers can collaborate to create novel approaches for addressing the pressing issues affecting the life and health sciences.
Shimadzu Institute Nanotechnology Research Center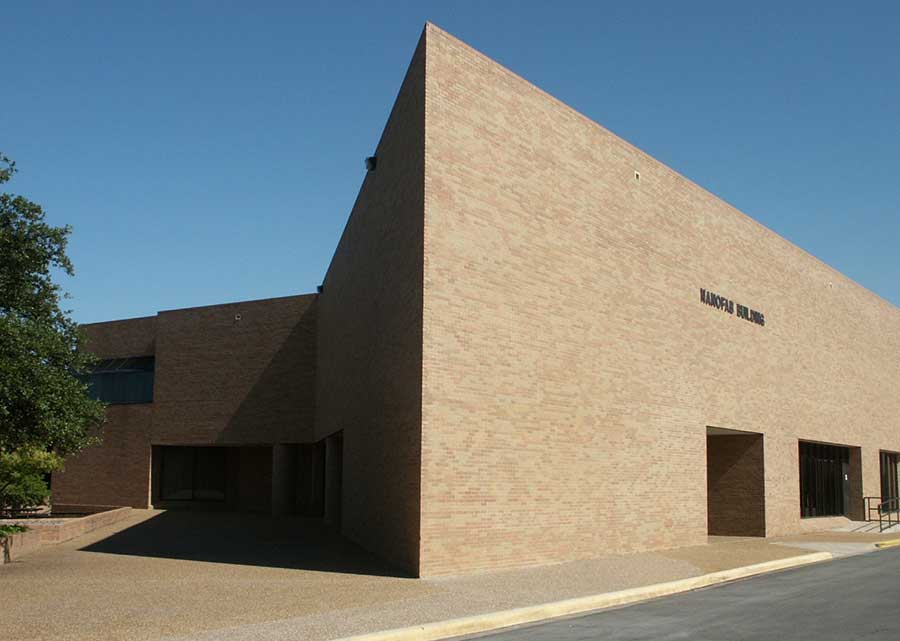 The University of Texas at Arlington is home to the preeminent university-based nanotechnology research, development and teaching facility in North Texas. The Shimadzu Institute Nanotechnology Research & Education Center is an interdisciplinary resource open to scientists within and outside of the University. Research activities are conducted through mutually-beneficial associations of chemistry, electrical engineering, mechanical and aerospace engineering, materials science and physics faculty, graduate students and research assistants at UTA, as well as collaborative efforts with investigators at other universities and in the private sector.
UTA Research Institute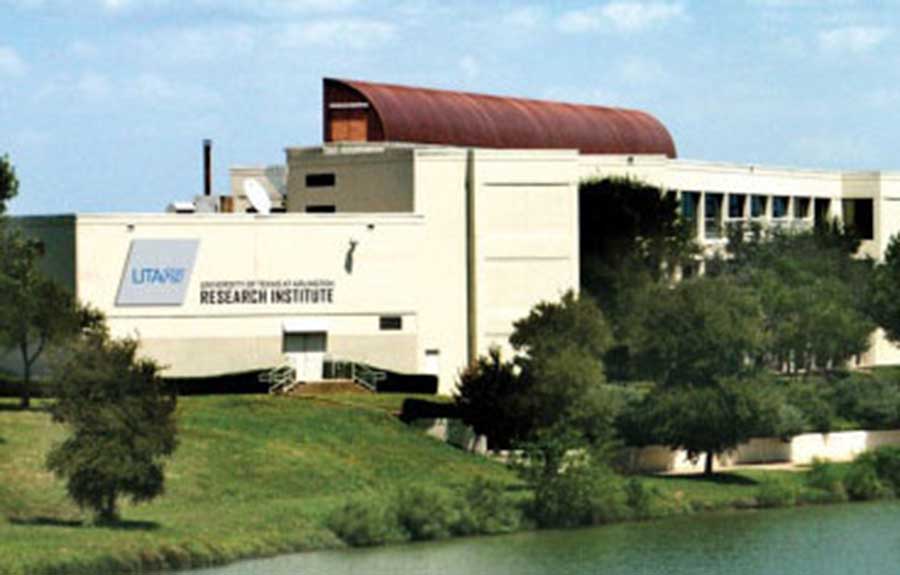 The UTA Research Institute (UTARI) is a research and development unit of UTA, specializing in applying cutting-edge technologies to real-world engineering problems.
UTARI's vision is to become a premier research institute, transforming ideas into realities through unbounded research and innovative development that sustain business and industry, advance humankind, and benefit our global society. The collaborative endeavors of engineering researchers at UTARI reflect a commitment to excellence, integrity, and respect for all, bringing economic growth and fulfillment to our families, business partners, university, and community.
Woolf Hall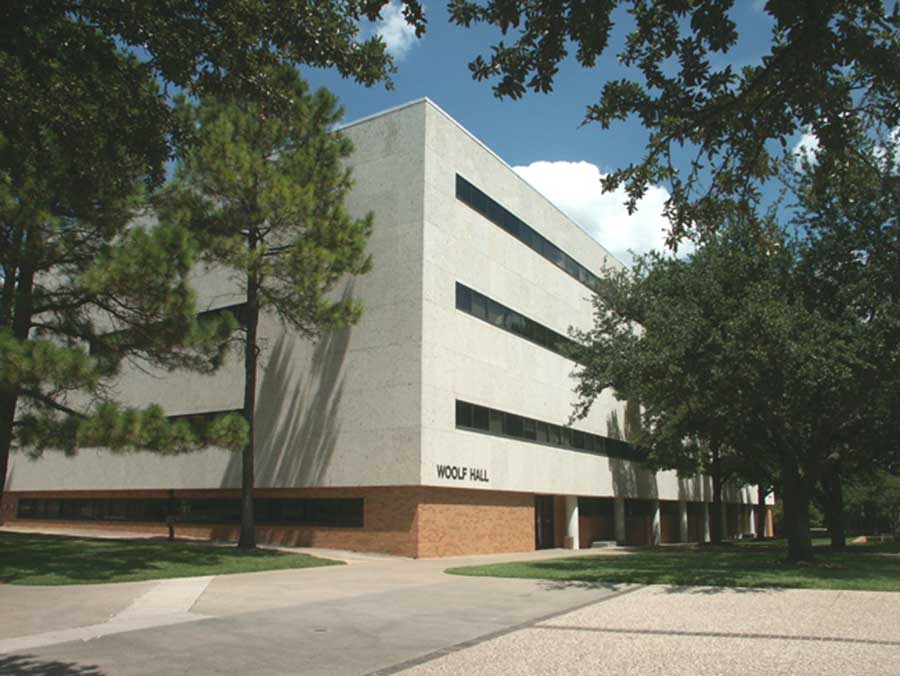 Woolf Hall is the College of Engineering's second-largest building, housing the offices of the Industrial and Manufacturing Systems Engineering and Mechanical and Aerospace Engineering Departments, plus a large number of laboratories and workshops. The building also is the home of the interdisciplinary Autonomous Vehicles Laboratory and the Arnold E. Petsche Center for Automotive Engineering, which houses the Formula SAE racing team's offices and garage.
Constructed in 1960 and extensively renovated in 1988, Woolf Hall is named for Dr. Jack R. Woolf, president of Arlington State College (now UTA) from 1959 to 1968. During his tenure, the University moved from being a junior college to a four-year, baccalaureate degree institution. After being named president emeritus in 1968, Dr. Woolf taught mechanical engineering courses until 1994.