Every year, the college celebrates Engineers Week during the week of George Washington's birthday (February 22). The founding father is considered America's first engineer. The College of Engineering will reach out to the University and the surrounding community to showcase what engineers do and why they are important in daily life.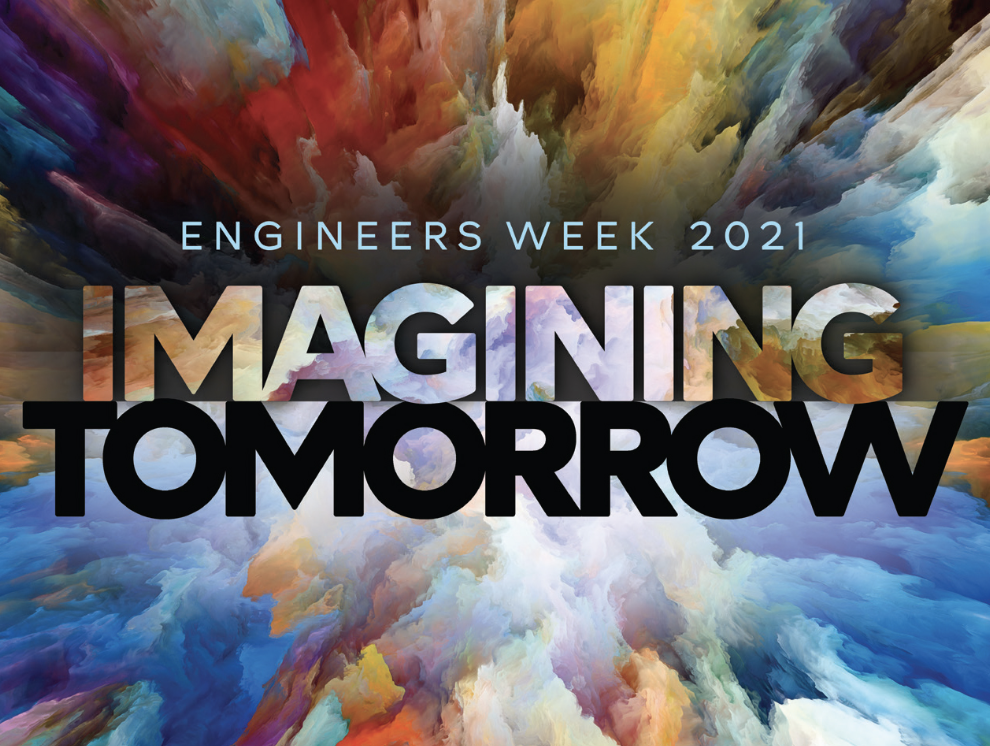 Hashtag Contest
Be sure to use the hashtags below to enter to win prizes!
Post about E-Week on your Facebook or Instagram and use the hashtags below throughout the week to win prizes!
Two prizes will be given for the pre E-week events and one prize will be given each day during E-week!
Below is the full schedule of events with links to join so you can plan your participation in these fun activities:
Pre-Engineers Week Events -
#IsEWeekReadyForYou
February 10: Résumé Workshop with Carole Coleman, Cooperative Education and Internship Coordinator Learn how to write a professional résumé that will get you noticed and help in your career search. (Noon to 1 pm; Virtual via Teams Live)
February 12: Application for Mr. And Ms. Engineer Candidates Deadline Mr. and Ms. Engineer represent the College of Engineering at events throughout the year and are ambassadors for all engineering students.
February 15-19: Mr. and Ms. Engineer Campaigning and Voting Learn more about your candidates and vote for your choice to represent the College. (Vote from Feb. 15 at 8 am through Feb. 19 at midnight via Survey Monkey)
Monday, February 22 -
#WhatEngineersWant & #MavUpForEWeek2021
Students showcase their computing-related work in and out of classrooms, learn from professional role models, and engage with leaders of industry and society. (9 am to 7 pm; Virtual via Zoom; More information HERE; Deadline to register: Feb. 12)
[POSTPONED to MARCH 1] Engineering Resource Day, co-sponsored by Society of Hispanic Professional Engineers (SHPE)
Swag bags for the first 250 PRE-REGISTERED students with information and swag from campus departments that provide support services for engineering students. (11 am to 1 pm; Engineering Mall between NH and ERB; Advance registration required through MavOrgs)
[CANCELLED] Pie-A-Club-Officer, co-sponsored by the Rover Team
Donate to vote for your favorite student org officer to get a pie in the face! Proceeds benefit the Dean's Excellence Fund for student scholarships. (4 pm; Watch on Teams)
Tuesday, February 23 -
#WhatMakesAnEngineerSuccessful & MavUpForEWeek2021
Interview Workshop with Carole Coleman, Cooperative Education and Internship Coordinator You've secured the interview, now learn how to shine when you get face-to-face with your prospective new employer! (Noon to 1 pm; Virtual via Teams Live)
Lockheed Martin Virtual Tech Talks
Hardware In The Loop is "The Matrix for Missiles". In order to save money Lockheed Martin tests and "flies" a missile while it sits on a bench, by injecting simulated real world information into the missile's sensors.
Join 'Hardware in the Loop' on Zoom
Password: 032810
Who is the bridge between electrical and mechanical system design? This presentation will detail the role of the electro-mechanical engineer, and how electrical schematics turn into physical hardware for a rugged, military environment. (Times above; Virtual; Links will be posted on E-Week website once it's finalized)
Join 'Electromechanical Engineering' on Zoom
Password: 088910
IISE's annual joint meeting brings together students, faculty, and members of UTA's and DFW's chapters of IISE in an event that is centered around networking and having fun. (6 pm to 8 pm; Virtual; Link will be posted on E-Week website once it's finalized)
Trivia Night, co-sponsored by American Society of Mechanical Engineers (ASME) and the Rover Team
Question: What's a great way to spend an evening? Answer: Trivia Night! Join us to play trivia with other engineering students and win cool prizes! (6 pm to 7:30; Virtual on Teams)
Wednesday, February 24 -
#WhyEngineersAreImportant & MavUpForEWeek2021
Student Orgs Speed Meet-and-Greet, co-sponsored by Engineering Student Council (ESC) and Institute of Industrial and Systems Engineers (IISE)
Learn about all of the many student organizations available to engineering students from the comfort of your home! It's a come-and-go event where you can visit virtually with as many orgs as you like! (11 am to 1 pm; Virtual via MavOrgs; Registered student organizations interested in hosting a chat room should sign up through the button on your MavOrgs page)
Join us for a socially distanced, in-person free showing of this time-bending tale of international espionage by director Christopher Nolan! (7 pm to 9:30 pm; Rosebud Theater, UC; Maximum capacity is 86; Advance reservations required through Event Pass)
Thursday, February 25 -
#EWeekMatters & MavUpForEWeek2021
Internship Panel, co-sponsored by Society of Asian Scientists and Engineers (SASE) and Society of Hispanic Professional Engineers (SHPE)
Want to learn how to get an internship? Well, hop onto our Teams meeting and you can learn from other fellow UTA students who will share their experiences and advice. (5:30 pm to 7 pm; Virtual on Teams)
Friday, February 26 -
#WhatExcitesEngineers & MavUpForEWeek2021
Come meet employers to apply for job openings available now or soon! Be sure to have your résumé ready to go and dress up! (11 am to 4 pm; Virtual via Vfairs)
Game Night, co-sponsored by Society of Asian Scientists and Engineers (SASE) and American Society of Mechanical Engineers (ASME)
Join us for a fun night of games and prizes: Virtual Bingo and Jeopardy (Teams); Intermission; Pick-Your-Game (Discord). (7 pm to 8:30 pm; Games Night Virtual on Teams and Game Night Virtual on Discord)
Winners to be announced during Game Night Intermission