Kalpana Chawla Memorial Display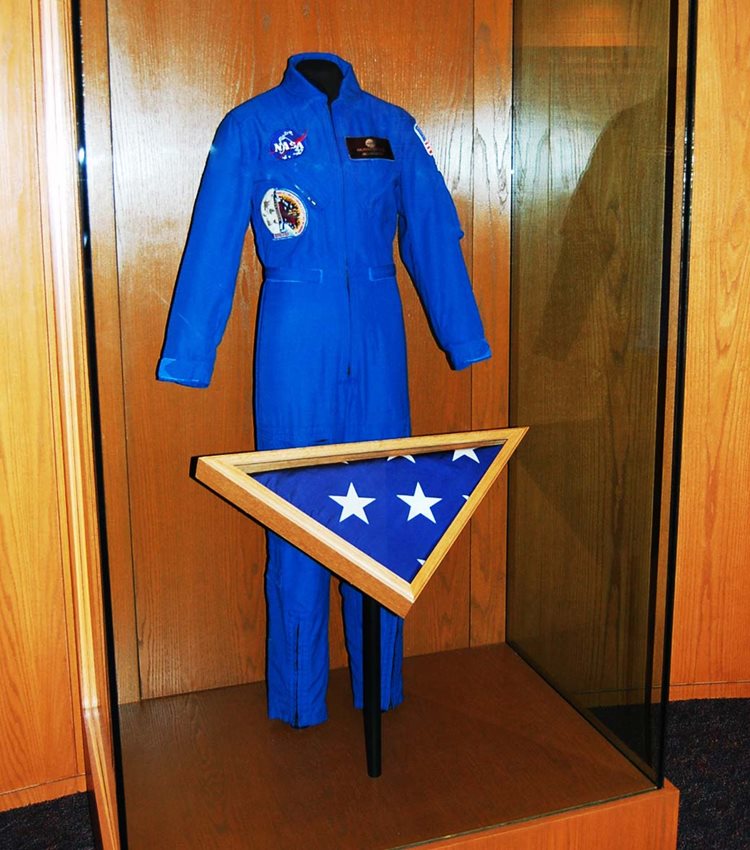 The Memorial
On May 3, 2010, the College dedicated a display to NASA astronaut Kalpana Chawla's memory on the west side of the Nedderman Hall atrium. Chawla earned a Master's degree at UTA and was the first Indian woman to fly to space. She perished aboard the Space Shuttle Columbia in 2003. The display includes one of Chawla's flight suits, several photographs, and historical and biographical information. Also included in the display is a flag flown over Johnson Space Center during the memorial for the fallen Columbia astronauts. Jean-Pierre Harrison, Chawla's husband, donated the items.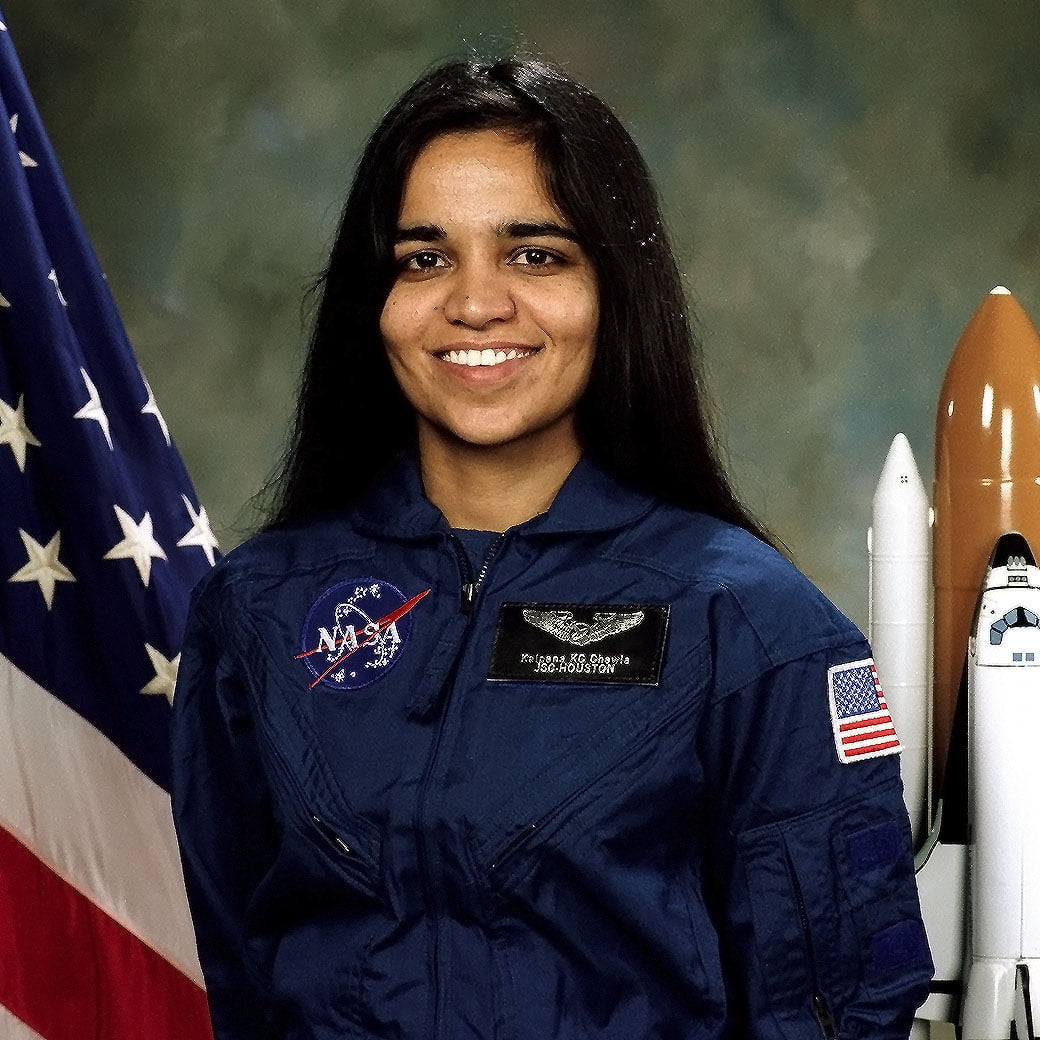 On February 1, 2003, seven astronauts perished when the Space Shuttle Columbia broke apart during re-entry after 16 days in orbit, 16 minutes prior to its scheduled landing at Kennedy Space Center in Florida. Included in that group was Kalpana Chawla, one of UTA's most celebrated graduates and the first Indian-born woman to fly in space.
Chawla earned her master of science degree in aerospace engineering from UTA in 1984. She was the second UTA graduate to become an astronaut, following in the footsteps of Robert L. Stewart (MSAE '72).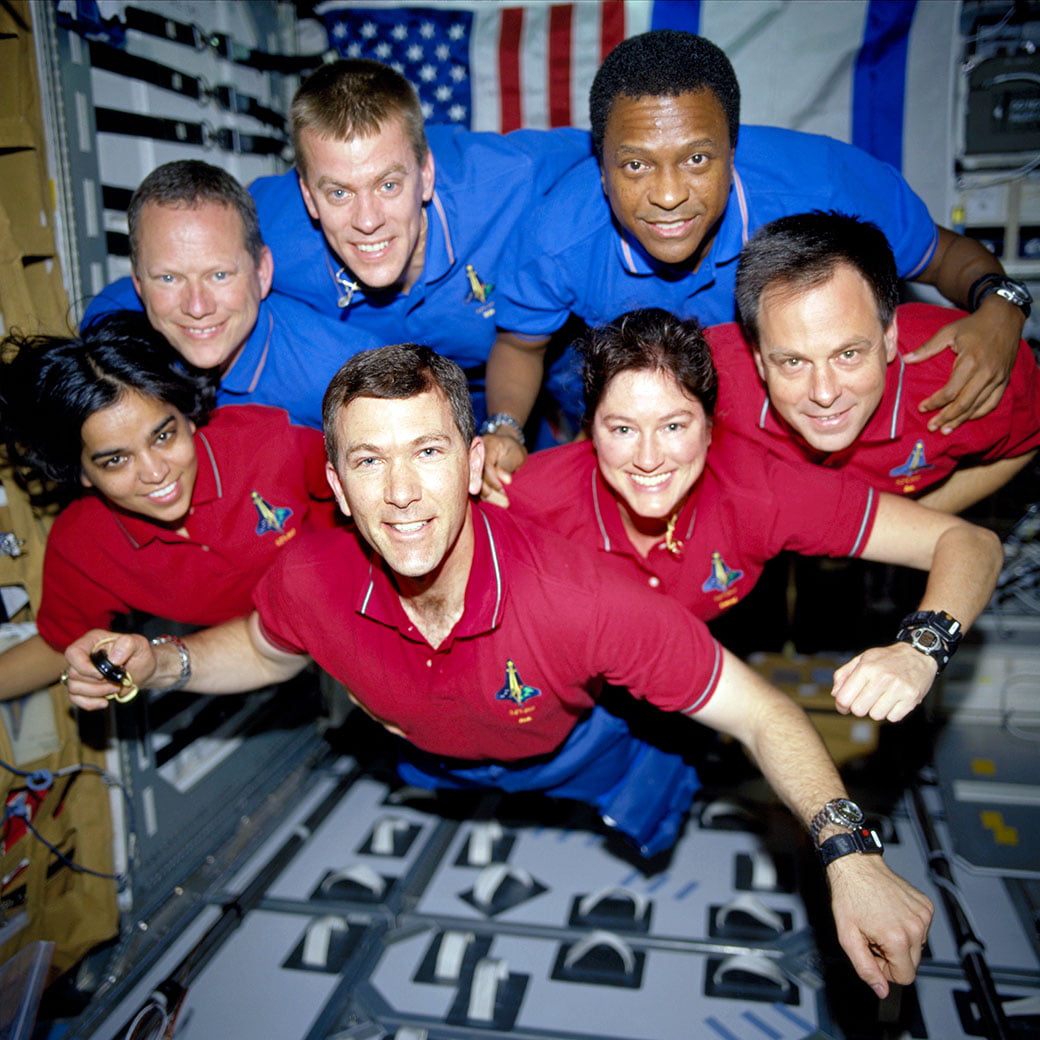 Chawla's path to becoming an astronaut began in Karnal, India. She knew that she wanted to be an aerospace engineer at an early age, influenced by watching the planes from the local flying clubs and by her father, who took her to the flying club and got her rides in a plane and a glider that the club owned.
She graduated from Tagore School in Karnal in 1976 and earned a bachelor's degree in aeronautical engineering from India's Punjab Engineering College in 1982. Then, she moved to the United States to attend graduate school at UTA.
There, Chawla was involved in an experimental research program to develop a novel propulsion system using a cross-flow fan installed in the wing of an aircraft.
After earning her master's degree, she moved to Boulder, Colo., to pursue a doctorate in aerospace engineering at the University of Colorado, which she earned in 1988.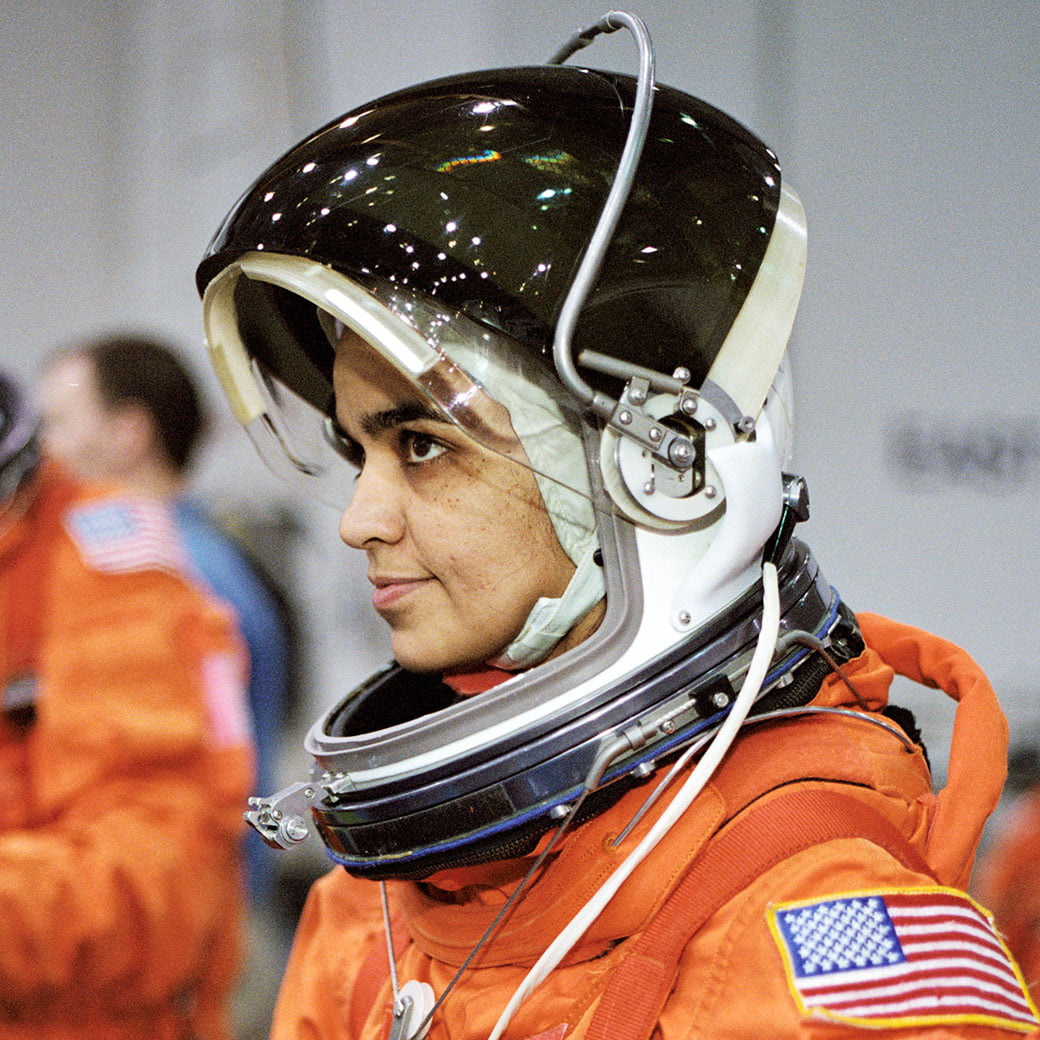 Chawla's career with NASA began in 1988 when she went to work for the Ames Research Center in California. Her work centered on powered-lift computational fluid dynamics, which involves aircraft like the Harrier. She left Ames in 1993 to join Overset Methods Inc. in Los Altos, Calif., as vice president and research scientist. She headed a team of researchers specializing in simulation of moving multiple body problems. Her work at Overset resulted in development and implementation of efficient techniques to perform aerodynamic optimization. Her successful career outside of NASA was brief, however, as the agency selected her as an astronaut candidate in December 1994, and she reported to Johnson Space Center in March 1995.
Chawla's interests included hiking and backpacking, and she also enjoyed flying. She held a certificated flight instructor's license with airplane and glider ratings, commercial pilot's licenses for single- and multi-engine land and seaplanes and gliders, and an instrument rating for airplanes.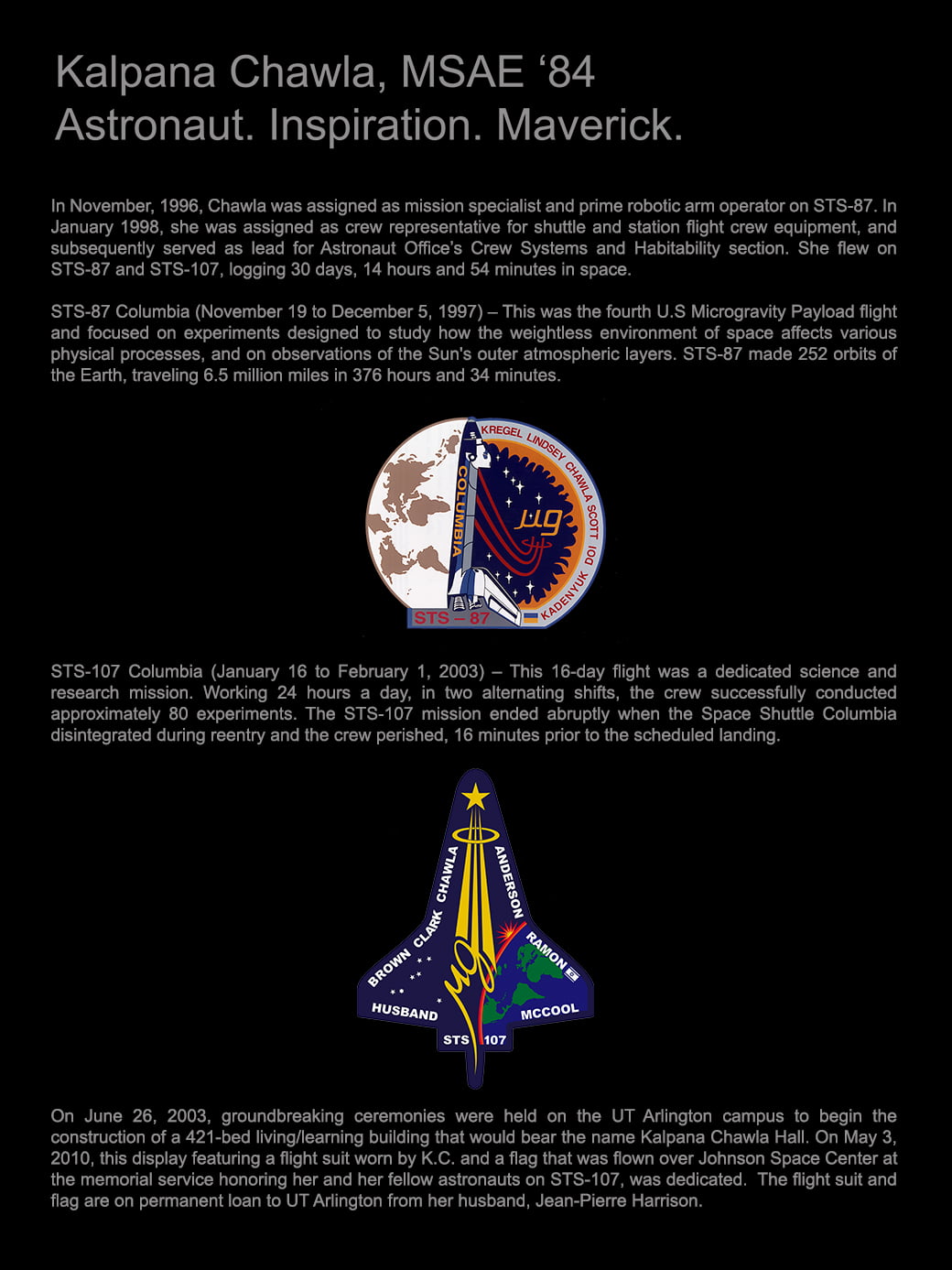 Astronaut Office Chief Kent Rominger said that Chawla loved her work and was respected by her colleagues.
"Kalpana, or K.C. to her friends, was admired personally for her extraordinary kindness and technically for her strive for perfection," he said. "She had a terrific sense of humor, loved flying small airplanes with her husband and loved flying in space. Flying was her passion. She would often remind her crew as her training flow would be delayed and become extended, she would say, 'Man, you are training to fly in space. What more could you want?'"
Kalpana was motivated by people who are giving it their all. "I think inspiration and tied with it is motivation," she once said. "For me, definitely, it comes every day from people in all walks of life. It's easy for me to be motivated and inspired by seeing somebody who just goes all out to do something."
"None of our astronauts traveled a longer path to space than Kalpana Chawla," U.S. President George W. Bush said of Chawla at the memorial service for the Columbia astronauts on February 4, 2003. "She left India as a student but she would see the nation of her birth, all of it, from hundreds of miles above."
"When the sad news reached her hometown, an administrator at her high school recalled, 'She always said she wanted to reach the stars. She went there and beyond.'"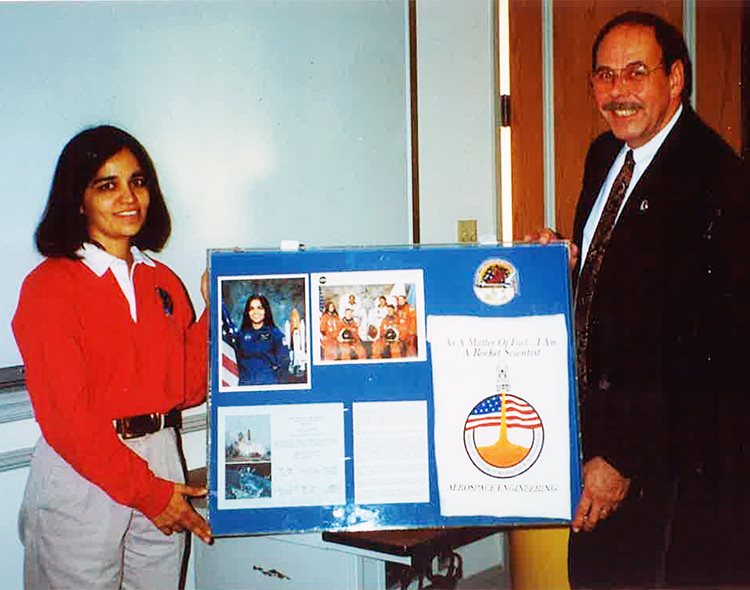 Dr. Don Wilson Remembers Kalpana Chawla
"I remember Kalpana as initially being a quiet, rather shy, very young lady – somewhat intimidated by her new surroundings. But she quickly adapted to life in the U.S., and I came to know her as a high-spirited, talented, highly-motivated person with a burning desire to excel."

Kalpana Chawla Hall
Kalpana Chawla Hall, called KC Hall by all its residents, is a lively co-educational residential facility that houses 419 students in a variety of educationally themed Learning Communities with a staff of a Residence Director, Graduate Assistant Residence Director, Resident Assistants, Office Assistant, and Peer Academic Leaders (PALs) that act as live-in educational mentors for the residents of the hall. KC Hall was built in 2004. It combines a strong commitment to academic excellence with an equally strong devotion to providing a fun and active environment. It is also conveniently located on campus close to the Business Building, Pickard Hall, University College, the E.H. Hereford University Center, and the Physics Chemistry Building.