About KC Hall
Address:
901 S Oak St., Arlington, Texas 76010
Phone:
817-272-9577
Kalpana Chawla Hall, called KC Hall by all its residents, features both double and private occupancy suites and is home to 419 students. KC Hall is conveniently located within walking distance of the University Center, College Park District, the UTA Business Building and the new Nursing and Social Work Building opening in 2022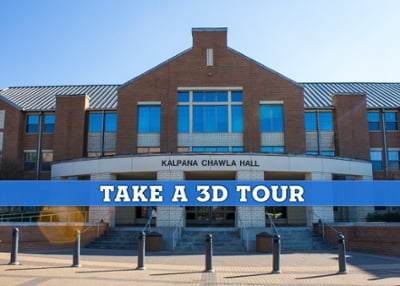 Features
Air Conditioning
All Utilities Paid
Bicycle Racks
Card-Controlled Access
Fire Sprinkler System
Foosball Table
Free WiFi Connection
High-Speed Internet
Ice and Vending Machines
Community Kitchen
Unlimited Laundry
Pets (Fish Only)
Ping-Pong Table
Pool Table
Professional and student live-in staff
Relaxation Room
Classroom/Study Area
Barbecue Zone
Smoke Free Building
Study/TV Lounge
Residential Learning Communities
Around The Hall
Named after Kalpana Chawla who was a proud UT Arlington Alumna and astronaut crew member aboard the Columbia space shuttle sadly destroyed over North Texas in February of 2003.
Two unique features to this community are the KC Remembrance Wall that tells the story of Kalpana's extraordinary life story and the building's Time Capsule to be opened in 2034.
KC Hall is not just a place to sleep and study. It also offers a host of ways to get involved. From working with our Hall Council or RHA program to competing against the rest of the campus as part of one of our intramural teams and participating in hall programs, KC Hall offers something for everyone.
KC Hall is one of two locations on campus (West Hall) to feature zero gravity relaxation chairs.
Quick Facts
Opened:2004
Students: 419
Room Types: Double and Private Occupancy
Furniture: Twin XL bed, desk, chair, chest of drawers
Living Room (Private Suite only): Couch, chair, mini fridge, small table
Private Bathroom/Shower in suite
Windows: 3'2" x 4'7"
Closets: 4'9"x2'
Double Room: 16' x 10'
Private Bedroom: 9'8" x 11'5"
Private Suite Living Room: 12'5" x 9'4"
Bed Height: Can be raised from 1' up to 3'6"
Residential Learning Communities
Click HERE to learn more
Science RLC
This residential RLC is open to freshmen students interested in Biology and related life and health sciences. Joining this RLC will give you a head start if you are majoring in biology, including pre-med, pre-pharm, pre-dental, or pre-vet.
Nursing RLC (Arlington Hall and KC Hall)
The Nursing RLC allows students to network with professional nurses, develop a professional portfolio, and experience expedited advising and registration. Students benefit from increased engagement with faculty and exploration of the variety of focus areas available within the nursing profession.