University Village photos
About University Village
Address:
900-914 Greek Row Dr., Arlington, Texas
Welcome to University Village.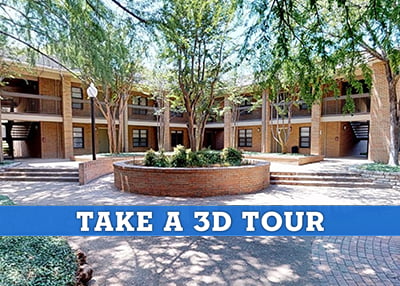 Features
12-month lease term
Utilities Included
Open Year Round
Refrigerator
Unfurnished
Walk-in Closets
Carpeting
Deadbolt Security Locks
Dishwasher
High-speed Internet
Mini-blinds
Self-cleaning Stove
Unlimited Free Laundry
Access to Swimming Pool
ROOMMATES AND LEASING
Having a roommate is a great way to meet people and stay connected to the campus.
Each apartment has an occupancy limit of two people per bedroom. During the leasing process, students will be required to list roommates (additional registered occupants) in the online housing process. If at any time a roommate moves out and a new roommate is moving in, the lease holder must update the roommate information online or with the Housing Office. Apartment keys cannot be issued until the lease holder updates the information about the roommate (additional registered occupant). Roommates must also be UT Arlington students. Non-UT Arlington student immediate family members will need to come to the Housing office to complete the necessary paperwork before being added as a roommate (additional registered occupant).