Vandergriff Hall Self-Guided Tour
About Vandergriff Hall
Address:
587 Spaniolo Dr. Arlington, TX 76010
Phone:
817-272-6600
Vandergriff Hall is the heart of the College Park District and opened in 2012. Home to 501 students, Vandergriff Hall sits on the east side of the UT Arlington campus and puts you just steps away from the College Park District restaurants. Vandergriff Hall gives its students access to great views of the Homecoming Parade, as well as all the happenings at College Park Center. The Hall is convenient for students to walk to class, while grabbing a bite to eat at the University Center. Vandergriff Hall features access to the College Park Parking Garages.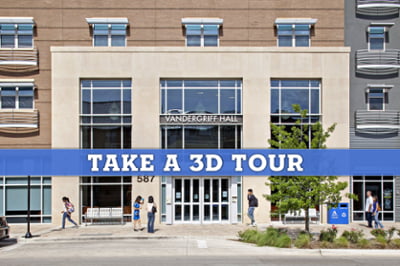 Features
Air Conditioning
All Utilities Paid
Barbecue Zone
Bicycle Racks
Card-Controlled Access
Computer Lab
Courtyard with Picnic, Balcony and Study Areas
Fire Sprinkler System
Free WiFi Connection
High-Speed Internet
Ice and Vending Machines
Community Kitchen
Unlimited Laundry
Pets (Fish Only)
Ping-Pong Table
Pool Table
Professional and student live-in staff
Study/TV Lounge
Wood-style Flooring
Smoke Free Building
Residential Learning Communities
Around The Hall
Vandergriff Hall, named after former Arlington mayor Tom Vandergriff, is a student favorite for its proximity and convenience to the amenities students want on campus.
Located in the College Park District on the east side of campus, the hall is steps away from Panera Bread and Pie 5, two of the destinations in the District. Vandergriff Hall's student lounge has everything to help you relax with an outdoor BBQ, as well as a pool table, poker table, and table tennis.
Hang out in the many lounges located on the floors, or hang out on the outside patios with great views of Spaniolo Drive and College Park Center.
Quick Facts
Opened: 2012
Students: 501
Room Types: Double
Furniture: Twin XL bed, desk, chair, chest of drawers
Private Bathroom/Shower in suite
Windows: 2'10" x 4'8"
Closet: 5'8" x 4'2"
Bedroom: 12'5" x 12'4"
Bathroom: 5'7" x 4'4"
Bed Height: Can be raised from 1' up to 3'6"
Residential Learning Communities
Click HERE to learn more
Terry Scholars RLC
Participation in this residential RLC is required for freshmen recipients of the Terry Scholarship. The Terry Scholarship Program at UTA provides significant financial, social, and academic support to students selected as Terry Scholars.
Exploratory Studies RLC
The Exploratory Studies RLC is a vibrant community of first-year students who share an interest in exploring their options to find a major that fits their interests, strengths, and career goals.
Honors College
This TH provides Honors College members the opportunity to live with other high-achieving scholars in a close-knit environment. Students must be admitted to the Honors College in order to be eligible to participate in the Honors College Themed Housing.
LGTBQ+ RLC
The purpose of the LGBTQ+ Residential Learning Community (RLC) is to provide inclusive housing, while also introducing students to UTA, and assisting them in becoming engaged in the campus community. The community will actively participate in educational programming related to gender, sexuality, social justice, and intersectionality, through exciting on-and-off-campus activities. Participants in this community will complete two classes each semester together (Fall Semester: Introduction to LGBTQ+ Studies & UNIV I & Spring Semester: Women's & Gender Studies Elective & UNIV II). This community will be led by LGBTQ+ Program staff.
L.U.C.E.S RLC
The L.U.C.E.S. RLC is a community for Latinx students to explore and celebrate culture and history while focusing on student success.
Men of Distinction RLC
The Men of Distinction RLC is a community open to all students that focuses on the retention and recruitment of Black and Latino males at UTA. Joining this RLC will allow you to gain a community of brothers and mentors who will provide you with a variety of experiences to enhance your personal, academic and professional success.
Women in Leadership RLC
The Women in Leadership RLC focuses on the retention and success of women at UTA. WIL members have amazing opportunities for mentorship, academic support, and developing their leadership skills. Members are expected to actively participate in WIL's programming and weekly Friday meetings. Contact multicultural_affairs@uta.edu for more information.