About West Hall
Address:
916 UTA Boulevard, Arlington, TX 76013
Phone:
(817) 272-6951
West Hall, Housing's newest gem on campus, is home to 534 students. West Hall is within steps of The Commons, UTA's newest student center, as well as the popular Maverick Activities Center (MAC). Featuring lounges and a kitchen on every floor, and a dynamic layout to fit every student's needs, West Hall was designed with the student in mind.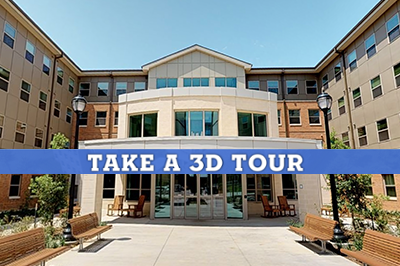 Features
All Utilities Paid
Card-Controlled Access
Keyless Entry
Barbecue Zone
Fire Sprinkler System
High-Speed Internet
Free WiFi Connection
Computer Lab
Courtyard with Picnic, Balcony and Study Areas
Hammock Island
Ice and Vending Machines
Community Kitchen
Unlimited Laundry
Pets (Fish Only)
Ping-Pong Table
Pool Table
Professional and student live-in staff
Relaxation Room
Study Garden
Study/TV Lounge
Classroom/Study Area
Wood-style Flooring
Smoke Free Building
Residential Learning Communities
Air Conditioning
Around The Hall
West Hall features all the latest amenities to keep the student excelling in the classroom, while still providing a great home to get to know their fellow Mavericks.

West Hall brings students together with a grand entrance that is set up to build a community. With a giant lounge as you walk in, it's easy to find friends, get to know your Hall staff, as well as take a break in front of the big-screen TV.

West Hall is one of two halls on campus (KC Hall) that features zero gravity relaxation chairs and offers private study nooks on each side of every floor. Want to put together a late snack? West Hall is the lone hall to feature kitchens on every floor with the most space of any of UTA's residence halls.
Quick Facts
Opened:2018
Students: 534
Room Types: Double
Furniture: Twin XL bed, desk, chair, chest of drawers
Private Bathroom/Shower in-suite
Residential Learning Communities
Click HERE to learn more about RLC's
Architectural RLC
This residential RLC is open to freshmen students interested in Architecture or Interior Design. Joining this RLC will give you a head start in this popular and nationally recognized department.
Engineering RLC
This residential RLC is open to freshmen students interested in Engineering. Joining this diverse community will provide you an introduction to the various engineering disciplines and help you explore career opportunities and emerging technologies.
Exploratory Majors RLC
This residential RLC is open to freshmen students interested in exploring their options to find a major that fits their interests, strengths, and career goals. Joining this vibrant community will provide you with the opportunity to visit with professionals across campus, connect with the Lockheed Martin Career Development Center, and participate in networking and social events to learn what it means to be a Maverick!
Nursing RLC
This residential RLC is open to freshmen students interested in nursing. Joining this RLC will allow you to network with professional nurses, develop a professional portfolio and experience expedited advising and registration