About Arlington Hall
Address:
600 Spaniolo Dr. Arlington Texas, 76010
Phone:
(817) 272-7951
Arlington Hall remains a student favorite since its opening in 2000 for places to live on campus. It features both double and private occupancy suites and is our largest hall with 596 students. Arlington Hall is near everything you need on campus as it is within steps of the University Center, the College Park District, the UTA Business Building, and the new Nursing and Social Work Building opening in 2022.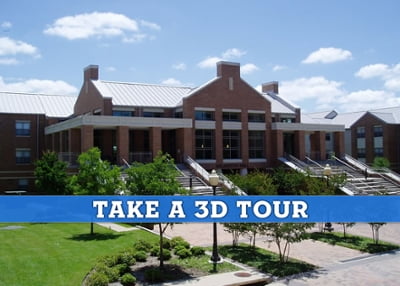 Features
All Utilities Paid
High-Speed Internet
Unlimited Laundry
Free WiFi Connection
Study/TV Lounge
Residential Learning Communities
Fire Sprinkler System
Card-Controlled Access
Community Kitchen
Pets (Fish Only)
Air Conditioning
Outdoor Basketball Court
Sand Volleyball Courts
Foosball Table
Ping-Pong Table
Pool Table
Computer Lab
Courtyard with Picnic, Balcony and Study Areas
Bicycle Racks
Ice and Vending Machines
Classroom/Study Area
Barbecue Zone
Keyless Entry
Smoke Free Building
Professional and student live-in staff
Around The Hall
Arlington Hall, the largest of UTA's residence halls, gives students a strong community with student lounges on each wing of the building, as well as The Great Lounge. The Great Lounge is the home to many of the A-Hall events that are hosted by Apartment & Residence Life.
Inside The Great Hall you'll find one side with games such as foosball, table tennis, and pool, while the other side features a big screen TV for students to watch the big game or catch their favorite show together. Just next door, you'll find A-Hall's community kitchen, as well as the front desk.
The Hall gives student's access to an on-site volleyball court and basketball court, as well as a one-of-a-kind patio on each side of the building with a great overlook into the patio area.
Quick Facts
Opened: 2000
Students: 596
Room Types: Double and Private Occupancy
Furniture: Twin XL bed, desk, chair, chest of drawers
Living Room (Private Suite only): Couch, chair, mini fridge, small table
Private Bathroom/Shower in suite
Windows: 3'2" x 4'7"
Closets: 4'9"x2'
Double Room: 16' x 10'
Private Bedroom: 9'8" x 11'5"
Private Suite Living Room: 12'5" x 9'4"
Bed Height: Can be raised from 1' up to 3'6"
Residential Learning Communities
Click HERE to learn more
Business RLC
This residential RLC is open to freshmen students interested in business. Joining this RLC will allow you to enroll in business courses as a freshman, participate in problem-solving activities in a business environment, and rapidly meet the admission requirements of the College of Business.
Nursing RLC
This residential RLC is open to freshmen students interested in nursing. Joining this RLC will allow you to network with professional nurses, develop a professional portfolio and experience expedited advising and registration.
2023-24 Residence Hall Rates & Features
Residents Sharing Bathroom

Residential Learning Communities

See Amenity Notes:
1
2
3
4
5
6
7

Arlington Hall

Double Suite
Private Suite
$5,622 per Academic Year
$6,849 per Academic Year
2
3
Coed
2000

KC Hall

Double Suite
Private Suite
$5,622 per Academic Year
$6,849 per Academic Year
2
3
Coed
2004

Vandergriff Hall

Double Suite
$6,117 per Academic Year
2
Coed
2012

West Hall

Double Suite
$6,117 per Academic Year
2
Coed
2018
Amenity Notes
Note 1 - Room Type
Double-occupancy rooms have two twin beds in a shared room. Private-occupancy rooms have one twin bed in a private room. See floor plans for more details.
Note 2 - Rates
Fall and Spring Semester: Residence Hall rates are per person and for the Fall and Spring semester. Rates shown are effective August 20, 2023 for the Fall and Spring 2023-2024 school year. Residence Halls will be open August 17, 2023 through December 14, 2023. The halls will open for Spring semester on January 12, 2024 and will remain open until May 10, 2024. West Hall may be available to provide residence hall housing accommodations for Winter Session 2023 between December 15, 2023 to January 12, 2024. All other residence halls will be closed at this time. All students that desire winter housing should complete the AY 2023-2024 Winter Session Application available in the fall.
Note 3 - Required Meal Plan
Meal Plans are required for students living in a residence hall. An additional charge will be billed for this service. Students can select from multiple meal plan options; however, the commuter plan is not available for residence hall students. For more information about meal plan rates please visit our
dining site
.
Note 4 - Utilities
All residence hall rates include the all utilities paid package. This indicates residents will not pay extra for electric, gas, or water.
Note 5 - High-Speed Internet
High-speed internet and Wi-Fi service are provided at no additional charge. Wi-Fi is available throughout all of the communities, including common areas and bedrooms. Internet connections are provided in each bedroom. Upgraded packages are available through the student's MyResNet site.
Note 6 - Unlimited Laundry
Free Unlimited Laundry is included in the total rent cost. All students living in a residence hall will have access to our laundry facilities at no additional cost.
Note 7 - Residential Learning Communities
The Residential Learning Communities (RLCs) are offered in all residence halls. RLCs vary in each residence hall and are not available during the summer. To learn more about the RLC program visit the Learning Communities website.