What is Moot Court?
Moot court is a competition in which undergraduates participate in a simulated court hearing reviewing a fictitious case. Students research and present actual court decisions to support their arguments.
UTA has sent students all across the country competing in the American Collegiate Moot Court Association tournament, founded by the late UTA professor Dr. Charles Knerr and prominent Dallas attorney, Andrew Sommerman. Our students have also successfully gone on to compete internationally in Vienna, Austria through the Willem C. Vis International Commercial Arbitration Moot Competition.
Students participating in moot court competitions learn to publicly support and recommend action on important issues and interpret similar cases decided on by the U.S. Supreme Court and other courts. Moot court provides one of our best teaching tools to prepare undergraduates for law school, graduate school, or the many career opportunities offered by government and interest groups.
How to Participate
How much time will I spend outside of class preparing?
For students who want to be successful and learn skills that will carry through to law school and beyond, many hours of out-of-class preparation is necessary to grow and develop.
Do law schools consider moot court experience in making admissions decisions?
Yes! Law schools consider any oral advocacy experience to be a plus on law school applications, particularly if you do well at competitions. Many law school programs will give special scholarships to those students who have done well in Moot Court competitions.
How Can I Compete in Moot Court?
Students interested in participating in Moot Court should register for the course in the Fall – HIST 3391. It is open to all majors and students with 30+ credit hours.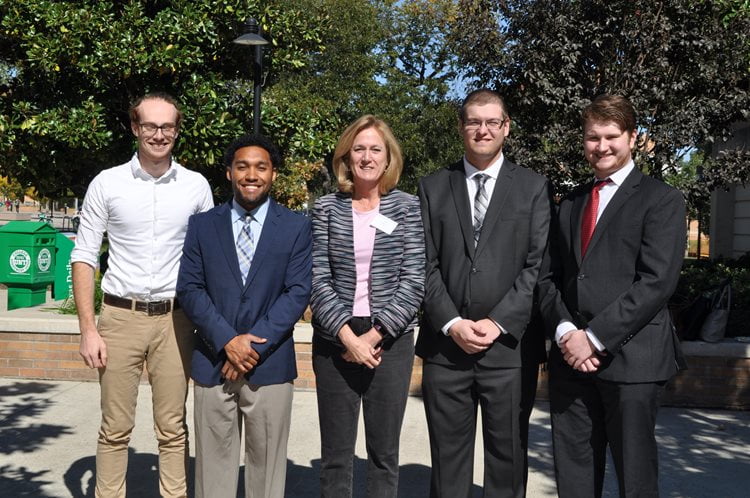 2018-2019 Season in Review
In 2018, under the coaching leadership of new coach and veteran attorney Janet Colaneri, the student teams competed in UNT's first DFW regional scrimmage in Denton, TX. Pictured from left to right are Eric Geer, Devin Gray, Coach Janet Colaneri, James Sanders and Nick McHenry.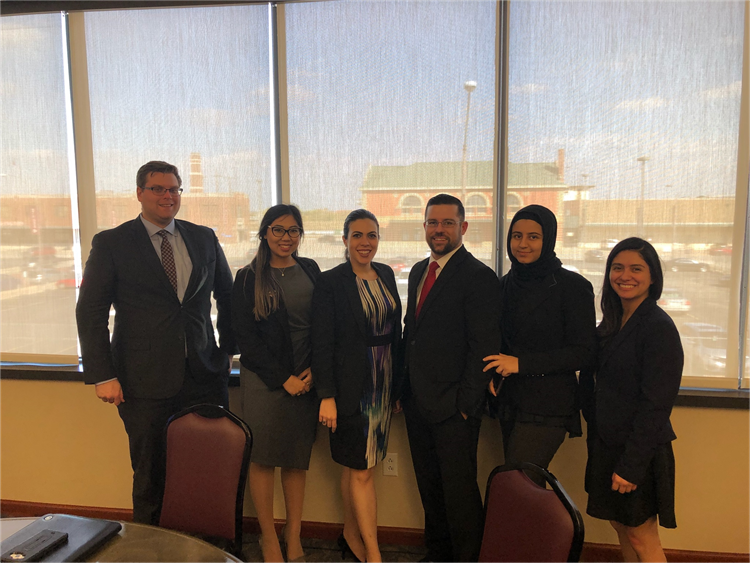 2017-2018 Season in Review
In 2017, students, under the leadership and mentoring of UTA graduate and coach, Andrew Stubblefield, participated in three tournaments during the school year. In the first tournament, students Richard Miller, Jr. and Mark Streiff competed at St. Mary's University in San Antonio, TX. All three teams competed in the first UTA Invitational Moot Court Tournament in more than 10 years. Student teams included Sophia Melendez and Isra Alnator, Mickaela Alves and Jordan Tambara, and Richard Miller Jr. and Mark Streiff. The season finished in Fort Worth, TX at Texas A&M School of Law's final regional tournament where Micka Alves and Jordan Tambara broke into the top eight teams!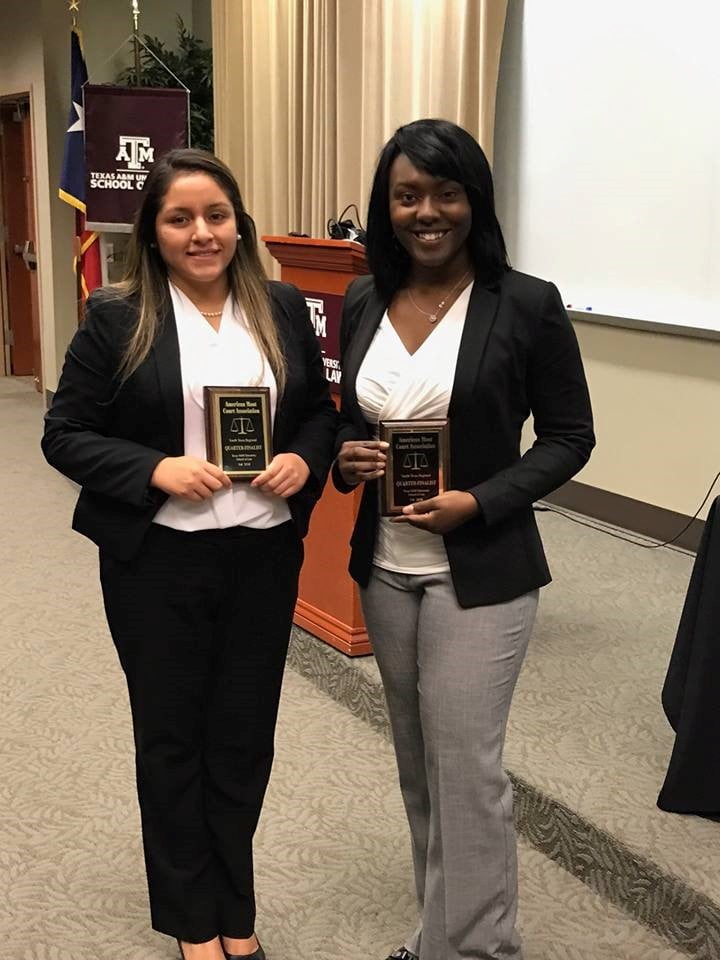 2016-2017 Season in Review
In 2016, students competed again at the UNT Dallas College of Law Invitational Tournament and the Texas A&M Regional Moot Court Tournament hosted by the Texas Undergraduate Moot Court Association, founded by Dr. Charles Knerr and UTA Alum Andrew Sommerman. At the Regional tournament, veteran seniors Ana Gonzalez and Zari Brown advanced past the Sweet Sixteen and into the Round of Eight where they finished in the top six teams! The two advanced to the National Tournament held at Stetson University School of Law in Gulfport, Florida in January 2017. The two did very well overall!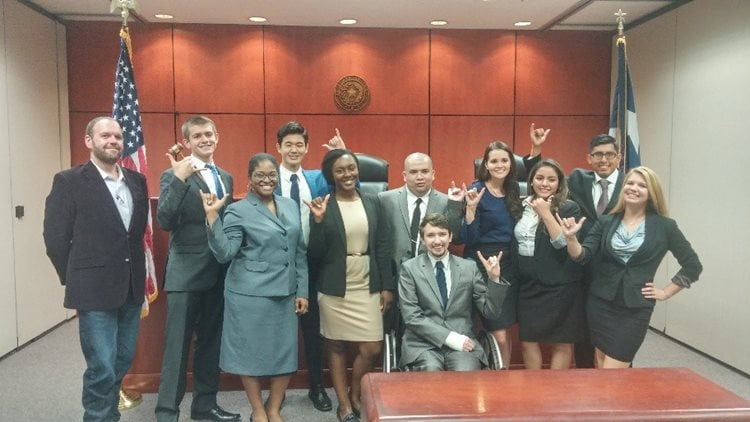 2015-2016 Season in Review
In 2015, the College of Liberal Arts expanded the moot court program by converting the course from a one credit hour course to a three credit hour course. Students enrolled practiced as many as 20 hours per week both in class and in outside team practices. Led by senior Ian Klein, our students competed at the first UNT Dallas College of Law Invitational Moot Court Tournament. At the Texas A&M Regional Tournament, students Ian Klein and Giovanny Torres advanced to the Sweet 16 where they finished in the top 11.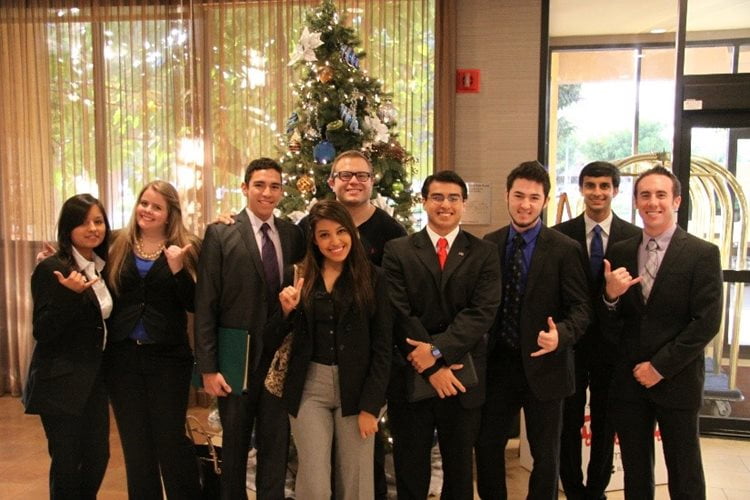 2014-2015 Season in Review
The 2014-2015 season was successful with the expansion of Moot Court program. With local attorneys directing the fifteen enrolled students in two practices a week, UTA's competitions at Texas Tech (November 7-8), Texas A&M (November 14-15), and Long Beach State (November 21-22) showed our teams' outstanding abilities. Bhavik Patel and Davinder Jassal, who helped relaunch the team in 2012-2013, returned as team president and vice president. In the Spring of 2015, students Ramon Hernandez and Ian Klein advanced to the national tournament in Florida.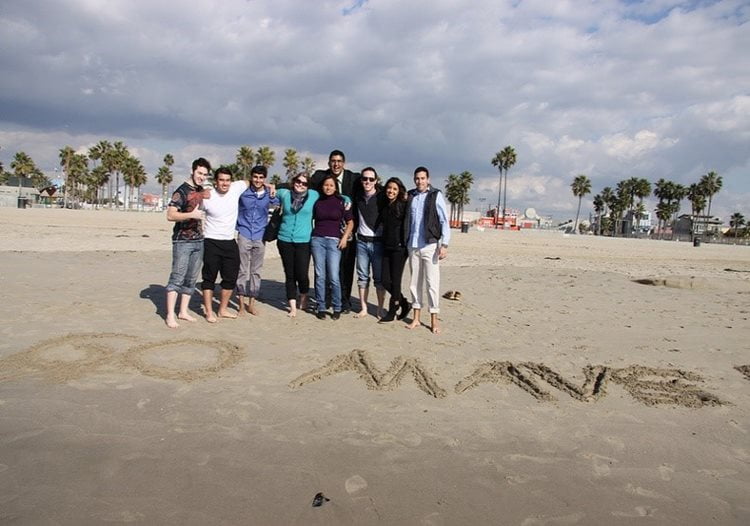 2013-2014 Season in Review
In Fall 2013, the Pre-Law Center sent nine students to Long Beach State University to compete in a regional Moot Court tournament. The cost of the trip for the students was paid for by a generous donation from UTA graduate, Andrew Sommerman, whose support and guidance helped to start UTA's Moot Court program again. Although no students advanced to the nationals tournament in this very difficult event--considered by many to be the most difficult regional in the nation--nearly all of the students saw their scores improve from round to round. Davinder Jassal, a returning student from the 2012-2013 Moot Court team, posted a record of 6-1-2 competing against very experienced teams. While in the Los Angeles area, the students toured Venice (Muscle) Beach, Rodeo Drive, Mulholland Drive, and Hollywood. In spring 2014, Jassal and Angela Coward competed in a scrimmage at SMU Dedman School of Law in which neither student had to use written notes when arguing.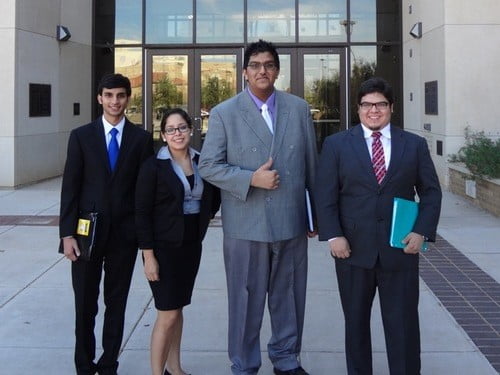 2012-2013 Season in Review
In October 2012, two teams from UTA (made up of all first-time Moot Court participants) competed at South Texas College of Law. Jaclyn Sugg and Bhavik Patel advanced to the final 16 teams, where they lost by a narrow margin to a team from Texas Christian University. Sugg was named one of the top speakers at the event with Patel, Danielle Garcia, and David Marrufo also turning in strong performances. Along with new members Carolyn Ruiz (who a few years later graduated from Harvard Law School) and Davinder Jassal, Marrufo and Patel participated in a nationals qualifying meet at Texas Tech School of Law that took place in mid-November 2012. Marrufo and Patel improved their individual scores from the South Texas meet, and Ruiz and Jassal advanced to the final 16 teams. Jassal, Patel, and first-time participants Mark Cantrell, Andre Raymond, Trae'Vorris Canady and Jacob Surratt completed the Moot Court season with a Spring 2013 scrimmage at Texas Wesleyan University. Prior to 2012, Moot Court was a student club. Students traveled to Vienna Austria to compete under the leadership of the late Dr. Charles Knerr.
More Information
American Moot Court Association
Explore their website for more information about the American Moot Court Association or upcoming invitational tournaments or to view this year's case problem. Questions about UTA Moot Court may be sent to
prelaw@uta.edu
.
Visit American Moot Court Association's Website