New degree in Modern Languages is preparing students for highly desirable careers in high tech
Students can now earn a degree in a fast growing field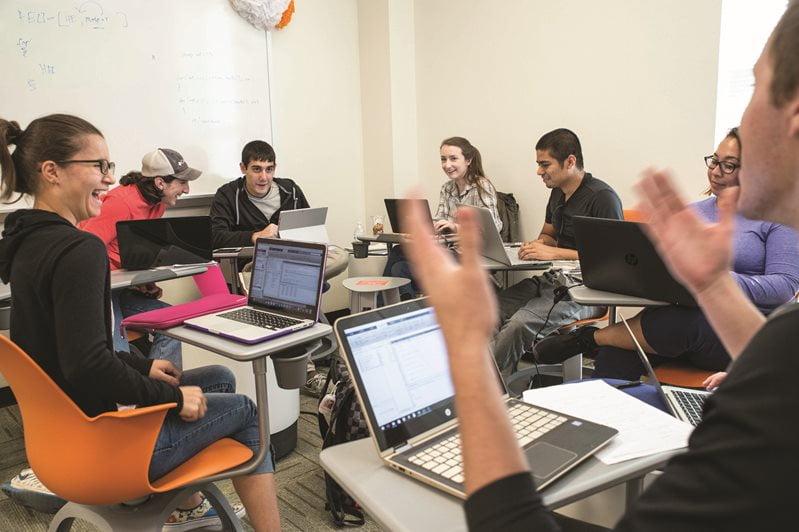 Modern Languages is one of the most diverse, inclusive, and innovative departments in Liberal Arts. Offering degrees or minors in Arabic, Chinese, French, German, Korean, Russian, Spanish, American Sign Language and Modern Language Teaching, the department is expanding to offer Localization and Translation. Dr. Pete Smith, Professor in the department of Modern Languages and co-designer of the degree describes the department, "the goal of the Department of Modern Languages is to prepare 21st Century global citizens, who develop and bring their language and cultural skills to a wide world of employment settings."
To add to the opportunity that Modern Languages offers students, UTA will now offer a Bachelor's degree in the popular and fast-growing field of Localization and Translation.
Smith continued, "Students who graduate in the Localization and Translation program add skills in such areas as computer-assisted and machine translation, as well as AI and modeling of language, preparing them for the high-tech language services jobs of the future."
Blake Carpenter, Lecturer in Modern Languages and co-designer of the degree commented, "Students in the Localization Program receive hands-on experience working in real-world situations. Upon graduation, many of them are employed by the world's largest Language Service Providers (LSPs) or go on to earn Master's degrees from internationally-leading schools such as the Middlebury Institute of International Studies (MIIS)."
When asked about career prospects for students, Carpenter said, "In the past two years, more than 20 of our students have gone on to internships or employment in the language services industry, including the top three "super agencies" in our field globally. The program has also seen three UTA students go on to graduate from MIIS, and then move to international employers such as the International Monetary Fund (IMF). Top language services companies regularly contact our program with updates and request we send students to them to fill their positions."
The mission of the Department of Modern Languages is to ensure students success through high-impact practices, research, and scholarship guided by award-winning faculty and staff. Modern Languages reinforces this mission by strengthening collaborations with communities, leading in creativity and innovation, and enhancing the visibility and impact of the university via global engagement.
"We are very excited for the launch of our new BA in Localization and Translation," said Dan Cavanagh, interim Dean of the College of Liberal Arts. "The expertise of the amazing faculty in our Modern Languages Department, combined with the quickly-growing needs of a globalized society, make this an extremely attractive new program for students interested in the intersection of language, culture, and society."
Visit the Modern Languages website to learn more about the Localization and translation program.
Image credit: Alicia Rueda-Acedo, director of the Spanish Translation and Interpreting Program, and Section Head of Spanish