The Future of Athletic Training is at UTA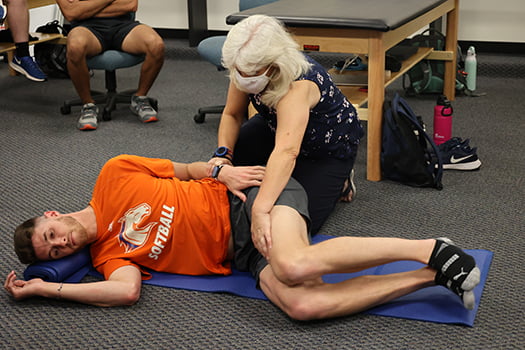 Athletic trainers practice and learn life-saving techniques to be prepared for any type of medical situation. The recent in-game cardiac arrest of Buffalo Bills football player Damar Hamlin is a reminder why the University of Texas at Arlington's Athletic Training Program prepares students for these exact moments in sports.
Damar Hamlin received immediate, on-the-field care by athletic trainers and other healthcare professionals trained to provide injury and illness prevention, wellness promotion and education, emergency care, examination and clinical diagnosis, therapeutic intervention, and rehabilitation of injuries and medical conditions. The MS in Athletic Training program prepares students for the Board of Certification Exam for Athletic Trainers and entrance into the profession of Athletic Training.
"Our students must be certified in Basic Life Support (BLS) for health care providers by the American Heart Association (AHA) and we test them on their cardiac emergency skills throughout the program," said Dr. Laura Kunkel, clinical associate professor. "Students also learn how to develop and rehearse an Emergency Action Plan (EAP), a plan for when a medical emergency occurs. Damar Hamlin's case has had a positive outcome because the Athletic Trainers had a good EAP in place and had practiced it. They also conducted their medical timeout before the game, which is something we also teach our students and has been a recommendation by the National Athletic Trainers' Association (NATA) since 2012."
Students also get hands-on experience practicing these skills during two simulations conducted on cardiac emergencies. The first simulation gives students an EAP and allows them to conduct their medical timeout, then a cardiac arrest emergency will simulate with faculty members as patients. When it's time to perform CPR and use the Automated External Defibrillator (AED), the students perform those skills on the CPR mannequins. For the second simulation, as part of KINE 5341 Advanced Immediate and Emergency Care, the Department of Kinesiology and the Smart Hospital work together to provide a cardiac simulation on the field or court using a high-fidelity simulator.
"We are implementing a new curriculum beginning this summer and with that, one of our 4 main areas of focus is going to be Emergency Preparedness and Response," said Kunkel. "We want students graduating from our program to be especially well-prepared in this area."
Kunkel recommends everyone learn CPR and how to use an AED. Knowing these skills could potentially help save lives. Athletic Trainers and Athletic Training Students must be certified in BLS because they are healthcare professionals, but there are courses for anyone outside of these fields too.
"While it is unfortunate that the situation with Hamlin happened, it's yet another example to our Athletic Training students of real-life situations when they might have to use these skills," said Kunkel. "No Athletic Trainer wants to have to deliver life-saving techniques, but we must be prepared to do just that if the need arises. I hope our students can reflect on the importance of developing a good EAP and practice it and life-saving skills regularly."
- Written by Midori Hrinda, UTA College of Nursing and Health Innovation