Master of Science in Athletic Training
Master of Science in Athletic Training
Program Overview
The UTA Master of Science in Athletic Training features nationally recognized faculty, highly experienced preceptors, a multitude of clinical rotation options, and outstanding sports medicine facilities. Students receive in-depth classroom and laboratory instruction focused on injury prevention, assessment and diagnosis, acute care, and therapeutic interventions for managing musculoskeletal injuries and common medical conditions in physically active individuals. The UT Arlington MSAT is a two-year cohort-based professional (entry-level) program designed to prepare students for the Board of Certification Inc. (BOC) examination and licensure in any state, leading to a career in athletic training.
The didactic, laboratory, and clinical components of the program are structured around the CAATE 2020 Professional Standards, which address the following areas:
Patient-Centered Care
Interprofessional Practice and Interprofessional Education
Evidence-Based Practice
Quality Improvement
Health Care Informatics
Professionalism
Patient Care Plans
Examination, Diagnosis, and Intervention
Prevention, Health Promotion, and Wellness
Health Care Administration
All students are required to complete two years of clinical education experiences under the supervision of a program approved preceptor. The course rotation starts during the Summer semester.Completion of the program requires a minimum of six semesters (including two 11-week summer sessions).
Mission
The Master of Science in Athletic Training Program at the University of Texas at Arlington is committed to providing educational advancement and excellence to students pursuing a career in athletic training. The program emphasizes critical inquiry, scientific theory, skill acquisition and application, and professional behaviors that advance health and the human condition across diverse populations of patients. Faculty and preceptor mentoring produce graduates that are competent, creative, and caring clinicians who enhance best-practice patient-centered healthcare, exercise sound judgment, and value lifelong learning.
Accreditation
The UTA MSAT degree is accredited by the Commission on Accreditation of Athletic Training Education (CAATE) and incorporates didactic (classroom), laboratory, and clinical education components structured around the current CAATE 2020 Professional Standards.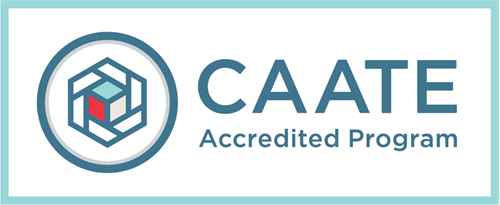 Program Outcomes:
About Us
Learn more about:
Why should you choose UTA's MSAT program?
95% first-time pass rate on the Board of Certification Exam

Excellent value: competitive tuition rates and very good employment and salary prospects after graduation

Athletic trainers in the Dallas-Fort Worth region typically earn well above the national average

Wide variety of clinical sites and preceptors

Abundant sports medicine networking and employment opportunities

Our use of standardized patients and interprofessional education make us a leader in athletic training education

Four award-winning faculty, recognized at the state, regional, and national level, with a variety of experiences and expertise who are all 100% dedicated to the MSAT.
Courses
Degree requirements are listed in the University Catalog. Students are governed by the catalog under which they were enrolled or, at the student's option, the catalog of any subsequent year in which that student was in residence.
Specific course descriptions for the MSAT program can be found on the Kinesiology Courses page in the Catalog here.
Program Features
The MSAT degree is a challenging, two-year, six-semester 57 semester credit hour program. All new, incoming students begin the degree in the month of June. The program sequence involves 2 summer semesters (11-weeks in length), and 4 long semesters (15-weeks in length). The degree is non-thesis, however a research project is required of all students. Also, students will be required to complete a minimum of 6 semesters of clinical rotations involving direct patient care in an approved health care setting. At the conclusion of the 2-year period, students will have earned a minimum of 1,440 clinical hours.
In order to complete the degree, students must meet the retention requirements which include both academic and professional behavior standards, as described on the MSAT Retention Criteria and Policy section below.
Degree Plan
The 2019 MSAT Course Sequence, which requires 57 semester credit hours, applies to UTA MSAT students who entered the program in 2019 or later: MSAT Course Sequence (2021)
UTA MSAT students who enter the program in 2023 or later will complete the following course sequence, pending final approvals: MSAT Course Sequence (2023)
Admission Requirements
Official admission requirements for the MSAT program are described in the University Catalog for Department of Kinesiology Graduate Programs.
Application Deadlines
The MSAT program accepts applications through rolling admissions, until the next cohort is full or until April 1st. International students are strongly encouraged to apply by November.
Requirements for Admission
Earned Bachelor's degree, with an undergraduate cumulative GPA of 3.0, or a 3.0 GPA during the last 60 hours of undergraduate course work.
A grade of "C" or better within the last 10 years in the following courses:

Anatomy and Physiology I
Anatomy and Physiology II
Functional Anatomy (must be upper division and may also be titled Applied Kinesiology, Kinesiology, or Biomechanics)
Physiology of Exercise
Nutrition
Psychology
Statistics/Research Design
Biology (lecture and lab)
Physics (lecture and lab; will accept PHYS 3360 from UTA students)
Chemistry (lecture and lab)

50 hours of observation with a certified and/or licensed athletic trainer Note: You should observe during busy clinic times, so you see the many duties of an AT.
GRE General Test (currently waived)
The following immunizations are required for admission to the MSAT program:

Measles, Mumps, and Rubella (MMR) – 2 doses
Hepatitis B – 3 doses

International Students are required to receive tuberculosis screening and this must be performed at the UTA Student Health Center or another U.S. facility (absolutely no exceptions)
The following immunizations are recommended for the MSAT program:

Hepatitis A
Tetanus-Diptheria
Polio
Meningococcal
Tuberculosis Screening
COVID-19

Proof of current certification by the American Heart Association in Basic Life Support (Only AHA BLS certification will be accepted)
Application Materials
Prior to beginning the application, you should have the following ready:
Emergency contact information
Dates of attendance, degree, and GPA for all colleges/universities attended
Email addresses for 3 references:


A current or previous instructor
The athletic trainer you completed your observation with
An additional instructor, athletic trainer, other healthcare provider, employer, etc.
Answers to the following essay questions (no more than 200 words each):
Why do you want to be an AT as opposed to another healthcare professional? Please utilize the 5 domains of AT practice in your response:
Risk Reduction, Wellness and Health Literacy
Assessment, Evaluation and Diagnosis
Critical Incident Management
Therapeutic Intervention
Healthcare Administration and Professional Responsibility
What are your career goals and how will the UTA MSAT program mission help you achieve those goals?
What aspects of the UT Arlington MSAT program interest you most?
A link to a video of yourself addressing the following questions:
What are your professional learning and communication styles, and how will these be an asset to a career in athletic training?
What is one of the most important issues facing athletic trainers today, and what role do you hope to play in addressing this issue?
Have the following documents ready to upload:
Resume
All transcripts from all colleges/universities attended (unofficial will be accepted)
Documentation of a minimum of 50 hours of observation with an athletic trainer, signed by that athletic trainer (Download Clinical Observation form here and print)
Technical standards form - student version (Download Technical Standards form here and print)
MSAT Retention Criteria and Policy
Academic Retention Criteria
MSAT students' academic and clinical progress will be closely monitored each semester. To remain in the MSAT program, students must:
1. Complete each course with a grade of C or better.
Students who earn below a will be dismissed from the program.
2. Maintain a 3.0 cumulative GPA.
Students who earn below a 3.0 cumulative GPA will be placed on academic probation for one semester. If the student does not earn a cumulative GPA of 3.0 or higher by the end of the probationary semester, the student will be dismissed from the MSAT program.
Students on academic probation will be required to create an academic success plan, submitting to the faculty 2 weeks after the start of a summer term or 3 weeks after the start of a long semester.
Students who do not gain good academic standing with the program after one semester of probation will be dismissed from the program.
3. Adhere to documents which outline professional behaviors, including but not limited to the MSAT Student Handbook, the BOC Standards of Professional Practice, the NATA Code of Ethics, and course syllabi.
For professionalism offenses, a Student Conduct Digression Report will be completed. If a student obtains 3 of these, he/she will be dismissed from the program (3 strikes and you re out rule). If a professional offense is especially egregious, a student may be dismissed from the program with only 1 digression report.
Clinical Education
Clinical Sites
As of September 1, 2019 (AY 2019-2020), there are 44 clinical education sites within the UTA Athletic Training Program, spread throughout the Dallas-Fort Worth Metroplex.
MSAT Clinical Settings and Education
What is Clinical Education?
Clinical Education is the practical aspect of your instruction that takes place outside of the classroom. It is hands-on: as you build your skills in the classroom and in our laboratory settings, you will have the opportunity, under supervision, to practice and apply these skills in the real world. It is observational: you will watch practicing athletic trainers, surgeons, physical therapists, and other members of the healthcare team perform their duties. It is vital: your development and readiness to practice as an Entry-Level Athletic Trainer depends on mastering the clinical aspects of your education.
All classroom, laboratory, and clinical components of the MSAT are structured around the CAATE 2020 Professional Standards and BOC Practice Analysis
Clinical Courses
The MSAT curriculum includes six clinical practicum courses, one per semester, which require students to complete formal clinical rotations in approved settings. A minimum of 1440 clinical hours are required to complete UTA's MSAT program.
Clinical Experiences and Immersion Schedule
Clinical education in the UTA MSAT program is immersive: with the weekly schedule alternating between clinical and classroom days, students experience a full day in the life of an Athletic Trainer through their clinical placement.
The following are examples, as the particulars of any student's placement will vary.
| | | | | | | | |
| --- | --- | --- | --- | --- | --- | --- | --- |
| | Mon | Tue | Wed | Thu | Fri AM | Fri PM | Weekend |
| Year 1 | Class | Clinical | Class | Clinical | Class | Clinical | Varies by placement |
| Year 2 | Clinical | Class | Clinical | Class | Class | Clinical | Varies by placement |
Clinical education in the UTA MSAT program is comprehensive: while working under the supervision of their preceptor, students will gain experience working with patients within several different clinical settings. A special emphasis will be placed on ensuring that every student's clinical education experiences includes clinical practice opportunities with a variety of client/patient populations, including clients/patients:
throughout the lifespan (for example, pediatric, adult, elderly)
of different sexes
with different socioeconomic statuses
of varying levels of activity and athletic ability (for example, competitive and recreational, individual and team activities, high- and low-intensity activities)
who participate in nonsport activities (for example, participants in military, industrial, occupational, leisure activities, performing arts)
The UTA MSAT Degree: Excellent Value
Estimated Tuition and Fees
Our MSAT program offers a tremendous financial value for the student desiring a career in the field of Athletic Training. The table below shows an estimate of tuition and fees for the MSAT degree by semester. At UTA, accounts are due each semester prior to class start.
Year 1
Summer (7 credit hours)
$4,304
Fall (10 credit hours)
$6,227
Spring (10 credit hours)
$

6,227

Year 2
Summer (10 credit hours)
$

6,227

Fall (10 credit hours)
$

6,227

Spring (10 credit hours)
$

6,227

Total Estimated Cost of Tuition and Fees:
$35,439
Athletic Trainer Salaries and Job Outlook
The 2021 NATA Salary Survey indicated the average salary for a full-time Athletic Trainer is $61,998, while the average salary in District 6 of the NATA (Texas and Arkansas) is $66,193. Employment of athletic trainers is projected to grow 23% through 2030, much faster than the average for all occupations.
International Students
The following additional fees apply to international students: Foreign insurance (health insurance) fee, international education fee, and international student service fee. Click or tap here for more information from the Office of International Education.
Information concerning tuition, fees, and scholarships can be found here:
UTA Admissions, "What Will It Cost"
UTA Admissions, Tuition Estimator
UTA office of Financial Aid and Scholarships
Additional Costs
MSAT students will incur the following additional costs associated with the pre-admission and post admission portion of the program.
Admissions Costs: Costs associated with entering the program
ApplyTexas (UTA Application)
$40; $90 if international transcripts must be evaluated
Physical Exam
$25 at the UTA Student Health Center
Hepatitis B Immunization:
Series of 3 shots
$50 per shot at the UTA Student Health Center; required
Mumps, Measles, Rubella Immunization
Cost Variable; required
Hepatitis A Immunization
Cost Variable; recommended
Tetanus Immunization
Cost Variable; recommended
Meningococcal Immunization
Cost Variable; recommended by the MSAT Program; may be required by UTA if the student is under 22 years of age (UTA Meningitis Requirement webpage)
Post-Admissions Costs: Costs Ongoing while enrolled in the program
Textbooks and Course Packs
Cost Varies by Semester and Vendor
Clothing: Khaki pants/shorts and tennis shoes
Cost Varies by Type, Brand, and Vendor
Transportation
Cost Varies based on clinical assignment location in the DFW area. Students are responsible for arranging transportation to and from clinical sites; carpooling is encouraged.
On-Campus Parking
$210 per year for a UTA Student Parking Permit (most commonly purchased student permit; rate for AY 21-22). Required if parking a vehicle on campus. Cost is set by the UTA Parking and Transportation Office.
Typhon Clinical Tracking Software
$90
CPR Certification
$28.50 for American Heart Association Basic Life Support for Healthcare Professionals Certification (2 years)
Tuberculosis (TB) Blood Test
Varies by Vendor, usually around $70. Required by some off-campus affiliated sites.
Drug Screening
Varies by screen type and vendor. Drug screening is required for some off-campus sites
Graduation Application Fee
$40; required for your degree to be conferred and to officially complete your academic program, usually submitted at the beginning of the student's final semester.
Also includes the printing and mailing of the graduate's physical diploma.
Commencement Celebrations
$145 for Commencement Regalia (Academic Cap, Gown and Hood), required if participating in Hooding and/or Commencement
Simulation Fee
$75 Summer 1, $150 each term thereafter
Credentialing Exams
Board of Certification Exam for Athletic Trainers (ATC)
$375, a national certification for Athletic Trainers. Successful completion of the exam and related requirements allows the use of the ATC credential.
Texas Licensure (LAT)*
$360, includes Application Fee, Written, Practical and Jurisprudence Exam Fees, and Initial License Fee. Fees will vary based on the specifics of the test-taker's situation. Successful completion of the licensing requirements allows the use of the LAT credential.
Texas licensure is required to practice as an Athletic Trainer in the State of Texas. Each state jurisdiction is subject to its own rules.
*the LAT exam is not required if students pass the BOC exam
Overall Costs
Your total expenses as a graduate student will vary depending on several criteria, including Texas residency, where you live, the particulars of your lifestyle, and much more. The above-mentioned figures are solely representative of tuition and required student fees.
Sources of Funding
More than 75 percent of UT Arlington students receive some type of student financial aid. Find out how much you may be eligible for with the College for All Texans Financial Aid Calculator.
Scholarships
You can find additional scholarships such as designated, departmental, private, and need-based scholarships through our scholarship system, Mav ScholarShop.
The MSAT program is able to offer a competitive academic scholarship for $1,000.00. Selected students who receive this scholarship may receive an out-of-state tuition waiver based upon approval from the Office of the Provost.
Various Department of Kinesiology Scholarships
The National Athletic Trainers' Association (NATA) and the Southwest Athletic Trainers' Association (SWATA) also sponsor scholarships for students enrolled in a professional master's in Athletic Training program.
Texas State Athletic Trainers' Association (TSATA)
Grants
Grants are funds that normally do not require repayment, and are awarded on a first-come, first-served basis. Check out the different types of grants that you may be eligible for at UTA here.
Loans
You can qualify for loans through your student financial aid package. Find out more about federal student loans available here.
Additional Information Concerning Costs
Physical and Immunizations
Students may make their own arrangements for the physical and their immunizations, so long as the required documentation can be obtained and submitted to the UTA MSAT program.
Commencement Celebrations
As Master's students, UTA MSAT students are eligible to participate in both the CONHI Master's Hooding Ceremony and CONHI Commencement during their graduating semester. Participation in Commencement Celebrations is not required, but most students choose to participate ("walk") so that their academic achievements are publicly recognized. Cost of regalia rental is set by the UTA Bookstore and is subject to change.
Licensure Exams
Athletic Training Students in the UTA MSAT program may encounter two exams, the BOC Exam and the Texas Licensure Exams. Fees for both exams are set by their respective governing organizations and are subject to change.
The UTA MSAT program strongly suggests that students sit for the BOC Exam, as it is a national credential that shows that the student is well prepared to practice, and allows the Athletic Trainer to list the ATC credential. Many Athletic Training job positions will require holding the ATC credential. Click or tap here to open the BOC Exam website.

Students who desire to practice as Athletic Trainers in the State of Texas after graduation are required to hold a license issued by the Texas Department of Licensing and Regulation. Gaining Texas licensing allows the Athletic Trainer to list the LAT credential. Click or tap here to open the TDLR website FAQ for Athletic Trainer Licensing in Texas.
The decision to sit for licensing exams is ultimately up to the student, and is highly dependent on the student's post-graduation plans. The exams will be discussed at length and in detail by program instructors during class. The information here is meant as a general orientation and to prepare students for likely costs.
Footnotes
The estimated figures are to be used for planning purposes only and are not reflective of actual tuition and fees incurred by an individual student. The estimate is based on an in-state resident student beginning the UTA MSAT program in AY 21-22 who progresses normally through the program. It is an estimate of tuition and fees only, and not of additional costs, books, library fines, living expenses, entertainment, parking and transportation, commencement expenses, or the other necessities of life for the graduate student. Your situation will be different from the example.
NATA 2018 Salary Survey Executive Summary
Resources
MSAT Policies: While University faculty and staff members give students academic advice and assistance, each student is expected to take responsibility for his or her education and personal development. The student must know and abide by the academic and disciplinary policies of the Athletic Training Program, Department of Kinesiology, College of Nursing and Health Innovation, and the University of Texas at Arlington, including rules governing quantity of work, the standard of work required to continue in the University, scholastic probation and dismissal, and enforced withdrawal.
Students will not be relieved of their responsibility to know the policies, deadlines and rules of the University on the grounds that they were not told. If students have questions regarding policies, it is the University's expectation that the student will consult his/her academic advisor for guidance and resolution.
Course Load: Graduate education requires students to have dedicated time to devote to studying, completing assignments, preparing for, and participating in research activities and other course work. Students are encouraged to consider their work schedules and commitments considering the demands of the MSAT program and adjust accordingly. Commitments which compete with graduate study may result in suboptimal academic performance and place the student in academic jeopardy. We strongly recommend MSAT students do not hold outside employment while enrolled in the program, however if students must be employed we recommend no more than 10 hours per week.
Academic Calendar: Students should review the academic calendar prior to enrolling and prepare accordingly.
Read the MSAT Student Handbook to learn about requirements for the program
Student Success
Academic Advising
The University of Texas at Arlington MSAT program is dedicated to the overall success and retention of our students. One process that contributes to this goal is by providing academic advising to prospective and enrolled students.
Advising for the Prospective Student
We welcome and encourage prospective students to attend an optional academic advising session before program application and start. Those students who have not yet applied or enrolled in the MSAT program are welcome to contact the MSAT academic advisor to schedule a face-to-face, phone, or virtual advising appointment.
Advising for the Enrolled Student
Currently enrolled students may schedule an academic advising appointment at any time.