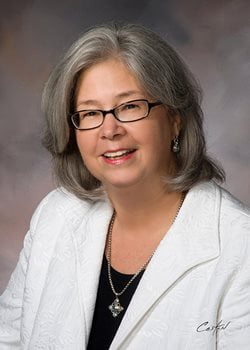 Dear Community,
Welcome to the College of Nursing and Health Innovation at The University of Texas at Arlington. Ours is a program that prides itself in excellence and innovation. We are the largest producer of registered nurses in Texas, have growing Kinesiology and public health programs, are leaders in the use of simulation technology, have labs that investigate across the full array of translational research, and are training exceptional future health care leaders.
Prospective students have a dynamic range of options to choose from in our college, from our Bachelor of Science in Nursing program to our newest degree a Master's in Public Health, and dozens of degree options in between. Our graduate nursing program offers nurse practitioner, educator and administrator programs. As well as we offer two PhD programs and a Doctorate of Nursing Practice. CONHI students have the opportunity to advance their career through a variety of degree plans offered on campus and online. Students will join a premier group of graduates who have gone on to advance health care around the world as they conduct research, guide public policy, and provide compassionate care.
We value diversity and embrace students, faculty and staff members' unique life experiences and cultural differences, which we know drive our college to ever increasing excellence. From our many student organizations to our knowledgeable advisors, our students know that they will be supported from their first day into their alumnus status after they graduate.
The College has outstanding educators and clinicians, nationally and internationally regarded researchers and a growing breadth of research being conducted to advance patient care, improve health outcomes, and enhance community health, to name a few. We are home to cutting-edge educational innovation, research and technology that aims to tackle today's most pressing health care challenges. Our researchers have collaborators across the University, the UT System, nationally and even globally. We work locally with clinics and research partners, as well as utilize our vast network of connections to collaborate with other renowned research institutions. Many of our labs also offer students an opportunity to experience research and lab work first-hand.
After graduation, our students join an alumni class of over 45,000 individuals from our College and over 240,000 from the University. Our alumni work across the state and country and continue to make us proud of their work. After graduation, I encourage our students to stay connected in our alumni network, continue to grow and foster together, because we are a community that will be with you long after you leave the classroom.
Our motto at the College is "touching lives, transforming health care." And we seek students, staff and faculty that exemplify that spirit in their work. We strive to train compassionate health care clinicians, leaders, educators and extraordinary researchers who believe that their work will make people healthier. We hope to see you in a class or lab soon.
Sincerely,
Dean Elizabeth Merwin, PhD, RN, FAAN