Overview
The University of Texas at Arlington established the Distinguished Alumni Award in 1965. The purpose of the annual Distinguished Alumni Awards is to recognize outstanding alumni for their individual achievements, contributions to their industries or professions, service to their community, and demonstrated loyalty to the University.
The Distinguished Alumni Awards are the highest honor given by the University and Alumni Association. The award is presented at the annual Distinguished Alumni Gala.
2008 Trey Hillman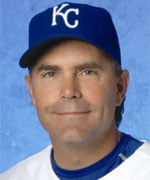 Trey Hillman was the manager of the Kansas City Royals Major League Baseball team. Hillman recently completed his first season (2008) with the Royals after managing in Japan for the previous five years. While in Japan, he guided the Hokkaido Nippon-Ham Fighters to the 2006 Japan Series championship, turning the historically unsuccessful franchise into a perennial contender for the 2003 – 2007 baseball seasons. The Hokkaido Nippon-Ham Fighters made three play-off appearances including winning the 2006 pennant in addition to the 2006 Asian Championship. The title was the Fighters' first since 1962. In 2006, Hillman won the Sportsman of the Year award as named by the Foreign Sportswriters of Japan. Hillman's Hokkaido Nippon-Ham Fighters also won the 2007 Pennant.
Prior to his time in professional baseball, Hillman played shortstop and second base for The University of Texas at Arlington Mavericks. Trey still holds the UT Arlington record for best batting average in a season with his .442 in 1985. After his tenure with the UT Arlington baseball team, Trey played minor league baseball in the Cleveland Indians farm system from 1985 – 1987. Hillman then started the next phase of his baseball career by accepting a scouting position with the Cleveland Indians for the 1988 season.
Trey subsequently joined the New York Yankees system by coaching in their "A" ball Carolina League in 1989. Hillman then managed 12 years in the New York Yankees minor league system from 1990 – 2001 where he won three manager of the year awards, guided his teams to eight winning seasons and four playoff appearances.
He was named Class A Manager of the Year in 1996 by Baseball America magazine. In 2000, Hillman was selected International League Manager of the Year. Following his tenure with the New York Yankees, Hillman was the Minor League Director and Field Coordinator of the Texas Rangers Major League Baseball Club in 2002.
Trey Hillman received his Bachelor of Arts degree in Exercise, Sport and Health Studies (currently Kinesiology) from the Department of Kinesiology at The University of Texas at Arlington in 1991. Hillman was selected as the College of Education and the Department of Athletics Distinguished Alumni Award for 2008 (honored October 11, 2008) by The University of Texas at Arlington Alumni Association.
Trey Hillman is married to Marie and lives in Liberty Hill, Texas (near Austin) with their two children (T.J. who is 15 and Brianna who is 12).
2006 Melody D. Phillips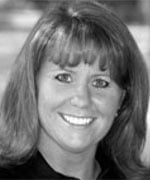 Dr. Melody D. Phillips is an assistant professor in the Department of Kinesiology at Texas Christian University. She received her bachelor of arts degree in exercise, sport and health studies at UT Arlington in 1994. After earning a master's degree at TCU and a Ph.D. from Purdue University, she was an assistant professor at Oklahoma State University for three years before returning to TCU. Her research has focused on the immune system and its interaction with exercise and influence on age- or inactivity-related diseases such as atherosclerosis and diabetes in elderly women and young adults.
She has received two internal TCU grants to fund a major project beginning this fall. She gives research presentations and lectures both nationally and internationally.
2005 Ross Querry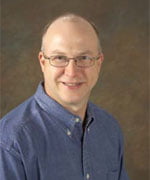 Ross G. Querry, P.T., Ph.D., is an Assistant Professor in the Department of Physical Therapy in the Southwestern Allied Health Sciences School at The University of Texas Southwestern Medical Center of Dallas. He received his Bachelor of Science degree in Exercise Science from The University of Texas at Arlington (the first graduate of the program) in 1995. He completed his Ph.D. in Biomedical Science from the Department of Integrative Physiology at the University of North Texas Health Science Center at Fort Worth, TX in 1999 followed by a post-doctoral fellowship and Master's degree in Physical Therapy from Texas Woman's University in 2001. He joined the UTSW physical therapy department in 2001.
In addition to the honor of receiving the first UTA Bachelor of Science in Exercise Science degree, he was awarded the first UTA Symposium on Undergraduate Research and Creative Activity (SURCA) first place award for his student research entitled "Limb vascular responsiveness to adrenergic agonists following physical deconditioning". SURCA is the predecessor to the current UTA Annual Celebration of Excellence by Students (ACES). While at UTA, he was awarded the Judd Ramsey Memorial Scholarship in 1994, and also received the second place student award at the 1996 Texas Chapter of the American College of Sports Medicine Annual Meeting.
As a graduate student Ross received the Texas Chapter of the American College of Sports Medicine grant in 1998 and a scholastic research award to conduct cardiovascular research at the Copenhagen Muscle Research Center, Denmark. During his tenure at UTSW, Dr. Querry has received $135,000 in funded research grants from the American Heart Association as a principal investigator in addition to another $2,280,000 as a co-investigator. Dr. Querry's research focus is in the area of neurological control of arterial blood pressure, and he is part of a collaborative team researching the effects of locomotor rehabilitation in patients with spinal cord injury utilizing manual and robotic controlled bodyweight supported treadmill training.
Since completing his Ph.D. he has coauthored 13 peer-reviewed research papers in journals such as the Journal of Physiology, Journal of Applied Physiology, American Journal of Heart and Circulatory Physiology, and Medicine and Science in Sports and Exercise. Dr. Querry also has 26 published refereed journal abstracts from professional conference presentations including the Society for Experimental Biology and Medicine, Medicine and Science in Sports and Exercise, and American Spinal Cord Injury Association. Most recently, Dr. Querry presented research titled "Advancing Technology in Rehabilitation" as the first UTA Alumni to present during the UTA Fall Lecture Tour of the Texas Chapter of the American College of Sports Medicine.
In addition to his research efforts, Dr. Querry teaches in the Master's program in physical therapy at UTSW in advanced therapeutic exercise and cardiopulmonary patient management as well as participating in an active clinical practice for patients with orthopedic and neurological impairments. He is a member of four professional societies including the American Physical Therapy Association, American College of Sports Medicine, American Physiological Society, and the Society for Experimental Biology. Additionally, he has initiated the Ross G. Querry "Excellence in Exercise Science Award" for the Department of Kinesiology.
2002 Kevin G. Abelbeck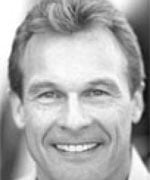 Kevin G. Abelbeck graduated from UTA in 1989 with a bachelor's degree in exercise and sport studies. His minor in biology included additional hours in mathematics, physics and engineering. Since graduation, he has applied his skills to inventing and engineering fitness and medical products and
today is president of OtpiPro, Inc., based in Los Angeles. He also holds U.S. utility patents on a variety of products, including the BodyRocTM, AbStarTM, BodyFormerTM, AbBikeTM and Denise Austin's Future Step.
Prior to establishing his own company, Abelbeck worked as a design engineer with Cobra Fitness Equipment, Keiser Sports Health Equipment and ADD Specialized Seating Technology. He is a professional member of the National Strength and Conditioning Association and has published his research in several professional journals.
2000 Robert Howard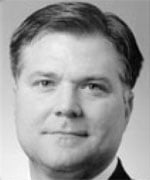 Robert Howard earned his bachelor's degree in physical education from UTA in 1985. The Physical Education Department, now called Kinesiology, is part of the School of Education. A three-year starter at defensive end on the football team, he was named All-Southland Conference three times, winning the Most Valuable Player award in 1984, the same year he served as team captain. He also competed in the shot put and discus for the track team and received seven athletic varsity team letters—three in football and four in track. After college, he began his business career as a sales representative with the Don Davis Auto Group in Arlington. He subsequently held the positions of pre-owned manager and general manager. In 1994 he was named president of Don Davis, the largest automobile dealer in numbers of pre-owned and new car sales in Tarrant County. The company ranks second in both categories for the Dallas-FortWorth Metroplex and was named one of the top 100 auto dealers in the United Sates for 1999.
Howard received the Maverick Award for "Dedication and Self-Discipline" in 1985. Howard commenced a professional career in business after his UTA graduation. Howard received his Bachelor of Arts in Physical Education from The University of Texas at Arlington in 1985. He initiated his career with the Don Davis Auto Group as a sales representative (1985-87).
Howard was very active in the athletic program at The University of Texas at Arlington. He received a total of seven (7) athletic varsity team letters (three in Football and four in track). Howard was All Southland Conference three times as a member of the track squad. His track and field event specialty was the shot put. At this time of his competition, he held the UTA shot put record of 56' 10".
Additionally, he had the second best discuss throw in UTA history in 1985.
Howard was a three-year starter at defensive end in football, received the Most Valuable Player award in 1984, was team captain in 1984, and was Honorable Mention All Southland Conference in his senior year.
Donate to the College
Ready to make a gift? Donate today directly through our online gift form!
Donate now