Biomedical Engineering Master of Science Degree Program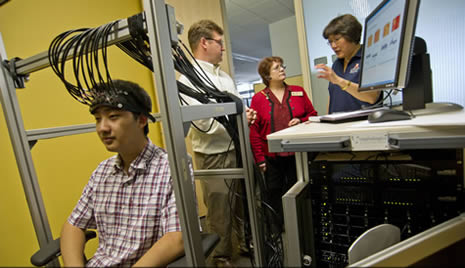 Objective
Jointly offered by The University of Texas at Arlington and The University of Texas Southwestern Medical Center, the Master of Science in Biomedical Engineering program prepares students for careers requiring skills in research, development, and teaching in a variety of settings in industry, hospitals, research facilities of educational and medical institutions, and government regulatory agencies.
Bioengineering Master's Degree Course
Students in the Thesis Degree plan must take a minimum of 30 credit hours, and students in the Thesis-Substitute Degree plan must take a minimum of 30 credit hours as specified below.
Description
Students learn the essentials of life science, engineering theory, and the analytical and practical tools that enable them to be successful in the biotechnology and bioengineering industries. The program includes coursework in the basic sciences, core engineering, bioengineering, and advanced biotechnology disciplines. Both didactic classroom lectures and hands-on laboratory experience are emphasized.
During the first year of their studies, students in the master's program must select a concentration track including:
Bioinstrumentation,
Biomaterials/Tissue Engineering,
Biomechanics,
Medical Imaging,
Nanomedicine,
Nanotechnology.
Requirements
Two laboratory courses for students in either the thesis track and in the thesis substitute track. This includes courses such as Laboratory Principles (BE 5382), Tissue Engineering Lab (BE 5365), Drug Delivery Lab (BE 5372), or Biomedical Optics Lab (BE 5324).
Bioengineering
Any four bioengineering courses from the list below consistent with the student's track of study and approval of the graduate advisor:
Cell Physiology (All)
Human Physiology - Required for all BE
Biomech and Fl Flow w/Computational Lab
Biomedical Optics Lab
Fluorescence Microscopy
Tissue Ultra-Sound-Opt Img
Tissue Optics
Neural Engineering
Polymers in BME
NanoBiomaterials
Transport Phenomena BME
MAT Lab
Bioinstrumentation
Biosensors
Medical Imaging
Digital Processing Biol Signals
Biomatter and Blood Comp
Tissue Engineering Lecture
Tissue Engineering Lab
Biomaterial-Living System
Drug Delivery Lecture
Drug Delivery Lab
Lab Principles
Engineering
One course from any bioengineering track or other engineering departments, with the approval of the graduate advisor
Required Life Sciences
Human Physiology (BE 5309)
Thesis Plan
Directed Research in Bioengineering (BE 5391), re-enroll as needed; Thesis (BE 5698) at the semester in which the student expects to submit and defend the thesis.
Thesis-Substitute Plan
One 3-hour graduate level course from bioengineering and one 3-hour graduate level course in life science or biostatistics.