Technical Writing and Professional Design
The minor in Technical Writing and Professional Design (TWPD) provides students with training in technical and professional writing, document design, visual communication, editing, and usability, and it helps students become more effective communicators in both traditional and new media environments. Students selecting the TWPD minor should consult first with the undergraduate advisor in their department or program for approval of the minor and then with an undergraduate advisor in the Department of English. Working with advisors, students will select a sequence of courses to fulfill the requirements of the minor. To count toward the minor, all courses must be completed with a grade of C or better. This minor requires 18 hours.
Required courses:
ENGL 1301 Rhetoric and Composition I
ENGL 1302 Rhetoric and Composition II
ENGL 2338 Technical Writing
Three of the following:
ENGL 3373 Advanced Technical Writing
ENGL 3376 Business and Professional Writing
ENGL 3377 Technical Editing
ENGL 3378 Technical Procedures and Manuals
ENGL 3379 Grant and Proposal Writing
ENGL 3383 Information Design
ENGL 4372 Professional Practice in Technical Communication
ENGL 4376 Designing Technical Documents
ENGL 4390 Internship in English
Technical Writing and Professional Design Faculty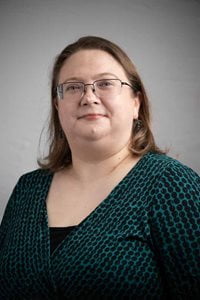 Additional Info: Amy Hodges is an assistant professor of English at the University of Texas at Arlington, specializing in technical writing and professional communication. Her research examines the language, writing, and communication strategies of multilingual engineers in transnational corporations, and she also researches what writing programs can do in order to create a more inclusive environment and prepare all writers for linguistically diverse workplaces. Her work has appeared in IEEE Transactions on Professional Communication and the Writing Center Journal. Prior to her appointment at UTA, Dr. Hodges taught technical writing, composition and rhetoric, and English as a Second Language courses in the US, Qatar, and Singapore. Her research interests include: Technical and Professional Communication, Multilingual Writers, Rhetoric and Composition, Writing Across the Curriculum and Writing in the Disciplines.
Timothy Ponce
Coordinator, Technical Writing & Professional Design
Coordinator, Internships Program
and Internships