Meet Karla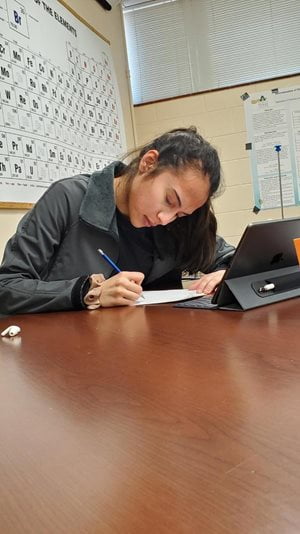 What inspired you to choose chemistry as your major?
I chose biochemistry as my major because I took a liking to my introductory chemistry class in high school. Biochemistry also intrigued me due to it being known as a challenging major, and I always love a good challenge!
What was your favorite chemistry class and why?
Instrumental Analysis was my favorite class due to its extensive applications. This class allowed me to learn the background of the techniques used in analytical chemistry as well as a space to apply such knowledge through its associated laboratory. This class helped me realize that I would like to pursue analytical chemistry after graduation.
What do you see as your ideal long-term career?
I see myself as an analytical chemist after completion of graduate school.
Have you been involved in research? If yes, also list which professor(s) lab.
I have done high energy physics research with Dr. Benjamin Jones in the physics department at UTA as I pursued a second major in physics alongside my biochemistry major. I also participated in 2 months of physical chemistry summer research with Dr. Peter Kroll and Dr. John Lang.
What was the most impactful experience you had as a student while at UTA?
The most impactful experience I had at UTA was doing high energy research under Dr. Benjamin Jones. Through this experience, I discovered how much I enjoy research and how fun it can be to learn more about the unknown. Presenting our work at different conferences also helped me to communicate our research in a more professional manner as well as gain some confidence in my abilities. This experience ultimately led to me wanting to pursue a PhD (though in chemistry) after completion of my bachelor's degree.
What advice would you give to your younger self about college?
I would tell my younger self to not let being afraid of making mistakes stop you from taking chances. Whether it's accepting a research position or asking a question in class, go for it!
What is one thing that people who know you might be surprised to learn?
I know how to play the violin.