Deng selected for leadership role in NASA project to study Earth's upper atmosphere
A space physicist from The University of Texas at Arlington has been selected to play a leading role in a new NASA project which will change our understanding of Earth's upper atmosphere.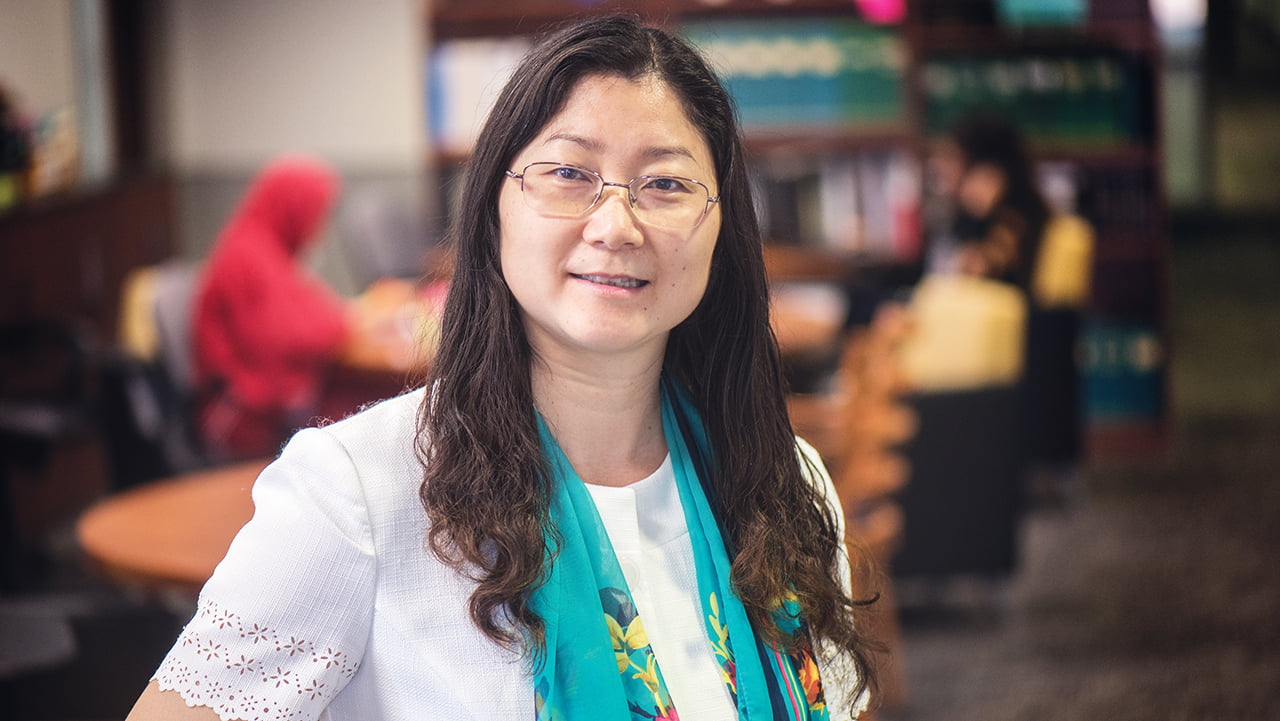 A space physicist from The University of Texas at Arlington has been selected to play a leading role in a new NASA project which will change our understanding of Earth's upper atmosphere.
The Geospace Dynamics Constellation mission, or GDC, will utilize satellites to study Earth's upper atmosphere and provide the first direct global measurements of the complex and dynamic boundary between Earth's atmosphere and space, which is called the ionosphere-thermosphere (I-T) system.
Yue Deng, UTA distinguished professor of physics, was recently named one of three GDC Interdisciplinary Scientists (IDS), along with Rebecca Bishop, principal scientist at The Aerospace Corporation, and Jeffrey Thayer, professor of aerospace engineering sciences at the University of Colorado at Boulder.
Deng will lead a team which includes Daniel Welling, UTA assistant professor of physics; Mingwu Jin, UTA associate professor of physics; Cheng Sheng, UTA research engineer scientist in Deng's lab; Christine Gabrielse, research scientist at The Aerospace Corporation; Sebastijan Mrak, research associate at the University of Colorado at Boulder; Shun-Rong Zhang, research scientist at MIT; and Simon Wing, physicist at Johns Hopkins University Applied Physics Laboratory.
The GDC mission will advance scientists' understanding of the structure and behavior of the I-T system, according to a NASA blog post announcing the project. Specifically, the mission will reveal new insights into how the I-T responds to energy input from the Sun and space environment above and the lower atmosphere below, and how it internally redistributes this energy on a global basis, the post explained.
The processes and dynamics active in the I-T region are involved in many of the space weather effects we experience on Earth, such as disrupted communications and navigation signals, satellite orbit disruptions, and certain triggered power outages.
"We are very excited about the selection of IDS and the opportunity to serve the GDC mission," Deng said. "The GDC mission will provide an unprecedented opportunity to fill a critical science gap about multi-scale ionosphere-thermosphere (I-T) coupling and will create a giant leap forward in specification of the energy and momentum deposition and understanding the disturbances in the I-T system."
The level of detail and resolution obtained through the mission will provide an unprecedented understanding of the space environment surrounding Earth and will allow new insights into the fundamental dynamics of planetary atmospheres within the solar system and beyond, the blog post said.
"The objective of our project is to support the GDC mission with state-of-the-art physical models and ground-based observations, which are very important for successful launch, operations, and science closure of the GDC mission," Deng said.
NASA has stated an intention to select the rest of the science team and the instruments that will fly on the GDC spacecraft in early 2022.
"This is a tremendous honor for Dr. Deng and her colleagues here at UTA," said Alex Weiss, professor and chair of the UTA Department of Physics. "To be included in a leadership role of a major NASA project speaks volumes about the quality of work being done by Dr. Deng and all the faculty involved in space weather research here at UTA."
Deng has more than a decade of experience in space physics research, including leadership roles in national, collaborative projects. In February 2021 Deng, Welling, and Sheng received a $652,000 grant from NASA through its Heliophysics Living with a Star (H-LWS) program to study the impact of space weather on Earth, particularly the impact of solar-induced phenomena on electrical power grids. The goal of the H-LWS project is to use a system of numerical computer models to better understand how space weather affects changes in Earth's ground magnetic field disturbance and geomagnetically induced current (GIC).
Deng is also leading the Multidisciplinary University Research Initiative (MURI) project to develop next generation simulation capability in I-T coupling at multiple scales for environmental specification and prediction. The project, which includes seven universities with UTA as the lead institution, is being funded by a $7.3 million grant from the U.S. Department of Defense and a $1.5 million supplemental grant received by Deng in 2019.
She was also involved in developing a new 3-dimensional non-hydrostatic ionosphere/thermosphere general circulation model (GCM) and investigating the non-hydrostatic processes in the upper atmosphere. Additionally, Deng served as a member of the National Academy of Sciences Committee on Solar and Space Physics from 2017-21. From 2015-18, she was as a member of the National Science Foundation-sponsored CEDAR Science Steering Committee.
Deng has received numerous awards for her research, including a National Science Foundation Faculty Early Career Development (CAREER) award in 2010 and the Robert S. Hyer Research Award from the Texas Section of the American Physical Society in 2012 and again in 2020. Other honors include the UTA College of Science Research Excellence Award in 2016, the UTA Award for Outstanding Research Achievement or Creative Accomplishment in 2017, the UTA Distinguished Record of Research Award in 2019, and induction to the UTA Academy of Distinguished Scholars in 2020.
She came to UTA in 2009, following two years as a postdoctoral researcher at the National Center for Atmospheric Research in Boulder, Colorado, and one year as a research associate at the NOAA Space Weather Prediction Center affiliated with the University of Colorado at Boulder.
--
The UTA College of Science, a Texas Tier One and Carnegie R1 research institution, is preparing the next generation of leaders in science through innovative education and hands-on research and offers programs in Biology, Chemistry & Biochemistry, Data Science, Earth & Environmental Sciences, Health Professions, Mathematics, Physics and Psychology. To support educational and research efforts visit the giving page, or if you're a prospective student interested in beginning your #MaverickScience journey visit our future students page.