NASA director, alumna among presenters for UTA Science Week
College of Science events celebrate student, faculty, alumni achievements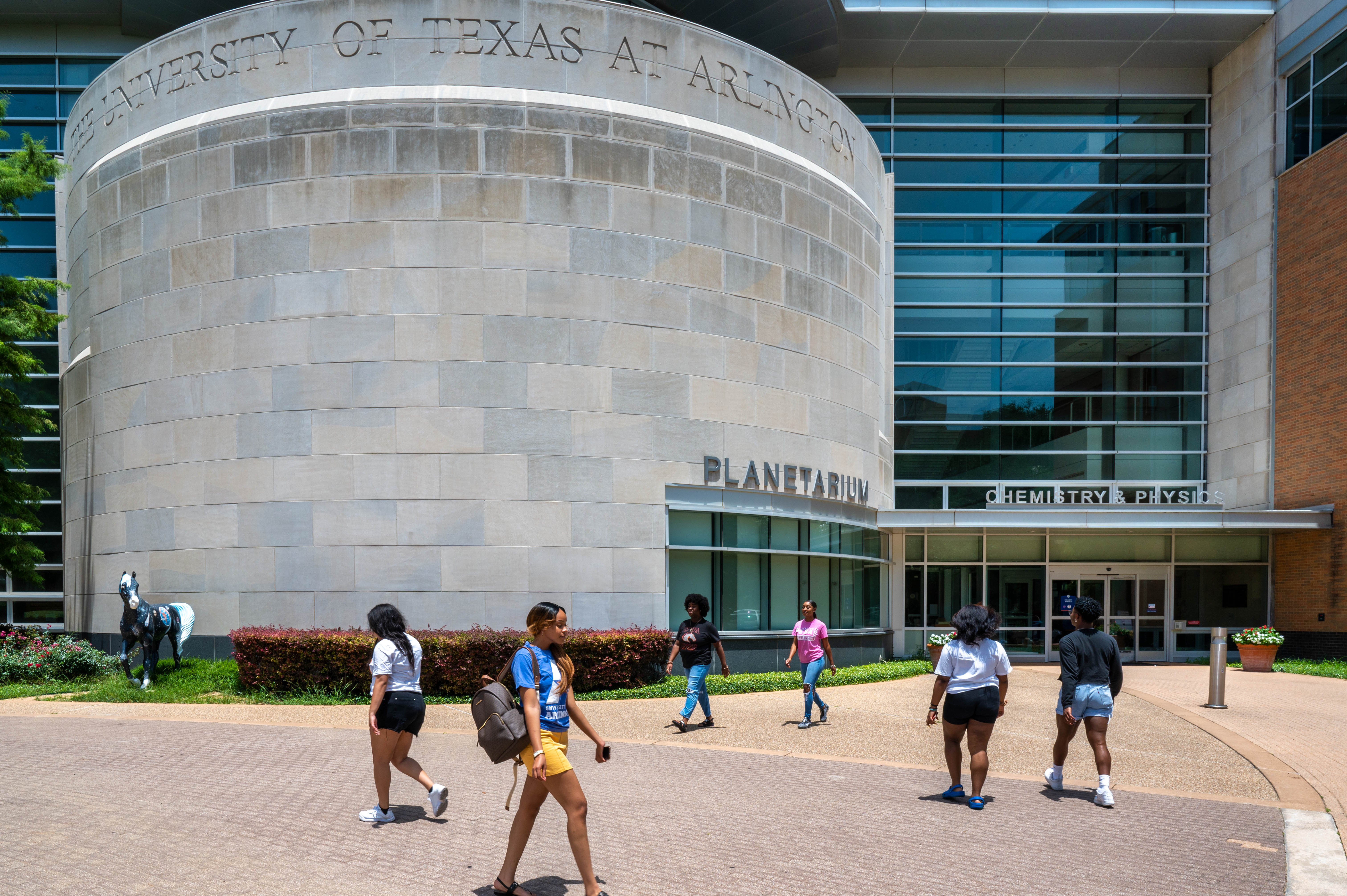 The University of Texas at Arlington's College of Science will present Science Week, a series of special events highlighting the expertise and achievements of the college's faculty, students and alumni, from April 18 to 24.
Events include live podcast recordings, panel discussions, workshops and Planetarium shows.
Science enthusiasts can attend a meet-and-greet reception with six of the North Texas-based If/Then Ambassadors, including UTA's Minerva Cordero, distinguished professor of mathematics and senior associate dean for research and graduate studies in the College of Science, on April 18. The ambassadors will discuss their careers, obstacles to their success and the people who influenced their professional journeys.
On April 20, comedian Kasha Patel will perform two stand-up sets. Patel, a former science writer for NASA and deputy weather editor for The Washington Post, centers her comedy on life as an Indian-American and her love for science. Her company, DC Science Comedy, produces one of the nation's only frequently occurring science-themed comedy shows where scientists, writers and comedians grace the stage.
Lori Glaze, an alumna of UTA's Department of Physics and the director of NASA's Division of Planetary Science, will present on April 21, as part of the college's Distinguished Women in Science Speaker Series. Glaze oversees NASA's space flight missions and scientific research that address fundamental questions of solar system formation and evolution. Her research interests include physical processes in terrestrial and planetary volcanology, atmospheric transport and diffusion processes and geologic mass movements.
Throughout the week, attendees can visit the University Center Art Gallery to view the exhibit, A Look Inside, featuring photos of specimens from UTA's Amphibian and Reptile Diversity Research Center. Actual specimens will also be on view, and the UTA Herpetology Club will present periodic, live animal demonstrations.
"This year's Science Week is a celebration of the pursuit of scientific knowledge," said College of Science Dean Morteza Khaledi. "We invite the UTA community and the public to immerse themselves in fascinating conversations on topics ranging from particle physics to mental health."
The week's schedule is available at go.uta.edu/scienceweek. All events are open to the public. Additional highlights include:
Discussion with Amanda Bryant-Friedrich, dean of the Graduate School and professor in the College of Pharmacy and Health Sciences at Wayne State University: Tuesday, April 19 at 2 p.m. in room 198 of the Science & Engineering Innovation & Research building

Movie Night at the Planetarium (Interstellar): Tuesday, April 19 at 7 p.m. in the UTA Planetarium Theater

Earth Day Community Cleanup: Saturday, April 23 at 8 a.m. at Randol Mill Park
The campus-wide event series coincides with Discover, a student research symposium that culminates in a virtual award ceremony on April 22. Winning students will present original research and give a behind-the-scenes view of their process of discovery.
--
The UTA College of Science, a Texas Tier One and Carnegie R1 research institution, is preparing the next generation of leaders in science through innovative education and hands-on research and offers programs in Biology, Chemistry & Biochemistry, Data Science, Earth & Environmental Sciences, Health Professions, Mathematics, Physics and Psychology. To support educational and research efforts visit the giving page, or if you're a prospective student interested in beginning your #MaverickScience journey visit our future students page.