Students advocate for UTA during visit to State Capitol
College of Science students among those taking part in UTA Day in Austin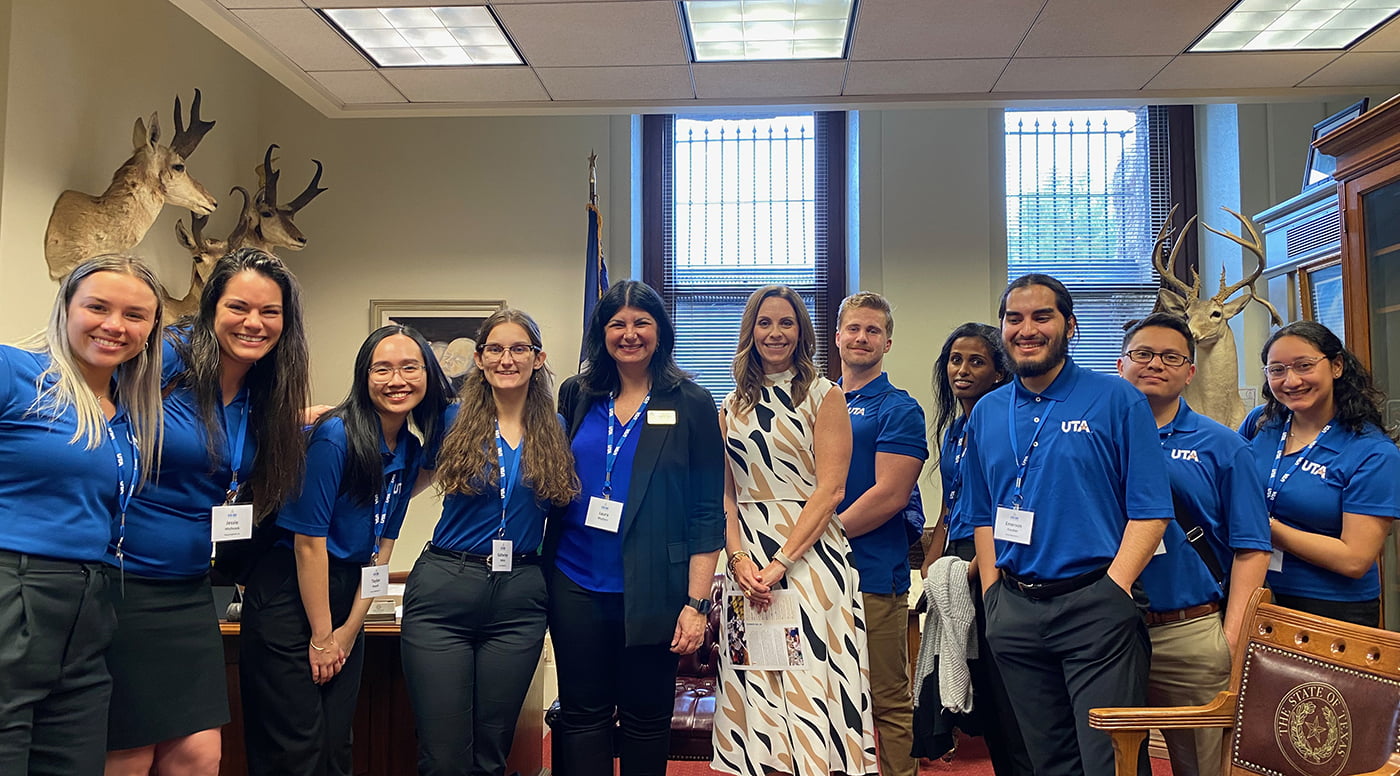 College of Science students from The University of Texas at Arlington got a fun and educational look at the legislative process during UTA Day at the State Capitol on March 22.
More than 70 UTA students, faculty, and staff representing every academic unit boarded buses bound for Austin. There, they visited the Capitol and attended the daily session of the 88th Texas Legislature, which began January 10 and runs through May 29. This is the second time UTA has participated in legislative discussions at the State Capitol and advocated for policies important to UTA and higher education in general with state legislators.
Laura Mydlarz, College of Science associate dean and professor of biology, was part of the UTA delegation and said the trip was a great opportunity for students to learn about the legislative process and serve as enthusiastic ambassadors for UTA.
"This was a terrific experience for our students, who got a chance to see first-hand how the Legislature operates," Mydlarz said. "I know they appreciate getting to meet the legislators and speak with them about issues that are important to them. No doubt they'll remember this day for a long time."
College of Science students who participated in the trip include: Dayanara Arce, Katherine Atkins, Natelee Brinlee, Lindsey Caldwell, Fahad Danladi, Darsh Gandhi, Liya Gebremeskel, Sergio Gonzalez, Tyleyah Grimes, Stephanie Howell, Maria Malek Mridu, Zainab Muhammad, April Munoz, David Nguyen, Teresa Nguyen, Victoria Ochoa, Aaron Quezada, Brianda Rocha Hernandez, Angela Santos, and Kiara Thompson.
"I had a great time at the Capitol; it was an amazing and very busy place," said Rocha Hernandez, an undergraduate in psychology. "We were able to talk to state representatives and a senator about how important it is to fund higher education and maintain financial aid programs like the TEXAS (Toward Excellence, Access and Success) Grant. One of my favorite moments was when UTA was recognized on the Senate floor for our amazing accomplishments like having the No. 1 nursing program in Texas and being a Carnegie R1 and Tier 1 university."
The students split into groups of six, each accompanied by a faculty or staff member, and visited both the House and Senate chambers, where they were officially recognized. They enjoyed lunch in the UT System Building, four blocks from the Capitol, where they met with State Rep. Chris Turner. He represents District 101, which includes parts of Arlington, including UTA. Turner has been a strong advocate for UTA in his six terms as a legislator.
"After lunch, my group went back to the Capitol and met with two representatives and two senators," said Gandhi, an undergraduate in mathematics. "We talked about the importance of funding for research at UTA, especially since UTA is now a Tier 1 and R1 university. We also focused on the need to improve UTA's infrastructure, with additional parking and building renovations at the top of the list.
"Running from office to office and trying to find our way through the Capitol's maze was really fun. I love rubbing shoulders, shaking hands, and meeting new people, so the Capitol's hectic environment was perfect for me. Overall, the trip was awesome and enlightening."
The UTA College of Science, a Texas Tier One and Carnegie R1 research institution, is preparing the next generation of leaders in science through innovative education and hands-on research and offers programs in Biology, Chemistry & Biochemistry, Data Science, Earth & Environmental Sciences, Health Professions, Mathematics, Physics and Psychology. To support educational and research efforts visit the giving page, or if you're a prospective student interested in beginning your #MaverickScience journey visit our future students page.