COS alumna honored for her contributions to workplace, community
Chloe Lemelle named to Dallas Business Journal's 17th annual 40 Under 40 list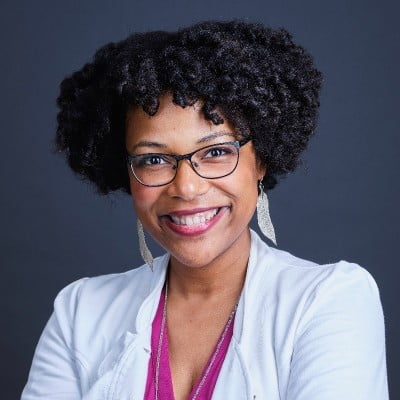 A College of Science alumna from The University of Texas at Arlington has been recognized with a prestigious award from the Dallas Business Journal for outstanding contributions to her workplace and the community.
Dr. Chloe Lemelle is a recipient of the Journal's 17th annual 40 Under 40 Award, which honors rising stars in the North Texas business community. Lemelle, the assistant vice president of Human Resources at AT&T, earned two degrees from UTA: an M.S. in Industrial and Organizational (I/O) Psychology, and a Ph.D. in Experimental Psychology with an emphasis in I/O Psychology.
Lemelle and the other recipients will be honored at a special event July 20 in Dallas.
"I was so shocked and honored first just to be nominated by Dean Khaledi and the College, and then to actually be among the honorees was just very humbling and gratifying," Lemelle said. "I'm very grateful to the dean and the team at UTA for the nomination and I'm overwhelmed with joy to be a recipient of this wonderful award."
"I and everyone in the College are elated that Chloe has been recognized with this great honor," College of Science Dean Morteza Khaledi said. "It is well-deserved. Her compassion for people and her desire to help make the community a better place are evident in everything she does."
Lemelle joined AT&T in 2013 and has been a key player in the company's cultural initiatives. During her tenure at AT&T, she has consistently worked toward cultural transformation of the company, with a focus on improving the lives of all current employees and those who will join in the future.
"Going into I/O psychology was one of the best decisions I've made in my life. The work I do at AT&T is in large part made possible by my background in I/O," she said. "Being able to take lessons I learned in my educational career and apply them in my work career is very fulfilling and rewarding."
Before becoming assistant vice president of Human Resources, she was appointed as the first official director of Ethical Culture in AT&T's history in 2016. In this position she worked tirelessly to define the job's role, build a team and create a long-term strategy to foster a more welcoming workplace environment for all.
In 2020 the Ethical Culture initiative culminated in AT&T securing a spot on the World's Most Ethical Companies list for the first time ever.
Also in 2020, Lemelle led the Cultural Transformation team in the Customer Operations division, one of AT&T's largest business units. She extended anti-racism training across this unit, starting with top-level executives. Leveraging her expertise in behavioral science, she created an experiential training program that enabled employees to grow in their understanding and appreciation of one another.
For this program, Lemelle trained more than 50 of the company's senior leaders. She also provided guidance for facilitators who in turn led the training for director-level leaders in the business unit. In addition, she led efforts to bring this experience to frontline leaders in a self-paced, virtual format. Through November 2022, there were over 5,000 course completions, with an average star-rating of 4.8 out of 5 stars.
Additionally in her Customer Operations role, in 2021 Lemelle launched the Connection Ambassadors program which united a coalition of culture advocates and enthusiasts with the collective goal to improve AT&T's customer service culture.
"Something we talk about a lot at AT&T is that 'connecting changes everything', and I really believe in that," she said. "The power of connection is so strong. It's a beautiful thing to be able to play a part in connecting people to greater possibility. Part of my job is to connect people and for me, that's not just a part of my career, but a calling."
Lemelle has also been a part of the Accelerated Development Program and in 2016 received the AT&T President's Volunteer Service Award.
"Everyone in the UTA Department of Psychology is so proud of Chloe and of her receiving this honor," said Nicolette Hass, UTA professor in practice and associate chair of the department. "This recognition highlights the dedication and commitment that Chloe exemplifies, first as a graduate student in our doctoral program and now as a professional in her career. Her leadership draws people toward her and inspires others to follow suit. We cannot think of anyone who is more deserving than Chloe and we look forward to her many great achievements that are to come."
Lemelle has served for the past seven years on the volunteer board of directors for Dallas Dinner Table, a nonprofit which works toward the goal of eliminating racism in America by bringing together people of different ethnic backgrounds in a dinner table setting. The organization recently began expanding to take its mission nationwide and is now named America's Dinner Table. Since 2020 Lemelle has also served as co-chair of the organization's Mission Development Committee.
She has been a member of the UTA College of Science Advisory Council since 2013. The council provides advice and resources to the dean and administration in matters important to the College. She is also a strong supporter of the Department of Psychology's I/O program and is a member of the UTA I/O Center's Advisory Council.
"The reason I'm involved with the College of Science Advisory Council and the I/O Center Advisory Council is out of a sense of gratitude for all the things that UTA provided me," she said. "I have a strong desire to give back and to use my experience to help others. I'm so grateful to UTA and the College of Science not only for the great education they provided but for the opportunities I have now that I would not have had otherwise.
"My time at UTA challenged me in ways that I hadn't been before and that gave me a foundation of understanding. It allowed me to bridge the gap between academia and the corporate world."
"Chloe is always willing to go above and beyond to support the College and the I/O Psychology program," Khaledi said. "She has participated in several College of Science events and given several presentations at UTA. Chloe has been an amazing advocate for our students, faculty, and research initiatives."
The UTA College of Science, a Texas Tier One and Carnegie R1 research institution, is preparing the next generation of leaders in science through innovative education and hands-on research and offers programs in Biology, Chemistry & Biochemistry, Data Science, Earth & Environmental Sciences, Health Professions, Mathematics, Physics and Psychology. To support educational and research efforts visit the giving page, or if you're a prospective student interested in beginning your #MaverickScience journey visit our future students page.