Maverick Science Student Stories
Your story could be next!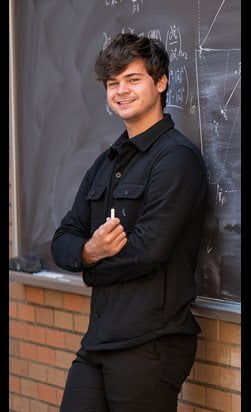 Michael
Major:
Mathematics
Minor:
Chemistry
Campus involvement:
Math Learning Resource Center tutor; Intramural sports (Ultimate Frisbee team)
Fun fact:
Enjoys competing in disc golf tournaments
I've always had an inkling towards mathematics and the sciences. Even back in primary school I would read our beginning science textbook during reading time because it interested me so much. After exploring different science subjects, I soon realized that I was more interested in the math behind the science than the science itself. One thing led to another and I came to becoming a math major.
When it came time to choose a college, I knew I wanted a university with smaller class sizes and where the faculty worked closely with their undergraduate population. Research was another important factor to me since that's something I wanted to explore, and UTA has a thriving research culture.
I'm originally from Melbourne, Australia and moved to Texas in 2015. I had spent the previous summer at the University of Buenos Aires before I ultimately made up my mind to come to Texas for school. As a transfer student to UTA, my transfer experience was great. I was able to start out in my junior level classes and the professors made the transition very easy.
UTA has seemingly endless resources for students. I've worked as a math tutor for the department my entire time here and just for math classes alone, there are two tutoring centers that are free (Math Lab and Math Clinic), specialized tutors who are dedicated to your own class, and professors who can always find time to meet with you to answer any questions you have.
It took me awhile to find out what mathematical fields interest me the most, but the majority of my work lies in mathematical chemistry, calculus of variations, and partial differential equations. I've been involved in independent research where I studied spherical packing of natural polymers.
UTA is going to be what you make of it. There's something for everyone here and it's easier than you might think to make friends here. The College of Science has made great strides towards diversity across all fields and has many support groups. The Mathematics Department here is just the perfect size where it's small enough for you to know all the professors but large enough to where you can form multiple study groups within your classes.
I've enjoyed all of my classes, but most of all I've loved working with [Department of Mathematics faculty] Dr. (Daniel) Warren, Dr. (Barbara) Shipman, and Dr. (Michaela) Vancliff. They all have their own unique teaching styles that just meld well with students. Dr. Warren is laid back and loves the brain teasers; Dr. Shipman is incredibly good at explaining high-level concepts in an easy to digest way; and Dr. Vancliff gives tough love in her classes but she really just wants to get the best out of you.
Even though I love math and science, sometimes I need a break and need to have time to reset myself. I'm involved with the Ultimate Frisbee team on campus and frequently play disc golf.
After I finish my bachelor's degree, I'm going to continue onto graduate school and study chemistry at the master's level. I would like to continue teaching and work on research in renewable energy sources.
---
Michael
Programa:
Matematicas
Minor:
Quimica
Actividades que desempeña en el campus de la universidad:
Math Learning Resource Center tutor; Intramural sports (Ultimate Frisbee team)
Dato curioso:
Disfruta compitiendo en torneos de disc golf.
Siempre he tenido una inclinación hacia las matemáticas y las ciencias. Incluso cuando estaba en primaria, leía nuestro libro de texto de ciencias para principiantes durante el tiempo de lectura porque me interesaba mucho. Después de explorar diferentes temas de ciencia, pronto me di cuenta de que estaba más interesado en las matemáticas detrás de la ciencia que en la ciencia misma. Una cosa llevó a la otra y llegué a especializarme en matemáticas.
Cuando llego el momento de escoger la universidad a la que debía ir, sabía que quería una universidad donde las clases no contaran con un gran numero de estudiantes y donde el cuerpo docente trabajara en estrecha colaboración con su población de estudiantes universitarios. La investigación fue otro factor importante para mí, ya que es algo que quería explorar y UTA tiene una cultura de investigación próspera.
Soy originario de Melbourne, Australia, y me mudé a Texas en 2015. Pasé el verano anterior en la Universidad de Buenos Aires antes de decidirme de venir a Texas para estudiar. Como estudiante de transferencia a UTA, mi experiencia de transferencia fue excelente. Pude empezar en mis clases como estudiante de tercer año y los profesores hicieron la transición muy fácil.
UTA tiene recursos infinitos para los estudiantes. He trabajado como tutor de matemáticas para el departamento durante todo el tiempo que he estado en UTA. Solo para las clases de matemáticas, hay dos centros de tutoría que son gratuitos (Math Lab y Math Clinic), cuentan con tutores especializados que se dedican a la clase en la que necesites ayuda, además hay profesores quienes siempre buscan como ayudarte y responder cualquier pregunta que el estudiante tenga.
Me tomó un tiempo descubrir qué campo de las matemáticas me interesan más, pero la mayor parte de mi trabajo se encuentra en química matemática, cálculo de variaciones y ecuaciones diferenciales parciales. He estado involucrado en una investigación independiente en la que estudié el empaquetamiento esférico de polímeros naturales.
UTA será lo que tú hagas de ella. Aquí hay algo para todos y hacer amigos es más fácil de lo que piensas. La Facultad de Ciencias ha hecho grandes avances en cuestion de diversidad en todos los campos y tiene muchos grupos de apoyo. El Departamento de Matemáticas aquí tiene el tamaño perfecto donde es lo suficientemente pequeño para que conozcas a todos los profesores, pero lo suficientemente grande como para que puedas formar múltiples grupos de estudio dentro de tus clases.
Disfruté todas mis clases, pero sobre todo me encantó trabajar con el Dr. (Daniel) Warren, la Dra. (Barbara) Shipman y la Dra. (Michaela) Vancliff [facultad del Departamento de Matemáticas]. Todos tienen sus propios estilos de enseñanza únicos que combinan bien con los estudiantes. El Dr. Warren es relajado y ama los acertijos; El Dr. Shipman es increíblemente bueno explicando conceptos de alto nivel de una manera fácil de digerir; y la Dra. Vancliff da mucho amor en sus clases, pero en realidad solo quiere sacar lo mejor de ti.
Aunque me encantan las matemáticas y las ciencias, a veces necesito un descanso y tiempo para reiniciarme. Participo en el equipo Ultimate Frisbee del campus y con frecuencia juego golf.
Después de terminar mi pregrado, continuaré mi educación haciendo un posgrado y estudiaré química a nivel de maestría. Me gustaría seguir enseñando y trabajando en la investigación de fuentes de energía renovables.