The psychological factors of stuttering
For UTA undergraduate, personal experience with stuttering informs, inspires research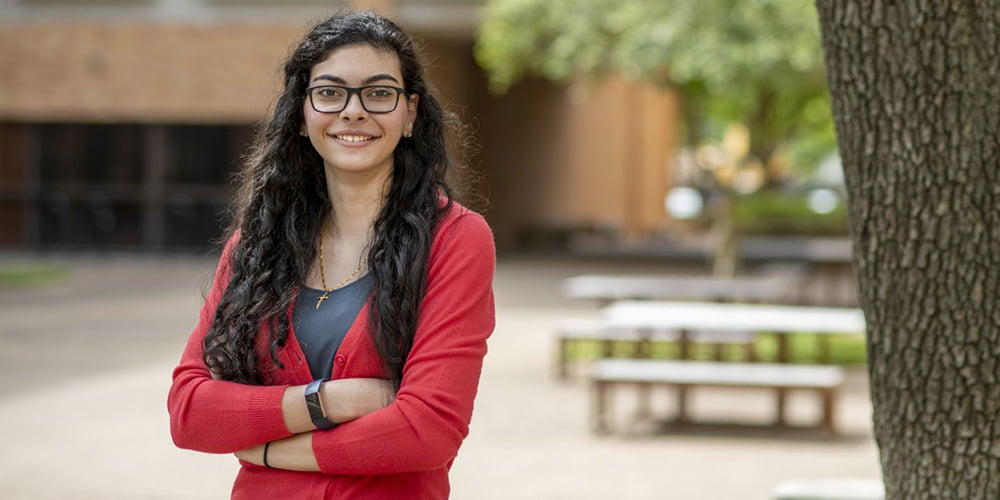 From age 12 to 17, Christine Abasi attended speech therapy to correct a stuttering disorder. Now, as an undergraduate researcher at The University of Texas at Arlington, she is using her experience to help others.
Abasi, a student in UTA's Honors College double-majoring in psychology and communication studies, is researching the psychological causes of stuttering to gain insight into effective therapies and develop methods to reduce its stigma.
Prompted by a class assignment, Abasi conducted a literature review of published research on the topic of stuttering. She didn't find as much information as she had hoped.
"I was surprised to learn that researchers have only been investigating stuttering for the last 60 years," Abasi said. "It's an under-resourced field, and research into the cause of the disorder is inconclusive."
This shortage inspired Abasi to conduct an interdisciplinary investigation, combining existing studies from the fields of biology, neuroscience, psychology and communication. Among other findings, she discovered that the brains of stutterers exhibit decreased blood flow to the regions responsible for speech and language. Further research is needed to identify whether the limited blood supply is due to brain, muscle or cognitive dysfunction, Abasi said.
Abasi's paper, "The Psychology of Stuttering: Possible Causes and Treatments of Persistent Stuttering Disorder," earned an invitation to Texas Undergraduate Research Day, where she presented her research to an audience of Texas legislators and members of the public.
Crediting support from her faculty adviser Molly Cummins, lecturer of communication, Abasi said UTA's robust research environment empowered her to contribute to the field of knowledge on speech disorders.
"After my class project, Dr. Cummins encouraged me to add my perspective to stuttering research," Abasi said. "Since UTA is an institution with very high research activity, it was easy for me to take advantage of our research resources and submit my work to symposiums and conferences."
"Christine is a conscientious student and a hardworking, determined person," Cummins said. "I imagine this is only the beginning for her, and she will broaden the world's understanding of speech disorders."
With the goal to attend graduate school and become a speech pathologist, Abasi will spend her final year at UTA researching approaches to reduce the stigma associated with stuttering. She plans to examine how public education and interpersonal communication between those who stutter and the people in their lives can influence how communities respond to those with speech disorders.
"The combination of my personal history and the knowledge I have gained at UTA gives me a unique view of how both speech therapists and researchers approach the problem of stuttering," Abasi said. "I've seen both sides of the coin. Now I can apply that knowledge to help others overcome their speech disorders."
The UTA College of Science, a Texas Tier One and Carnegie R1 research institution, is preparing the next generation of leaders in science through innovative education and hands-on research and offers programs in Biology, Chemistry & Biochemistry, Data Science, Earth & Environmental Sciences, Health Professions, Mathematics, Physics and Psychology. To support educational and research efforts visit the
giving page
, or if you're a prospective student interested in beginning your #MaverickScience journey visit our
future students page
.