Deng receives Simpson Medal, named Fellow by AGU
Physics professor honored for her research, leadership, and service in the Earth and space sciences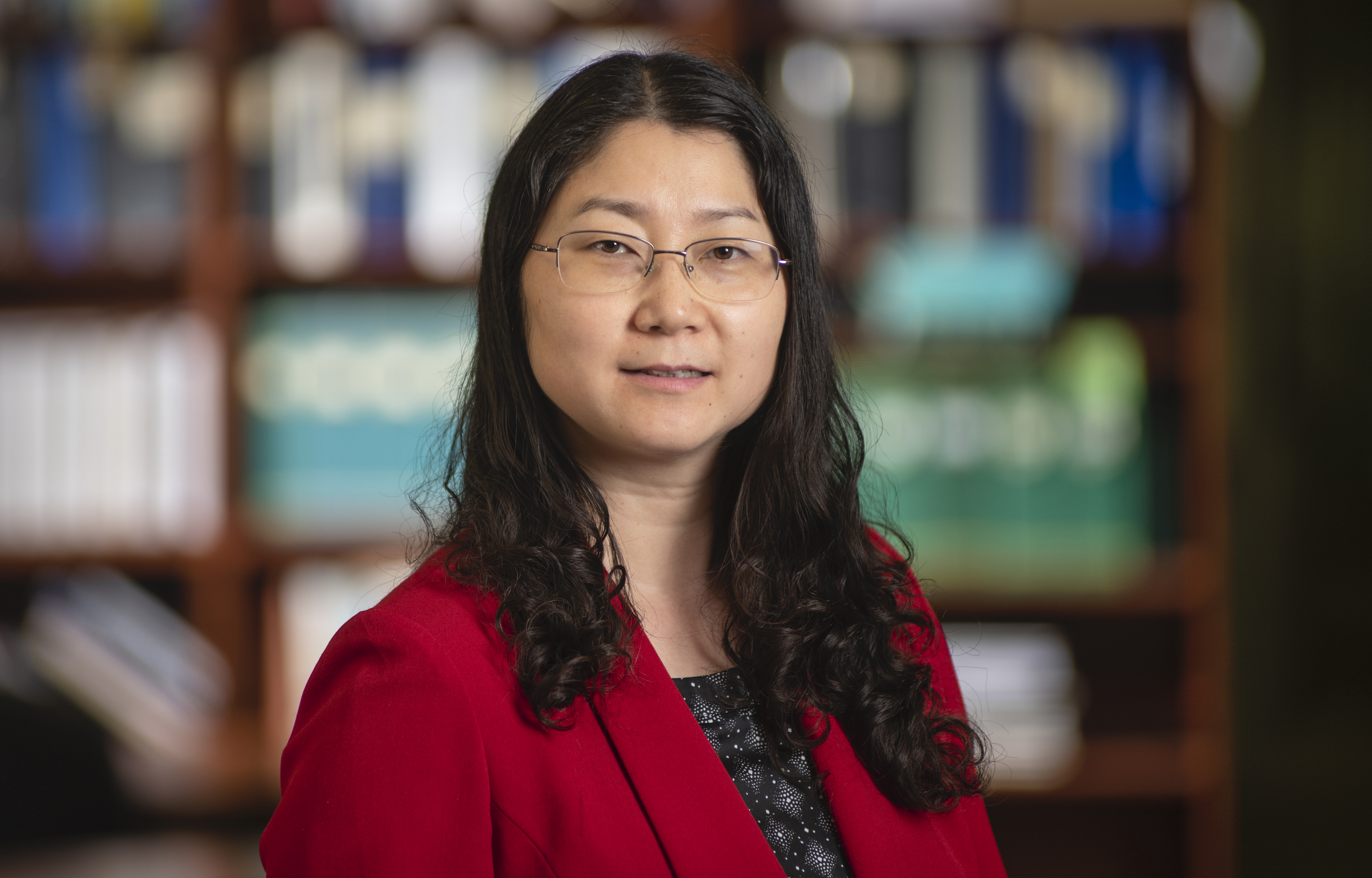 One of the nation's leading organizations for promoting Earth and space sciences has bestowed a prestigious award on an esteemed space physics researcher at The University of Texas at Arlington.
Yue Deng, distinguished professor of physics, has been named recipient of the 2022 Joanne Simpson Medal for Mid-Career Scientists by the American Geophysical Union. The award recognizes mid-career scientists who have made transformative scientific advances or breakthroughs in the Earth and space sciences, demonstrated strong leadership, and provided outstanding service to science and society.
As part of the award, Deng will also be named an AGU Fellow, an honor given only to a select few who have attained acknowledged eminence in the Earth and space sciences, according to the AGU website.
AGU works to support and extend the reach and impact of Earth and spaces sciences through its research publications, meetings, and data initiatives. AGU, a nonprofit organization that supports 130,000 enthusiasts to experts worldwide, will formally recognize this year's award recipients during the AGU Fall Meeting, December 12-16 in Chicago and online.
The Simpson Medal is named in honor of Joanne Simpson, who was the first woman to earn a Ph.D. in meteorology and during her career made fundamental contributions to modern research on tropical clouds and hurricanes.
"I am very honored to receive the Simpson Medal and to be named an American Geophysical Union Fellow," Deng said. "I thank the AGU for their dedication to space and Earth sciences and for their numerous efforts to advance scientific knowledge."
Deng has conducted groundbreaking space physics research in the areas of 3-D modeling of complex systems, magnetosphere and ionosphere-thermosphere (I-T) coupling, data analysis and data assimilation, ionospheric storms and high latitude phenomena, and the influence of solar irradiance and solar wind on the upper atmosphere.
Deng has more than a decade of experience in space physics research, including leadership roles in national, collaborative projects. She is and has previously served as principal investigator for projects which received millions of dollars in funding from NASA, the National Science Foundation (NSF), and the Air Force Office of Scientific Research, among other sources.
"This is a tremendous honor for Dr. Deng, and much-deserved," College of Science Dean Morteza Khaledi said. "She has made many important contributions to the space physics field, and her leadership and innovative research have helped to significantly raise the profile of the Department of Physics and UTA overall."
Deng is presently one of three interdisciplinary scientists on NASA's Geospace Dynamics Constellation (GDC) mission, which will utilize satellites to study Earth's upper atmosphere and provide the first direct global measurements of the complex and dynamic boundary between Earth's atmosphere and space, which is called the ionosphere-thermosphere (I-T) system.
She is also leading a NASA project which will utilize satellite data to gain new understanding of neutral wind shear in the upper atmosphere, which plays a key role in space weather and can disrupt satellite and Earth-based communications.
In addition, Deng is leading the Multidisciplinary University Research Initiative (MURI) project to develop next generation simulation capability in I-T coupling at multiple scales for environmental specification and prediction. The project, which includes seven universities with UTA as the lead institution, is being funded by a $7.3 million grant from the U.S. Department of Defense and a $1.5 million supplemental grant received by Deng in 2019.
In 2018 Deng was appointed to the National Academy of Sciences Committee on Solar and Space Physics. The committee's main purpose is to support scientific progress in solar and space physics and to assist the U.S. government in planning programs in these fields by providing advice on the implementation of decadal survey recommendations.
Deng received a Faculty Early Career Development (CAREER) award from NSF in 2010 and is a two-time recipient of the Robert S. Hyer Research Award from the Texas Section of the American Physical Society (2012, 2020). She has received the UTA Outstanding Research Achievement Award (2017) and the UTA Distinguished Record of Research Award (2019), and she was inducted to the UTA Academy of Distinguished Scholars in 2020.
Deng earned her Ph.D. in Atmospheric and Space Science from the University of Michigan in 2006. She worked for two years as a postdoctoral fellow at the National Center for Atmospheric Research in Boulder, Colorado, and for one year as a research associate at the National Oceanic and Atmospheric Administration (NOAA) Space Weather Prediction Center in Boulder before joining the UTA Department of Physics in 2009.
--
The UTA College of Science, a Texas Tier One and Carnegie R1 research institution, is preparing the next generation of leaders in science through innovative education and hands-on research and offers programs in Biology, Chemistry & Biochemistry, Data Science, Earth & Environmental Sciences, Health Professions, Mathematics, Physics and Psychology. To support educational and research efforts visit the giving page, or if you're a prospective student interested in beginning your #MaverickScience journey visit our future students page.