Sisters' persistence helps bring EMT certification class to UTA
The program provides hands-on clinical experience for students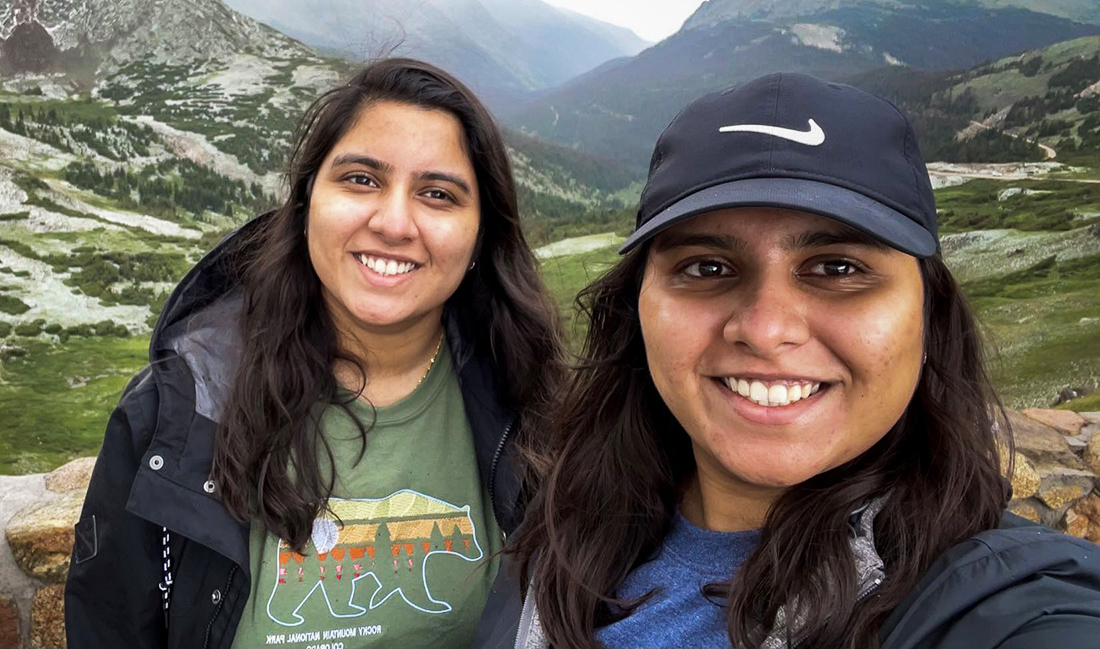 Sisters Saiyara and Safia Baset became certified Emergency Medical Technicians (EMTs) as high school seniors. While they were pre-medical students at The University of Texas at Arlington, they wanted to make that same opportunity more easily accessible for others by bringing an EMT certification program to campus.
After two years of planning and work, they achieved their goal as the first on-campus EMT certification course was offered at UTA for the fall 2022 semester, with 27 UTA students enrolled in the not-for-credit class.
"We had learned from our peers that there was a great EMT program at UT Dallas, which has worked well for the needs of students and made us wonder why we couldn't have a similar concept here at UTA," Saiyara said. "This led us to research several different EMT programs to try and understand what was involved and the resources it required."
"Through student organizations, we had often seen students' desire to gain hands-on clinical experience, but they didn't know where to begin," Safia said. "Working as EMTs within various hospital and ambulance systems, we found that they were also in need of reliable EMTs, especially with resources being strained during COVID. So ultimately, we viewed this opportunity as a great way to bridge the gap between pre-med student desires and local community needs."
The sisters worked with Dr. Steven Gellman, College of Science pre-medical consultant in the UTA Health Professions office, to make the class a reality. Greg Hale, College of Science assistant dean, also provided guidance.
"After extensive research, we reached out to Dr. Gellman who really took the time to understand our vision," Saiyara said. "He played an important role in helping us define what we wanted to accomplish at UTA and guiding us to the right resources. Our meetings were very beneficial in tracking our progress and figuring out future steps. Dr. Gellman helped us understand the administrative perspective while we explained the student perspective."
Safia later contacted and worked with the University Emergency Medical Response (UEMR) organization at UT Dallas to understand how the program was run to figure out the best way to bring an EMT certification class to UTA. The sisters worked with Sheila Elliott, EMS director of the UT Dallas UEMR program, who created a class with the needs of UTA students in mind.
"We worked with [Elliott] to figure out the logistics of the class," Safia said. "We also contacted other universities to learn how they started their programs and the important steps in moving forward. We are very grateful to the UTA health professions program and faculty for working with students to help meet their needs."
Gellman noted that the Baset sisters' persistence was key to making the EMT certification class at UTA a reality.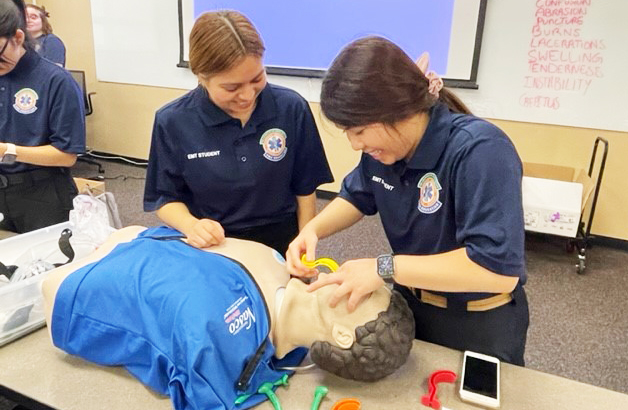 "The efforts and determination of the Baset sisters were instrumental in getting the program up and running," Gellman said. "They spent two years working through numerous administrative challenges to finally get our EMT program started. Since clinical experience is highly valued by these very competitive graduate training programs, many of our health professions students are very excited to add this additional learning and experience to their professional school applications."
The Baset sisters were born in Dallas and graduated from the Jack E. Singley Academy, a public high school in Irving. They decided to come to UTA because it was close to home and it offered scholarships to help support their education.
"UTA's location was also excellent to gain experiences such as volunteering and shadowing due to it being in a large metropolitan area with many opportunities available," Saiyara said.
With their eyes set on becoming physicians, both sisters became pre-med majors at UTA, with Saiyara studying biological chemistry and Safia studying biomedical engineering.
"I was initially a bit unsure about my major in biological chemistry, but I soon realized I loved learning chemistry after taking Dr. [Jimmy] Rogers' general chemistry class," Saiyara said. "I loved how dynamic chemistry labs and experiments were and how much of the world they can explain. I later got involved in Dr. [Frank] Foss's research lab and learned valuable skills and techniques there."
Added Safia: "I decided to major in biomedical engineering because I was interested in using engineering to improve health. I obtained many great experiences such as working in the biomedical technologies lab at UTARI (UTA Research Institute) and using the knowledge I learned throughout my classes to apply it to my senior design project."
The sisters graduated in May, with Saiyara earning a B.S. in Biological Chemistry and Safia earning a B.S. in Biomedical Engineering. They hope that the UTA EMT program's flexible schedule will allow students the ability to obtain certification sooner than they might otherwise be able to.
"I have had some of the most meaningful experiences in my life thanks to my time working as an EMT," Safia said. "It allowed me to understand the value of forming connections with patients and assisting them with their health needs. I hope that other students are able to gain similar life experiences as well. I think it gives a great glimpse into medicine and truly determines if this is the field for them. We hope that students are able to have meaningful experiences while helping the community at large."
The EMT certification class will again be offered at UTA in Spring 2023. Cost of the course is $1,620, which includes tuition, drug testing, a criminal background check, and immunization portal. The class features 36 hours of clinicals in a hospital emergency room and 24 hours working on an ambulance. The classroom portions of the course will be a hybrid format, with some in person and some online via Zoom.
Interested students can email Dr. Gellman at steven.gellman@uta.edu for more information.
--
The UTA College of Science, a Texas Tier One and Carnegie R1 research institution, is preparing the next generation of leaders in science through innovative education and hands-on research and offers programs in Biology, Chemistry & Biochemistry, Data Science, Earth & Environmental Sciences, Health Professions, Mathematics, Physics and Psychology. To support educational and research efforts visit the giving page, or if you're a prospective student interested in beginning your #MaverickScience journey visit our future students page.