54th Webb Lecture Series (2019)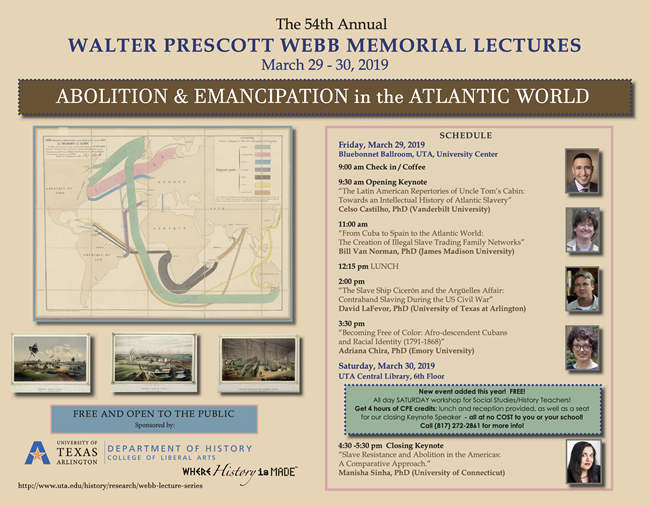 "ABOLITION AND EMANCIPATION IN THE ATLANTIC WORLD"
Friday, March 29, 2019
Bluebonnet Ballroom, UTA, University Center
OVERVIEW
The 54th Annual Webb Lecture Series "Abolition and Emancipation in the Atlantic World" features new research into the histories of slavery and resistance, capitalism and world trade, and the transnational movement of ideas within the period known as the "Second Slavery." During and after the Atlantic Revolutions more Africans and African-Americans were enslaved than ever before. The lectures in this series examine these events in the United States, Africa, Cuba, Brazil, and Europe. They provide new insights into the emergence of modern concepts of race, diplomacy, human rights, nationalism(s), popular culture, and citizenship.
SCHEDULE
9:00 am - Check in / Coffee
9:30 am - "The Latin American Repertories of Uncle Tom's Cabin: Towards an Intellectual History of Atlantic Slavery" Celso Castilho, PhD (Vanderbilt University) (Opening Keynote)
11:00 am - "From Cuba to Spain to the Atlantic World: The Creation of Illegal Slave Trading Family Networks" Bill Van Norman, PhD (James Madison University)
12:15 pm - LUNCH
2:00 pm - "The Slave Ship Cicerón and the Argüelles Affair: Contraband Slaving During the US Civil War" David LaFevor, PhD (University of Texas At Arlington)
3:30 pm - "Becoming Free of Color: Afro-descendent Cubans and Racial Identity (1791-1868)" Adriana Chira, PhD (Emory University)
Saturday, March 30, 2019
UTA Central Library, 6th Floor
4:30-5:30 pm - "Slave Resistance and Abolition in the Americas: A Comparative Approach" Manisha Sinha (University of Connecticut) (Closing Keynote)