55th Webb Lecture Series (2021)
Every year since 1965, the UTA Department of History has sponsored an annual series of lectures in memory of the late Walter Prescott Webb.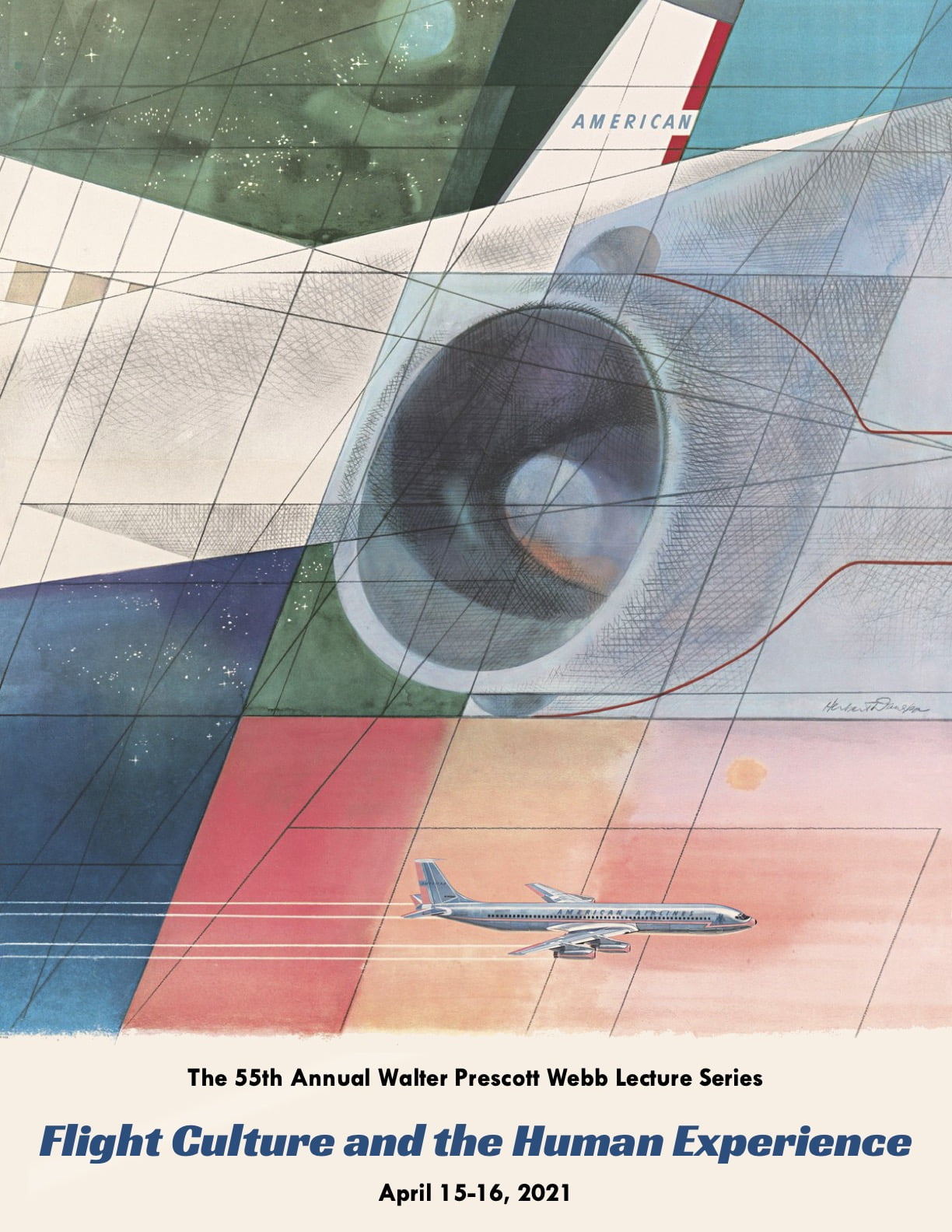 "FLIGHT CULTURE and the HUMAN EXPERIENCE"
Thursday & Friday, April 15-16, 2021
LIVE STREAM EVENT
in partnership with Ten Eighty Media
OVERVIEW
The dawn of flight set in motion wide-ranging revolutions that fundamentally transformed our relationship with the natural world and subsequently shaped the course of world history. From transportation and military affairs to international relations and domestic politics, business and economics, literature and the arts, the "conquest of the air" altered every arena of human activity. Today, aviation is an integral component of contemporary life; its contributions so commonplace and widespread, that it is easy to take for granted this most remarkable technology.
In recognition of flight's enduring significance, the 55th Annual Webb Lecture Series brings together a group of international scholars to shed light on overlooked, but no less consequential, aspects of the aeronautical past. Through individual investigations of the differing ways aviation has evolved across time and place, their expertly informed presentations demonstrate the culture of flight to be a universal touchstone of the human experience.
Note: The time zone for this event is US Central Daylight Time (GMT-05)
SCHEDULE : Thursday, April 15, 2021
8:45 am – Welcome
9:00 am – "The Universal Machine: Lighter-than-Air Flight and Utopianism in Nineteenth-Century France" - Patrick De Oliveira, PhD (Singapore Management University)
10:15 am – "The British Air Mechanic at War, 1914-1918" – Johanna Rustler (University of Aberdeen)
11:30 am – BREAK
12:45 pm – "Heroic Aviation, Gender, and the Search for a National Identity in Argentina, 1919-1941" – Marc Alsina (Johns Hopkins University)
2:00 pm – "Civil Air Transportation and the Colonial Context, 1918-1939" - Marc Dierikx, PhD (Huygens Institute of the Royal Netherlands Academy of Arts and Sciences)
3:15 pm – "Aviation Imagery and the Russian Avant-garde, c. 1910-1925" – Scott W. Palmer, PhD (University of Texas, Arlington)
4:15 pm – End of Day
SCHEDULE : Friday, April 16, 2021
8:45 am – Welcome
9:00 am – "'Detroyattaboy:' Michel Détroyat and the 1936 National Air Races" - Rénald Fortier, PhD (Independent Scholar/ Curator (ret.), Canada Aviation & Space Museum)
10:15 am – "Chasing the Future: Why US Airports Always Seem to be Under Construction" – Janet Bednarek, PhD (University of Dayton)
11:30 am – BREAK
12:45 pm – "Selling the Fighters' Dream Machines: The F-15 and F-16 in the Public Eye" - Michael Hankins, PhD (Smithsonian National Air & Space Museum)
2:00 pm – "An Entente Concordiale: Franco-British Diplomatic Plans to 'Sell' the Supersonic Transport in United States" - Guillaume de Syon, PhD (Albright College)
3:15 pm – Closing Remarks