College Panhellenic Council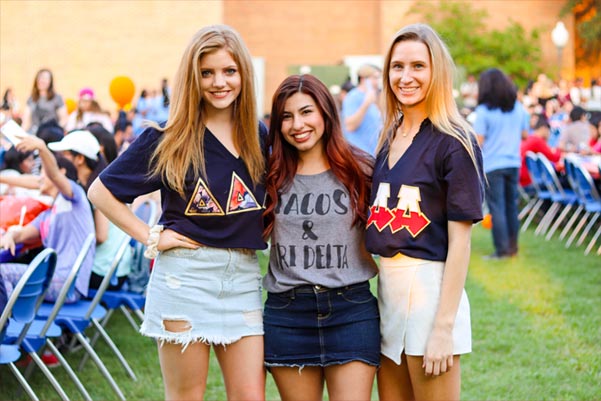 About College Panhellenic
The College Panhellenic Council (CPH) at UTA, which is part of the National Panhellenic Conference (NPC), serves as the coordinating body supporting the national sororities at UTA. The council consists of over 200 CPH sorority women and is responsible for promoting positive relations between sororities, coordinating council-wide activities, primary recruitment, informal recruitment and the council's philanthropic efforts benefiting the Circle of Sisterhood Foundation.
How to Join
CPH sororities recruit during the fall and spring semesters, and depending on the semester, the process to join could look a little different for you.
In the fall semester each year, CPH hosts Primary Recruitment. Primary Recruitment is a mutual selection process allowing women to meet the four CPH sororities. During this process, potential members meet and talk to members of the organizations to learn about member expectations, costs to join and academic requirements. The Fall 2023 Primary Recruitment registration form will open in June of 2023.
In the Spring semester, sororities will have an informal recruitment process called Continuous Open Bidding (COB), where sororities hold events on their own.
Whether it's the fall or spring semester, stay up to date with each CPH sorority by following each sorority on social media. We encourage you to go to events, meet members, and get to know if a CPH sorority is the organization for you.
REQUIREMENTS TO JOIN
Membership in CPH sororities is limited to undergraduate women at UTA. In addition, each sorority will have additional academic, financial, and time requirements to join. Talk with sorority members or reach out through social media for the most up-to-date information on joining.
Estimated Cost to Join
Women joining a CPH sorority can expect to pay an average cost of $1,130 in their first semester. Women joining during the fall semester will also sign up for Primary Recruitment online and have a $40 registration fee at the time of registration.