Maverick Advising Community Strategic Planning
PLANNING FOR A FUTURE OF EXCELLENCE IN ACADEMIC ADVISING
DEVELOPING UTA'S ACADEMIC ADVISING PRIORITIES
In support of The University of Texas at Arlington's strategic goals, the Maverick Advising Community is engaged in setting out to be a global leader in offering excellence in advising for student success. To realize this ambitious goal, the community is engaging in a collaborative and strategic planning process to offer an intentional roadmap designed to accomplish the following:
Pursue proven and innovative strategies that enhance the student experience.
Build an enriching work environment for the academic advisors.
Our efforts are guided by the University Mission and Maverick Advising Community Core Values.
Read the Maverick Advising Community Vision, Mission, and Core Values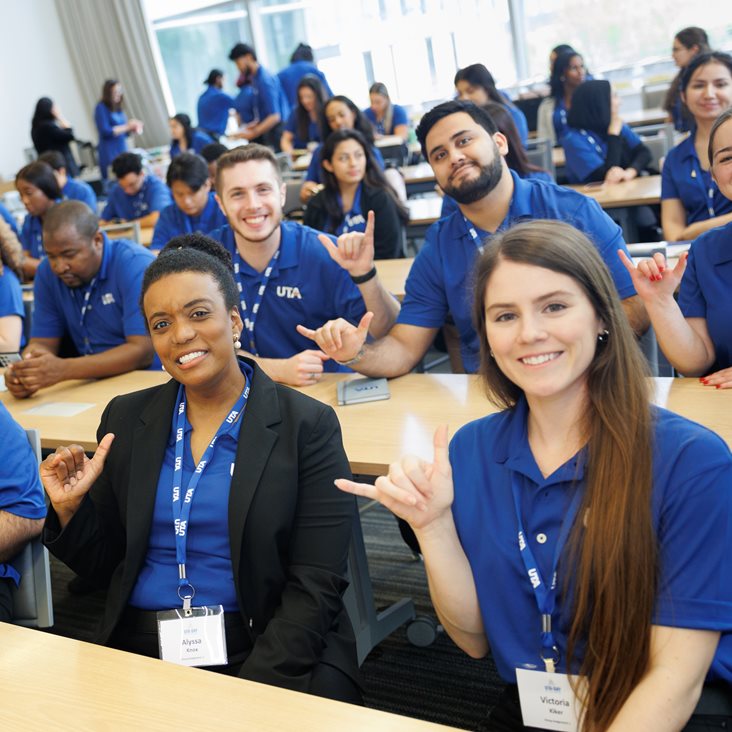 Strategic Goals
Following collaborative work with the provost and academic deans spring 2022, a list of nine emergent themes were crafted into goals that guided the work of a provost charged task force.
Identified Goals for Advising Strategic Plan that Support Advising Core Values
Goal 1: Create standards of excellence for advising at UTA

Goal 2: Tailor academic advising services to increase retention and equitable outcomes

Goal 3: Discover new efficiencies to increase student agency

Goal 4: Employ technology to advance delivery of advising

Goal 5: Define the role of an academic advisor

Goal 6: Implement strategies to reduce advisor attrition

Goal 7: Continue investing in professional development

Goal 8: Focus on workforce readiness and career development in advising

Goal 9: Develop a plan to address continued enrollment growth
Task Force Membership
Members of the strategic planning task force are representatives appointed by an academic dean, vice president, or vice provost.
| Last Name | First Name | College/School/Division | Position |
| --- | --- | --- | --- |
| Barasch | Linda | College of Engineering | Professor of Instruction |
| Brown | Aaron | Office of the Provost | Assistant Vice Provost (chair) |
| Calhoun-Butts | Candice | College of Nursing and Health Innovation | Assistant Dean |
| Chojnacki | Rebekah | Honors College | Assistant Director |
| Dominguez | Ami | Registrar | Associate Registrar |
| Donaldson | Cheryl | College of Architecture, Planning, & Public Affairs | Director |
| Dickens | Nikki | Student Affairs | Associate Director |
| Elbert | Scott | College of Business | Director |
| Green | Patrice | School of Social Work | Director |
| Hale | Greg | College of Science | Assistant Dean |
| Hamzeh | Ryan | Division of Student Success | Director |
| Hernandez | Angel | University Advising Center | Director |
| Iqbal | Anam | Admissions | Associate Director |
| Jones | Courtney | College of Education | Assistant Director |
| Macejak | John | College of Liberal Arts | Academic Advisor |
| Mark-Agbai | Apryl | Financial Aid | Director |
| Morgan | Erin | Office of Information Technology | Assistant Vice President |
Task Force Progress
Appointed members first met on July 28, 2022, where the provost gave the following charge:
Produce final vision and mission statements (Complete)

Review data points related to student success and academic advising (Complete)

Conduct aspirant peer site visits (Visited University of Central Florida and Georgia State University as well as had virtual conversations with three other institutions – Complete)

Finalize draft of key priorities/strategic plan (Complete)

Present key priorities/strategic plan draft to campus stakeholders (In-Progress)
Finalize strategic plan (Summer 2023)

Launch strategic plan (Fall 2023)
Here is a sample list of the types of information and data points reviewed by the task force:
Dean's Themes

UTA Advising Program Review (Conducted by NACADA)

CAS Advising Program Standards

NSSE UTA Results 2018/2022

UTA Retention and grad rate comparisons with aspirant peers

Annual UAAC Advising Survey Report - 2021-2022

NACADA Nine Conditions of Advising Excellence
Summer 2022, President Luncheon: The task force held a luncheon with the President and Maverick Advising Community on July 21, 2022 where the strategic planning efforts were shared and advisor feedback was given related to advising services strengths, barriers to success, and opportunities for enhancements. In attendance were 74 academic advisors, and the information was shared and reviewed by the task force.
Fall 2022, President and Provost Luncheon: On October 21, 2022, over 105 Maverick Advising Community members gathered for lunch with the President and Provost at the College Park Center. The luncheon included, 1) a review of the advising vision, mission, and core value statements; 2) a review of the crosswalk document of dean's themes and advising community feedback from the July 2022 luncheon; 3) strategic planning progress updates; and 4) tabletop activities where participants created vision for change statements connected to the deans' themes for advising. The work completed at the luncheon was shared with the task force who reviewed as part of the building of the strategic planning draft.
Spring 2023, Town Hall: Once the task force completed a draft of the priorities for the strategic plan, the priorities were shared with the provost, deans, and the Maverick Advising Community. A draft document was emailed to the community prior to and after the March 6 Advising Town Hall. At the Town Hall attended by 94 advisors, the community reviewed and offered feedback to the task force on the strategic planning draft.
Review The Maverick Advising Community Strategic Planning Priorities
As the task force continues to incorporate feedback from the campus community, the draft priorities will be updated and can be accessed by the UTA community in the box below.
Academic Advising Strategic Planning Review