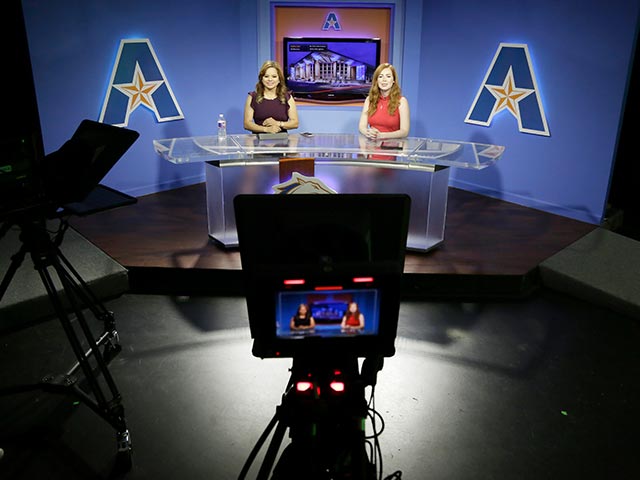 Show Off!
Television. Radio. Video. Internet. Electronic Media. Visual storytelling using audio and visual mass communication has never been in greater demand. In the Broadcasting sequence, students learn to craft stories that engage and inform.
What Can You Do With A Broadcasting Degree?
Radio and Television Reporting
News Producer (manages the show's content)
Digital Media Specialist (creates online content, updates social media)
Production (runs cameras, directs shows, creates promos)
Radio Producer/DJ
Sports Broadcaster (play-by-play)
Courses In The Major
Foundational Courses
COMM 2311 - Writing for Mass Media
COMM 3315 - Communication Theory
COMM 3300 - Communication Technology
COMM 3310 - Communication Law and Ethics
BCMN 2360 - Introduction to Broadcasting
BCMN 2358 - Television Production
BCMN 2357 - Radio Production
Select Advanced Courses
BCMN 3340 - Electronic News
BCMN 3319 - Broadcast Management
BCMN 3355 - Broadcast Announcing
BCMN 3350 - Television Reporting
BCMN 4320 - Current Issues in Telecommunications
You can find the official link to all Communication and Broadcasting courses in the University Catalog.
Internships and Opportunities
We encourage all eligible students to do an internship while a Broadcasting student. Upon reaching upper division status, our students have interned at all of the major television stations in the area, at production houses and in corporations.
Broadcasting Coordinator
Dr. Mark Tremayne
Broadcast Communication Sequence Coordinator
Associate Professor, Broadcast Communication