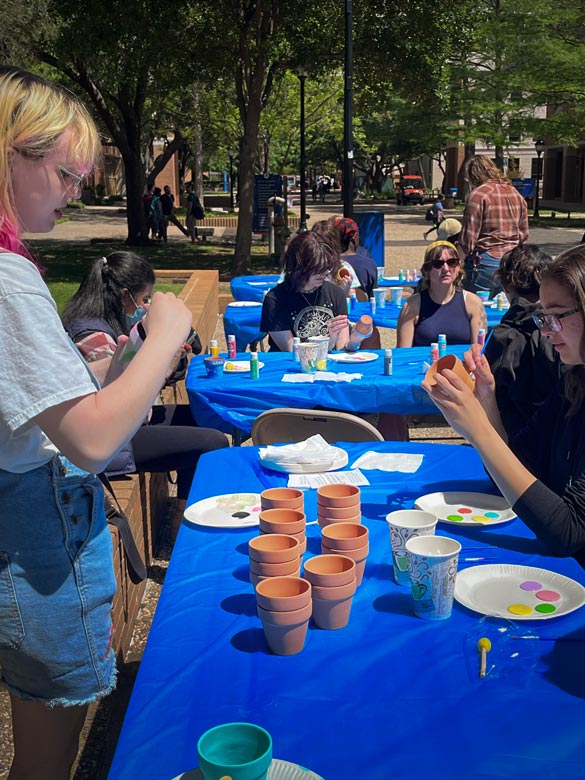 Create Change With Community
It is estimated that 1 in every 20 Texans works at a nonprofit organization. The United States is home to millions of nonprofit organizations doing great work in communities across the country and you may interact with more than you realize. Whether it be an art museum, afterschool program, hospital, or zoo there are many nonprofit organizations seeking to create the change they wish to see in the world. A degree in philanthropy prepares you to lead and serve in your community to act and advocate for change.
Philanthropy Highlights
Donation Drive
Students in Philanthropy led donation drives on behalf of Community Link, a nonprofit that strives to end hunger and poverty in Tarrant County.
Fundraising For Community Partners
Fundraising and Development students developed fundraising materials and crafted in-depth analyses and recommendations for 2 organizations' fundraising efforts:
Dallas Free Press, a nonprofit that provides community news and information to Dallas-area news deserts
The Other Ones Foundation which strives to end homelessness in Austin, Texas
What Can You Do With A Philanthropy Degree?
Program Manager
Fundraising Specialist
Development Coordinator
Marketing Manager
Grant Writer
Program Officer
Corporate Social Responsibility Liaison
Courses In The Major
Foundational Courses
PCOM 2301 - Introduction to Nonprofits and Philanthropy
COMM 3300 - Communication Technology
COMM 3310 - Communication Law and Ethics
COMM 3315 - Communication Theory
Advanced Courses
PCOM 3301 - Fundraising and Development
ENGL 3379 - Grant and Proposal Writing
PCOM 4320 - Managerial Communication
PCOM 4395 - Directed Internship in Nonprofits and Philanthropy
Internships and Opportunities
All philanthropy students are required to complete an internship with a nonprofit organization as part of the degree program. Upon reaching upper division status, students have the opportunity to intern with local, regional, statewide, or national nonprofits. Students are encouraged to contact their advisor or sequence coordinator to being to identify internship opportunities early.
Carmin Harris
Associate Professor of Practice, Philanthropy