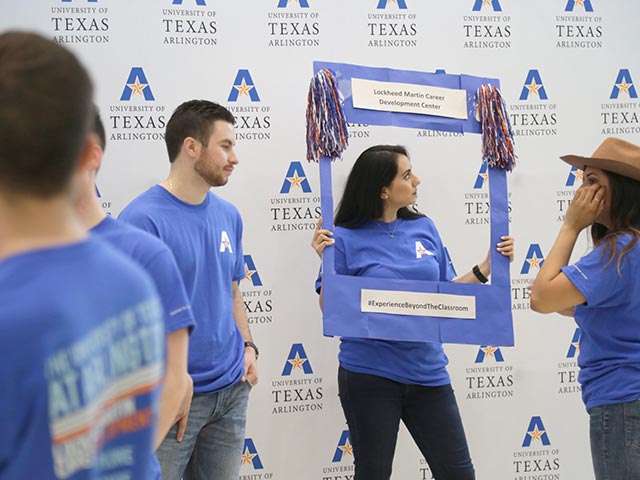 Speak Out!
In today's media crazy marketplace, where every misstep of an individual or company is tweeted, posted and instantaneously available to the world via the Internet, Public Relations practitioners are often the most important and visible faces of their corporations and organizations. UT-Arlington's Public Relations (PR) major prepares students to speak out in this often chaotic and exciting area.
Public Relations Highlights
Public Health Research
PR Campaign students supported major grant research designed to understand and combat COVID-19 vaccine hesitancy.

The students conducted focus groups and survey research for clients including:
Mission Arlington
the Alliance for Children
Helping Hands for Single Moms
Additionally, campaign students created a volunteer recruitment campaign for Lone Star CASA
Strategic Communication Planning
PR Methods II students developed strategic communication plans for Southside Community Garden, a non-profit working to improve health outcomes in Fort Worth's 76104 zip code, which has the lowest life expectancy in the state of Texas.
Professional Development Opportunities
PR Management students participated in informational interviews with leading corporate executives at businesses including HBO, State Farm, Texas Rangers Baseball Club, the Miami Dolphins, e.l.f. beauty, and ABC News.
Student Award
Ella Scott placed first in press release writing and PR crisis management at the Texas Intercollegiate Press Association competition in March.
What Can You Do With A Public Relations Degree?
Public Relations Specialist
Public Relations Manager
Communications Planner
Social Media Marketing Specialist
Event Coordinator
Courses In The Major
Foundational Courses
COMM 2311 - Writing for Mass Media
COMM 3315 - Communication Theory
COMM 3300 - Communication Technology
COMM 3310 - Communication Law and Ethics
ADVT 2337 - Introduction to Advertising
PREL 2338 - Introduction to Public Relations
Advanced Courses
PREL 3339 - Public Relations Methods I
PREL 3340 - Public Relations Methods II
PREL 4316 - PR Campaigns
PREL 4320 - Public Relations Management Case Studies
You can find the official link to all Communication and Public Relations courses in the University Catalog.
Internships and Opportunities
We encourage all eligible students to do an internship while a Public Relations student.
Public Relations Coordinator
Dr. Shelley Wigley
Public Relations Sequence Coordinator
Associate Professor, Public Relations