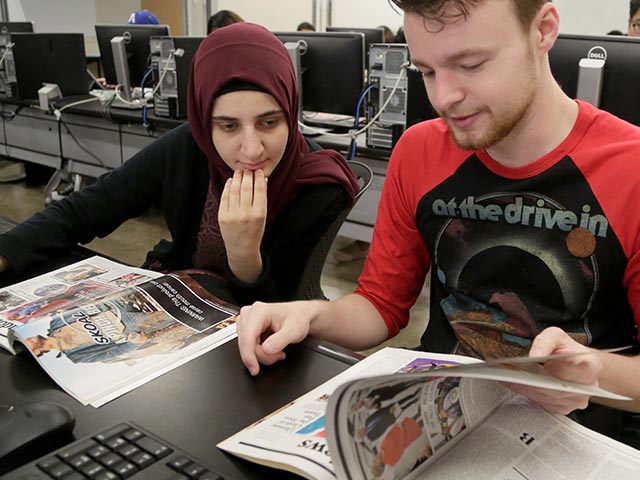 The Power of Journalism
We've read and seen them. A news story that puts an important issue into perspective. A photograph that compels us to see the truth. A feature story that shines a light on the neglected or marginalized. That's the power of journalism.
What Can You Do With A Journalism Degree?
Reporter
Editor
Digital Layout / Page Design
Photographer
Copy Editor
Web Editor
Courses In The Major
Foundational Courses
COMM 2311 - Writing for Mass Media
COMM 3315 - Communication Theory
COMM 3300 - Communication Technology
COMM 3310 - Communication Law and Ethics
Select Advanced Courses
JOUR 2346 - Reporting
JOUR 3360 - Sports Reporting
JOUR 4326 - Feature and Opinion Writing
JOUR 2340 - Photojournalism
JOUR 4341 - Digital Storytelling
JOUR 3345 - Copy Editing
JOUR 4346 - Public Affairs Reporting
You can find the official link to all Communication and Journalism courses in the University Catalog.
Internships and Opportunities
We encourage all eligible students to do an internship while a Journalism student. The university's student-led, award-winning newspaper, The Shorthorn, offers many Journalism students valuable experience with writing news, feature and opinion stories, editing, producing multimedia content and designing print/online pages.
Journalism majors can participate in internships once they reach upper division status. The DFW Metroplex has two daily newspapers along with several specialty and weekly community newspapers, magazines and online news organizations.
Journalism Coordinator
Dr. Erika Pribanic-Smith
Journalism Sequence Coordinator
Associate Professor, Journalism