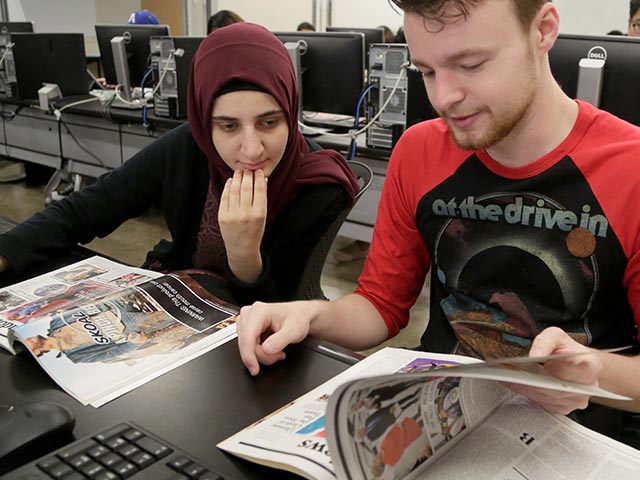 The Power of Journalism
We've read and seen them. A news story that puts an important issue into perspective. A photograph that compels us to see the truth. A feature story that shines a light on the neglected or marginalized. That's the power of journalism.
Journalism Highlights
Community Partnership
Digital Storytelling students collaborated with the Arlington Museum of Art for the Fall 2022 and Spring 2023 semesters. Students in the course created photo essays, minute documentaries, and audio features for the museum's blog reaching thousands of museum newsletter subscribers and social media followers.
Internships
Journalism major Ayesha Shaji interned with the Dallas Business Journal during the summer of 2022 as part of the Dow Jones News Fund internship program. The position resulted in 10 bylined stories for the journal, including two cover stories, primarily over minority-owned businesses.
What Can You Do With A Journalism Degree?
Reporter
Editor
Digital Layout / Page Design
Photographer
Copy Editor
Web Editor
Courses In The Major
Foundational Courses
COMM 2311 - Writing for Mass Media
JOUR 2330 - Introduction to Journalism
COMM 3300 - Communication Technology
COMM 3310 - Communication Law and Ethics
COMM 3315 - Communication Theory
Advanced Courses
JOUR 2340 - Photojournalism
JOUR 2346 - Reporting
JOUR 3330 - Data Journalism
JOUR 3345 - Copy Editing
JOUR 4326 - Feature and Opinion Writing
JOUR 4341 - Digital Storytelling
JOUR 4346 - Public Affairs Reporting
You can find the official link to all Communication and Journalism courses in the University Catalog.
Internships and Opportunities
We encourage all eligible students to do an internship while a Journalism student. The university's student-led, award-winning newspaper, The Shorthorn, offers many Journalism students valuable experience with writing news, feature and opinion stories, editing, producing multimedia content and designing print/online pages.
Journalism majors can participate in internships once they reach upper division status. The DFW Metroplex has two daily newspapers along with several specialty and weekly community newspapers, magazines and online news organizations.
Lonestar Sentinel Service
Reporting, data journalism, and public affairs reporting students are getting experiential learning opportunities in community journalism as part of the journalism sequence's effort to bring news coverage to underreported communities, especially Arlington, Texas. Students report multimedia story packages that include photos, videos, audio reports, and data visualizations for the Lone Star Sentinel News Service, and their published work appears on the lonestarsentinel.org website. The news desert initiative is made possible through grants from the Scripps Howard Foundation.
Dr. Erika Pribanic-Smith
Journalism Sequence Coordinator
Graduate Studies Coordinator and Advisor
Associate Professor, Journalism