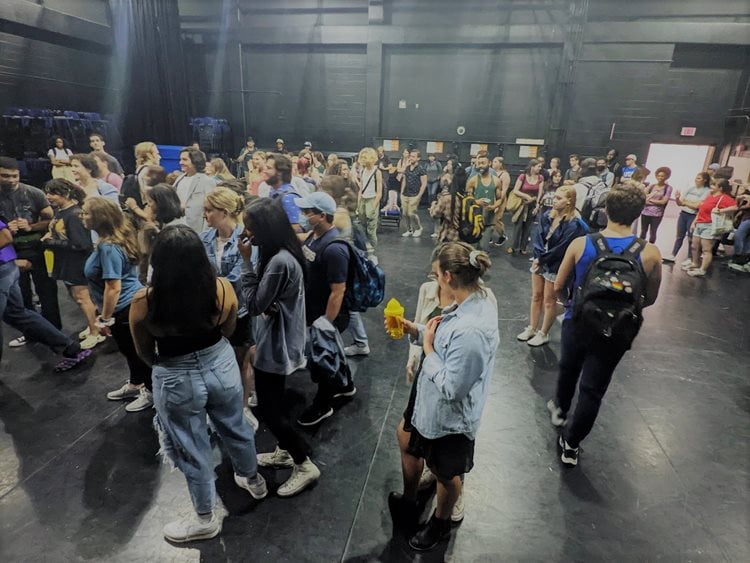 Interdepartmental Collaboration
Sharing Talent & Information
Theatre Arts and Cinematic Arts students come together each semester to meet up and discuss collaborative projects. Cinematic Arts student directors present their film projects for the semester in the hopes that a Theatre Arts student might be the perfect cast for the roles they need filled. The Theatre Arts Acting for the Camera course and the Cinematic Arts Directing I course also have labs that coincide, so that co-teaching and collaboration can happen between student actors and directors throughout the semester.
Photographed left, students gather in the Studio Theatre on the third Friday of the semester to collaborate and share projects & ideas.
We strive to create an environment of inclusivity and respect in our classrooms, rehearsal rooms, offices, and within our productions and communities. We actively recruit students from historically underrepresented groups, we support them in their educational journey, and we work to remain sensitive to the needs of our diverse student and faculty/staff population. We are committed to identity-conscious casting and honoring diverse voices in curriculum and season. We advocate for the allocation of adequate resources to achieve these goals.

UTA respectfully acknowledges the Wichita and Affiliated Tribes and Caddo Nation upon whose historical homelands this university is located.

Our department has taken the following actions:
• Updated casting policy
• Faculty/staff training in anti-racism, theatrical intimacy, and accessibility
• Curriculum review for inclusion and diverse voices in theatre and dance
• Conversion of dressing rooms into gender inclusive spaces
Theatre Arts & Dance
"The aim of art is to represent not the outward appearance of things, but their inward significance" – Aristotle, The Audience Book of Theatre Quotations by Louis Phillips
Join Us Today
In addition to applying and being accepted to UTA, BFA concentrations require program auditions.
Apply to UTA
Apply to the University of Texas at Arlington.
Program Auditions
All Bachelor of Fine Arts (BFAs) programs in the Department of Theatre Arts require auditions. Bachelor of Arts (BAs), theatre minors, and dance minors do not require formal auditions. For more specific audition information, please visit the program audition page.
Degree Information
The Department of Theatre Arts & Dance offers undergraduate degrees in theatre arts, and dance. The BFA program has a choice of concentration in Acting, Musical Theatre, or Design & Technology. The BA program is a more generalized Theatre Arts degree with coursework in multiple disciplines and areas of interest. Two minors are currently offered: Dance, and Theatre Arts.