Bio: Josh Knight is the Academic Recruiter for the College of Liberal Arts. He most recently served as Director of Percussion & Athletic Bands at Missouri Western State University, and has over 10 years of experience in Higher Education as an instructor and recruiter. He holds a Doctor of Musical Arts degree from the University of Oklahoma, and earned his Master of Music and Bachelor of Music degrees from the University of Central Arkansas. Knight has presented and performed at regional and international events such as the Percussive Arts Society International Convention, National Conference on Percussion Pedagogy, Texas Music Educators Association conference, College Music Society regional conference, and numerous state percussion festivals including the Arkansas Day of Percussion, Oklahoma Day of Percussion, and University of Central Arkansas Percussion Festival. As an active performer and clinician Knight has appeared at numerous high schools and universities throughout the United Sates, and has performed with the Abilene Philharmonic, Fort Smith Symphony, Oklahoma City Philharmonic, Lawton Philharmonic, Pine Bluff Symphony, and Conway Symphony orchestras. Knight is also active in commissioning new works for percussion that include Inside The Shining Stone by Blake Tyson, published by blaketysonmusic : Shattered by Cody Criswell, published by C-Alan Publications, Halcyon Days by Nathan Daughtrey, published by C- Alan Publications and most recently, The Wind That Turns The World by Blake Tyson, published by blaketysonmusic. Knight's article, Trends and Developments Through Thirty Prominent Snare Drum Method Books is a featured cover story in Percussive Notes, the official research journal of the Percussive Arts Society. Additionally, he serves on the Education Committee and Ed Companion SubCommittee for PAS. Among the numerous awards and honors received throughout his career, the most current include the Ronald Dyer award for excellence in the area of percussion awarded by the University of Oklahoma in 2008 and participation in the semi-final round of the Southern California International Marimba Competition in 2009. Knight is a member of the Percussive Arts Society, College Music Society, TMEA, MMEA, and is an artist endorser for Vic Firth sticks and mallets, Yamaha percussion instruments, and Grover Pro percussion instruments.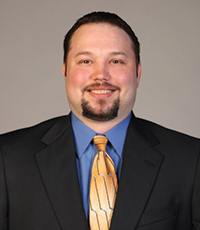 Bio: Jacob and his wife, Shanna, have 4 children (3 boys and 1 girl). He enjoys being outdoors as much as possible, particularly doing activities that center around bodies of water. Jacob is an avid sports fan; and while he enjoys all sports, he is most fond of hockey, basketball, football, baseball, and soccer. Jacob and his family regularly volunteer to support the Susan G. Komen Race for the Cure, the March of Dimes, MDA, the American Heart Association, and the Heart of Texas Autism Network. Jacob relishes discussions of history, politics, and physics. As a former foster child who aged out of the system, Jacob has a deep personal interest in issues surrounding at risk youth and foster children.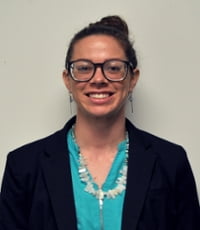 Bio: Kirstin grew up in the Arlington-Mansfield area and now lives in the heart of Arlington. She received her Bachelor's in Communication from UT Arlington's College of Liberal Arts. After graduation, Kirstin worked in the UTA School of Social Work for five years before joining the College of Liberal Arts team in 2019 as the Development Coordinator. Her mother and sister also work for UTA. It is a family affair! Outside of the office, Kirstin's passions include spending time with her dog, reading or watching anything in the horror genre, and weightlifting. She trains competitively and hopes to qualify for Nationals someday.