Welcome to the Maverick Nation and the College of Education at the University of Texas at Arlington!
Our business is education and our mission is to prepare experts for teaching our nation's children, leading our schools and communities, and conducting and disseminating impactful research that informs and shapes our practices.
At a time when well-trained education leaders and teachers are needed and critical to the quality and success of our PK-12 schools and communities, we are committed to providing superior educational services to every current and future UTA student. Facilitating the development of skills for success in college and beyond as educators, leaders, and researchers, is at the forefront of our mission. When you are a student at UTA, you and your future career as an education professional are our priorities!
As education professionals, our goal is to ensure that every child has access to a highly effective teacher and school leader. Thus, our students acquire the theoretical and practical knowledge for offering effective teaching and leadership through our rigorous programming. We want to ensure that all children have access to the quality of education they deserve. That begins with your preparation!
Our distinguished faculty are leaders in their field. They study student learning, leadership, and teaching effectiveness as these are applied in today's classrooms and schools. Our faculty are also engaged scholars and practitioners who inform and shape education-related policies and practices through their impactful research. They bring their research discoveries to every class to inform their teaching and student learning. You can be assured that the education you receive at UTA is at a level expected from a world-class research university.
Our doors are always open. So, we invite you to join us, visit our campus, meet our faculty and students, and explore how our programs will help you meet your professional goals.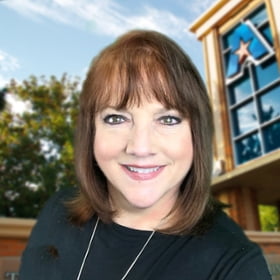 Dr. Teresa Taber Doughty, Dean of the College of Education
About the Dean
Dr. Teresa Taber Doughty is UTA's dean in the College of Education. She earned her Bachelor's degree from Auburn University and Master's and Doctoral degrees from Georgia State University. A 30+ year veteran in education, she previously served as a special education teacher in Georgia and Alabama and a researcher, faculty member, and education administrator at Purdue University. Her research focuses on instructional and inclusive practices in special education, the use of assistive technologies for students who experience severe disabilities and autism, applied behavior analysis, and community-based instruction. She is the author/co-author of more than 60 publications that appear in professional journals and is the co-author of two textbooks. She currently serves on the Board of Visitors for the Council for the Accreditation of Education Professionals (CAEP) and as the Executive Director for the Division of Autism and Developmental Disabilities of the Council for Exceptional Children. As an educator, Dr. Doughty trained hundreds of pre-service and veteran teachers, and prepared graduate students for positions in higher education. She notes, "No matter what roles I assume in my professional career, I will always be a teacher, focus on student learning, and strive to ensure this field is always moving forward."