Master of Education in Curriculum and Instruction - Science Education
Course of Study
Upon admission to the program, you will meet with your academic or faculty advisor to create a program of work. This will plot out what courses you will take each semester until you complete the program.
Total Hours: 30
Core Requirement: Curriculum (12 credit hours)

EDUC 5305
Effective Teaching and Learning for 21st Century EC-12 Students
3
EDUC 5309
Advanced Teaching Models for Diverse Learners
3
EDUC 5394
Understanding and Designing Classroom Research
3
EDUC 5397
Implementing and Disseminating Classroom Research

3
---
---
Support Area/Concentration (18 credit hours)
Non-Elective K-12 Science Content and Curriculum Emphasis - Accelerated Online Program only

SCED 5351
Physical Science: Properties and Changes in Matter
3
SCED 5352
Physical Science: Force and Energy
3
SCED 5353
Earth Science: Structures, Movement and Changes in Earth and Space
3
SCED 5354
Earth Science: Water Properties, Distribution, the Water Cycle, and Weather
3
SCED 5355
Life Science: Unity and Diversity of Life and Life Processes
3
SCED 5356
Life Science: Cycles in Nature, Adaptations, and Environmental Science
3
---
---
Science Education: Post-secondary Emphasis

53XX
Any six BIOL, CHEM, CIRP, GEOL, PHYS, CE, or EVSE courses at or above the 5300 level except for courses listed in the K-8 emphasis above. Courses should be chosen in consultation with program director.
3
53XX


3
53XX


3
53XX


3
53XX


3
53XX


3
---
Program Director
Dr. Candace Joswick
Assistant Professor, Mathematics Education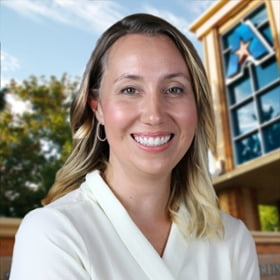 Research Interests: Dr. Candace Joswick is an assistant professor of mathematics education, the director and PI of the grant-funded UTA Project ECHO® for Education, and Program Coordinator of STEM Education at UTA. Joswick's research foci are include learning trajectories and progressions, classroom interactions and language, and technology.
Graduate Advisor