The Overnight Experience at New Maverick Orientation is an exciting opportunity to get a taste of being a student at UTA! You will love making new friends and great memories while you enjoy the contemporary accommodations of Vandergriff Hall and the delicious dining on campus.
Freshmen attending a face-to-face orientation prior to August 9, 2021 have the opportunity to participate in a one-night stay in Vandergriff Hall for the night of their session. No on-campus housing is available for guests, so explore other Arlington accommodations that offer a UTA discount.
The Overnight Experience costs $45 (in addition to the $120 orientation fee) and includes the one-night stay in Vandergriff Hall, dinner, breakfast, and activities with our Orientation Leaders.
The accommodations for Vandergriff Hall are double-occupancy rooms, meaning that each student will share a room with another student. You may request a specific roommate during the check-in process at Vandergriff Hall.
Register for the Overnight Experience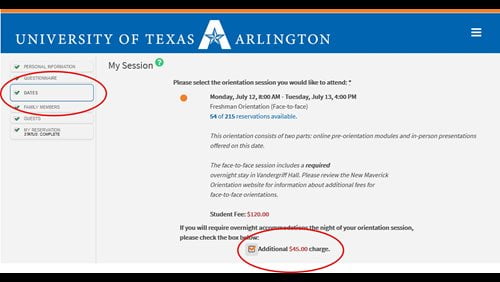 To register for the Overnight Experience, follow these steps:
Log in to your New Student Task List
Scroll down and select "CLICK HERE TO REVIEW YOUR ORIENTATION RESERVATION"
Select "Dates" from the menu
Find your reserved date on the list, and find the text that reads:
'If you will require overnight accommodations the night of your orientation session, please check the box below:"
Click the box to register for the Overnight Experience
Scroll to the bottom and click "Save & Continue"
Complete the reservation process and pay for your overnight stay*
*The Overnight Stay is eligible for the New Maverick Orientation Fee Deferral Process
Things to bring :
Sleeping bag or Twin XL sheets and a blanket
Personal toiletries
Towels
Change of clothes
Shower shoes (if desired)
Register for Orientation
Once you know which session option and date is the best for you, get registered for orientation.
Register Today