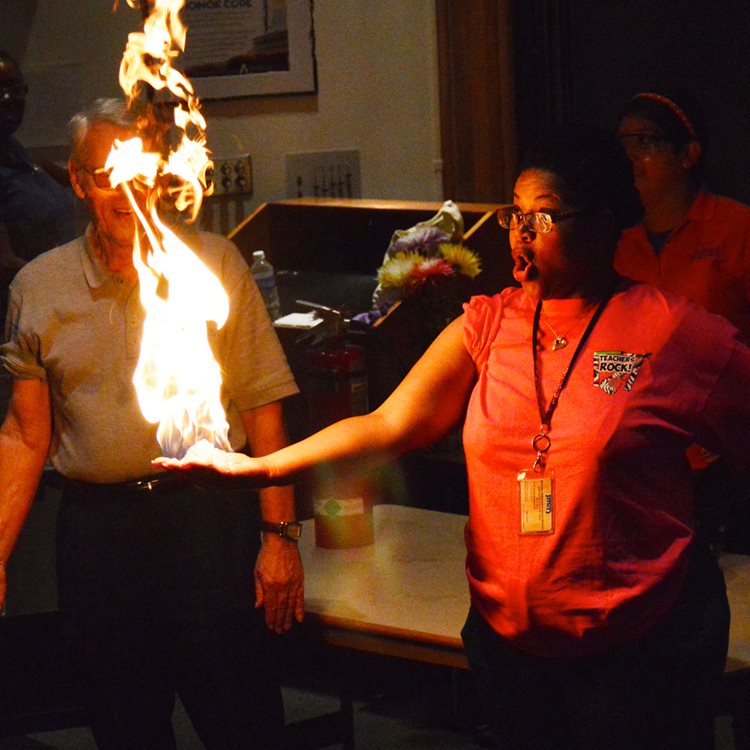 Exciting Science Demos
The UTA Science Ambassadors have thrilled students in grades 3-12 with fun and educational science demonstrations since 2008. Science Ambassadors are outstanding undergraduates who love science and love putting on shows for our audiences. Normally, our shows are presented on campus, and visiting classes can couple their Science Ambassadors experience with a trip to the UTA Planetarium for a fantastic science field trip. Visitors may also take advantage of the opportunity to take students on a campus tour. Schools may also schedule off-campus shows within 15 miles of the UTA campus.
2,050 Shows
The UTA Science Ambassadors have conducted more than 2,000 shows since the first in 2008.
150,000 Students
More than 150,000 students from the 3-12 grades have attended Science Ambassadors shows.
40+ Ambassadors
More than 40 students have gained presentation experience performing Science Ambassadors shows as a member of our team.
What Others Are Saying...
"It was so exciting I want to go back. Now I love science so much I want to stay in school until I learn everything there is to know about science." – Devin

"I liked the part where Mr. B put bubbles on his hand and they caught his hand on fire. Except he didn't burn himself. Which is a good thing." – Cecilia

"I wish I could go every day." – Alan

"The Science Ambassadors were really awesome. I liked it so much that I want to be a Science Ambassador also when I grow up." – Arianna

"When they poured smoke all over the floor and the smoke reached my feet I got goose bumps all over my body. It was still awesome." – Tori

"I was so shocked when you started doing all kinds of unbelievable experiments. Now I want to learn more and more about science experiments." -- Samantha

"My eyes could not believe it, and all of us really had a blast! I loved everything you did." -- Daisy

"I thought that stuff was impossible, but I guess I stand corrected. They make me think science is cool." -- Cameron

"Thank you for lighting Mr. U on fire." – Tony
"I just wanted to let you know again how much our fifth graders enjoyed the program led by the Science Ambassadors. We saw students who we have difficulty engaging on the edge of their seats throughout the show!" -- Ms. R, Joshua ISD

"In all my years of teaching, this was by far my favorite field trip. Thank you for the work you do to educate our students." -- Ms T., Aledo ISD

"Today everyone in my school is talking about the wonderful program the students presented yesterday night. Thank you so much, they were wonderful!" – Ms. W, Arlington ISD

"We are writing about our experience yesterday. The kids keep going to the paper bin to get more and more paper to get it all down on paper. Even my reluctant writer is busy." -- Ms. D, Aledo ISD

"You made our field trip a memorable learning experience. The children all came away wanting to be scientists. That is good teaching!" – Team Teachers, Arlington ISD
Frequently Asked Questions
The Science Ambassadors show costs $125 for the first 50 people, plus $1.50 per additional person.
We no longer require a minimum number of students to schedule, but if the group is substantially over 100 students, it's best to see the show in shifts. If you're also going to visit the UTA Planetarium, this type of scheduling generally works out well.
Checks, money orders, purchase orders, and credit cards. We cannot accept cash payments.
Groups will pay any balance owed to program manager Shundreka Lanier on the day of their visit.
*Note: The Planetarium will no longer accept payments on our behalf, and any payment should be made out to UTA Science Ambassadors. Payments made out to other offices cannot be accepted.
*Note: If mailing in a payment, please remit to Science Ambassadors, Box 19047, The University of Texas at Arlington, Arlington, TX 76019-0047 to avoid delays in processing.
Unfortunately, due to safety concerns, we no longer allow any pictures or videos to be taken during the show. This includes demonstrations involving student and teacher volunteers from the audience.
Probably not since our Ambassadors are busy students themselves. It is difficult to schedule them for enough time to gather their materials, travel to a school, put on the show, travel back to campus and put away their equipment before they must attend their next classes.
Yes, they probably can. For an additional charge, the Science Ambassadors will travel up to 15 miles from UTA campus. Contact Shundreka Lanier to find out if your school is eligible.
Please go to our Science Night Request Form to schedule a show off campus.
The show runs about 50 minutes to 1 hour.
Unless alternate arrangements are made beforehand, Shundreka Lanier or another Science Ambassadors representative will meet groups in front of the UTA Planetarium, which is located on the first floor of the Chemistry and Physics Building.
Contact Us
UTA Science Ambassadors
To schedule a Science Ambassadors show, please contact the program's show coordinator, Shundreka Lanier, at lanier@uta.edu,or call 817.272.1098.
The UTA Planetarium
To schedule a Planetarium show, please contact the Planetarium's office coordinator at (817) 272-1183. For more information, please visit their website: http://www.uta.edu/planetarium/.
UTA Campus Tours
You can call the Campus Tour Line at (817) 272-8687 to schedule a group tour of the campus, or you may visit the Admissions website to set up a tour online at https://www.uta.edu/admissions/visit/tours.
UTA Science Ambassadors Staff
Manager: Shundreka Lanier
Creative Director: Dr. Fred MacDonnell
Executive Director: Dr. Greg Hale
Meet the Science Ambassadors
Current Ambassadors
Science Ambassador Alumni
Adil
Amanda
Andrea
Anna
Anusha
Bonike
Brittanie
Davina
Grace
Ify
Irene
Jesse
Mariam
Michele
Nada
Rebecca
Shaliza
Shivani
Shoauna
Stephanie
Thomas
Travis
Zoe
Aniqua
Cherokee
Fernando
Frances
Hector
Karen
Kathy
Mayowa
Tony
Angel
Destini
Amarachi
Eloisa
Kirsten
Marah
Original Ambassadors
Esther
Fahed
Nathan
Quynh
Shundreka