Department of Information Systems & Operations Management
Overview
Information systems emphasizes development and management of information technologies to improve business processes and support business strategies. Business analytics studies the use of data science and analysis techniques to support data driven decision making in organizations. Operations and Supply Chain Management focuses on business operations and supply chain networks, and how to create business value by improving the global supply chain.

In-Depth
Technical Expertise To Stress A Holistic View Of Data

Think Big, Broad and Smart
Data Analysis, Web And Social Media, Machine Learning

Go Wide
In A Variety Of Applications

Go Strong
Relevant To A Diverse Industry Set

Go Deep
Go Deep…In Technical Expertise

Think Broad
Think Broad…Web And Social Media
Additional Information About Information Systems & Operations Management
Statistical analysis methods
Systems development
Data visualization
Data management
Information systems management and policy
Supply chain logistics
Inventory management
Demand forecasting
ML/AI
NLP
Cloud and Cybersecurity
Foundations of Analytics
Data Warehousing and Business Intelligence
Big Data Analytics
Data Science: A Programming Approach
Global Supply Chain Management
Operations Planning and Control
Systems developer
Systems analyst
Business analyst
Data analyst
Data scientist
Operations manage
Purchasing manager
Quality assurance manager
Data Engineer
Supply-Chain Analyst
Data Architect
Project Manager
Cloud and Cybersecurity
Certificate In Business Analytics
As organizations strive to leverage massive amounts of data (popularly known as Big Data) to support business decisions, they expect their employees in all functional areas to acquire data science and skills. The BA Certificate will provide the necessary analytics skills to all COB majors and will give them an edge in the marketplace.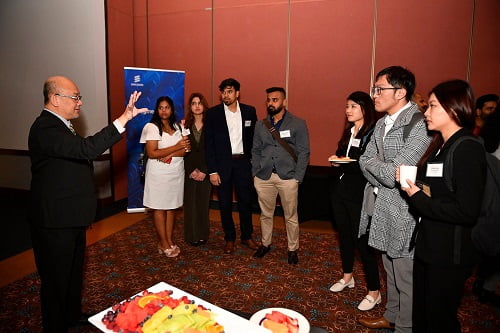 Annual Analytics Symposium
The Annual Analytics Symposium provides a forum for industry professionals and academics to exchange information and knowledge in the area of analytics and AI. This all-day event features tech talks and engaging panels with prominent industry experts, an exciting tech workshop, a student analytics competition and a networking happy hour.
OUR UNDERGRADUATES EARN ON AVERAGE*
OUR GRADUATES EARN ON AVERAGE*
Contact Department
Department of Information Systems & Operations Management
701 S. West Street, Room 535
Box 19437
Arlington, Texas 76019
Direct: 817-272-3502
View Faculty & Staff
Want More Information About Information Systems And Operations Management?
Contact a College of Business recruiter to learn more.