Information Systems and Operations Management
Information Systems focuses on the use of computers and information technology to address business needs.
Overview
Information Systems provides training in such skills as computer programming, database design, and analysis and design. Students receive training in software/systems development and can opt for specific training as a data analyst to cover such skills as extracting, cleaning, and analyzing data.
Operations Management targets the production of goods or the provision of services. Offering such topics as Purchasing, Logistics, Quality Management and Project Management, and culminating in a capstone course in Global Supply Chain Management, the program prepares students for leadership roles in a wide variety of organizational settings.
Companies worldwide aggressively recruit graduates for positions as systems developers, programmer/analysts, database managers, operations managers, quality managers, and consultants. These are among the job titles projected to have the greatest demand in the new millennium.
Degree Plans
Bachelor of Science or Bachelor of Business Administration
Information Systems focuses on the synergy of hardware, software, and people that comprise business systems. Designed to collect, process, and distribute data these systems help leaders make business decisions that further organizational goals. The related course work is designed to provide a foundation in computer software, computer hardware, database and data communications, along with a sound business background.
The BS in Information Systems program starts with a solid business foundation core set of courses. The technical course set consists of
INSY 3300 Introduction to Programming (Python)
INSY 3303 Computer Networks and Distributed Computing
INSY 3304 Database Management Systems
INSY 3305 Information Systems Analysis and Design
INSY 4305 Advanced Application Development
INSY 4306 Advanced Systems Development
INSY 4325 Enterprise Systems Management
Electives can be chosen from such topics as e-commerce, web development, cybersecurity, business analytics and data visualization.
The student can obtain a Bachelor of Science in Information Systems or a Bachelor of Business Administration in Information System. The Bachelor of Science degree allows the student to complete a significant amount of coursework in the desired discipline while the Bachelor of Business Administration provides a broader education
See the Catalog or contact Business Undergraduate Advising.
Bachelor in Operations and Supply Chain Management
The study of Operations and Supply Chain Management focuses on understanding the many necessary decisions directly related to the production of goods or delivery of services. These include strategic decisions as well as routine decisions in both manufacturing and service organizations. Possible career choices include: Production Analyst, Purchasing Planner/Buyer, Production Supervisor, Quality Specialist, Inventory Analyst, and Production Scheduler/Controller.
The BBA in Operations Management program starts with a solid business foundation core set of courses. The operations course set consists of
OPMA 3306 Operations Management
OPMA 4302 Supply Chain Logistics
OPMA 4303 Introduction to Management Sciences
OPMA 4309 Global Supply Chain Management
OPMA 4312 Purchasing Management
Electives can be chosen from such topics as operations planning and control, quality planning and analysis, and service operations.
See the Catalog or contact Business Undergraduate Advising.
Master of Science in Business Analytics (MSBA) - A STEM Program
The MSBA program has been designed in conjunction with an Advisory Board comprising top-performing companies in the region. With a Master of Science in Business Analytics, graduates
Will obtain a blend of technical expertise and business knowledge
Learn to solve practical analytical problems from diverse disciplines, including healthcare, marketing, accounting, finance, economics, and human resources
Engage with a company and work on a real-world problem through a project-based capstone course
Stress a holistic view of data, continually reminding students of the need to integrate outside sources of data (e.g., social media, social graphs) and internal data to acquire business and/or marketing intelligence.
Will significantly increase their marketability.
According to IBM, demand for Data Scientists will grow 20% by 2020. Be prepared for such jobs as data analyst, data scientist, big data architect, and analytics manager. As reported by Data Jobs.com Data Scientist salaries can range from $85,000 to $170,000 while salaries for Data Science/Analytics Manager can range from $90,000 to $240,000 depending on the number of reporting employees. And, the field is expanding.
Master of Science in Information Systems (MSIS) - A STEM Program
A career in Information Systems can be exciting and challenging. IS is a growing field with many opportunities. Salaries for IS graduates are higher than typical business majors for both Bachelor's and most Master's degrees.
The objective of the Master of Science degree in Information Systems is to provide qualified students with both a general knowledge of business and a specialized knowledge of information systems. Students are exposed to the theory, research, and practical applications of numerous information systems areas. It is a 33 hour program where students can select appropriate electives to focus in an area such as business analytics.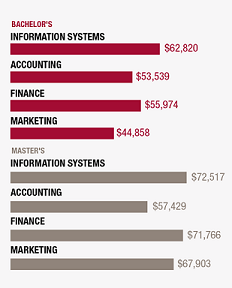 BSTAT 5325 Advanced Statistics
INSY 5337 Data Warehousing and Business Intelligence
INSY 5339 Data Mining
INSY 5377 Web Analytics or INSY 5378 Data Science or INSY 5380 Social Network Analysis
INSY 5373 Project Management
INSY 5375 Management of Information Technologies
elective hours as approved by Graduate Advisor
The MSIS program allows flexibility in selecting electives and your pace through the program. All courses are offered in the evenings on the main campus in Arlington, Texas. For more information contact the Graduate Advisor.
Ph.D. in Business Administration
The objective of the Ph.D. degree in Business Administration with a major in Information Systems is to develop scholars with an ability to teach and conduct independent research. The main emphasis in our program is to offer training in scholarly research. This is accomplished through a combination of rigorous coursework and research activities. The coursework provides fundamental knowledge in various areas of information systems, and offers insights into research topics of interest to Information System researchers. It also includes courses on research methodology and data analysis techniques. Students work closely with our world-renowned faculty members on a one-on-one basis on research projects that have wide-ranging implications for the industry and the economy. Students are encouraged to present their research results in conferences and publish their findings in journals. Students have the opportunity to gain teaching experience by independently teaching one or more classes.
We have a highly accomplished faculty that is internationally recognized for its research accomplishments. Their research interests encompass technical, managerial, and organizational issues dealing with the development, deployment, use and impact of information systems in business organizations as well as in the society. Some of the areas of current interest are: cybersecurity, social media, big data and advanced analytics, text and data mining, intelligent information systems, mobile computing and decision making, healthcare IT, IT for development, organizational knowledge management, and others. Please visit our faculty web pages to learn more about the research interests of individual faculty members.
Applicants with a degree in information systems, computer science or a related field who aspire to become college professors and researchers are encouraged to apply.
REASONS TO STUDY INFORMATION SYSTEMS AND OPERATIONS MANAGEMENT
In-depth, technical expertise to stress a holistic view of data
Think big…data analysis
Think broad…web and social media
Think smart…machine learning
Go deep… in technical expertise
Go wide…in a variety of applications
Go strong…relevant to a diverse industry set
WANT TO LEARN MORE ABOUT INFORMATION SYSTEMS AND OPERATIONS MANAGEMENT?
Contact your academic advisor to schedule an appointment.
Meet Your Advisor
Take the next step
Claim your place among the brightest minds working today.