Welcome from the Dean:
Welcome to the College of Business at The University of Texas at Arlington!
Located in the heart of the most economically vibrant centers of the United States, the College of Business provides students a world-class business education in a diverse learning environment that better prepares students for the business world they will enter post-graduation. Our commitment to excellence in academics, research, teaching and service to students, combined with a unique real-world approach to business education creates a dynamic learning environment that transforms student lives through knowledge.
Our College offers students a full range of business degrees, certificates, and programs spanning from undergraduate to the doctoral level, from accounting to supply-chain management and an extensive number of graduate and undergraduate degree programs in between. Our dedication to student success ensures students are continuingly challenged intellectually and, combined with highly ranked programs that employ the latest technology and best practices in teaching, ensures our students are equipped with the skills and competencies today's businesses demand. Whether through internships, study abroad opportunities, mentoring or learning real world investment management at the state-of-the-art Sam Mahrouq Financial Markets Lab, our students practice and explore the leading-edge business concepts in a real-world setting.
The College is committed to developing the business leaders of tomorrow by offering robust programs specifically designed to amplify a student's leadership capabilities. Through our Goolsby Leadership and RISE academies, students are prepared to lead their generation through the myriad of challenges of an ever-changing and evermore complex world.
Our Goolsby Leadership Academy invigorates conventional learning by challenging students to be problem solvers and ethical leaders. Through engagement with business leaders, both in and outside the classroom, Goolsby has become known as a launching pad for business executives. Through the newly established RISE (Resilience, Integrity, Selflessness, Excellence) Academy, students from underrepresented demographics learn to lead by understanding decision-making as it relates to diversity, racial equity, and inclusion; develop strong emotional intelligence skills; build critical-thinking skills; and participate in internships and mentoring opportunities with industry leaders.
UTA's College of Business values the diversity of our student body and is committed to providing an environment of inclusiveness so that all students, no matter their race, religion, physical or mental abilities, sexual orientation, gender identity, familial structure, or socioeconomic status can thrive to become the best version of themselves.
Now is a unique and exciting time at the College of Business and I look forward to welcoming you to the next step on your journey of educational and personal transformation.
Go Mavs! Harry M. Dombroski, Dean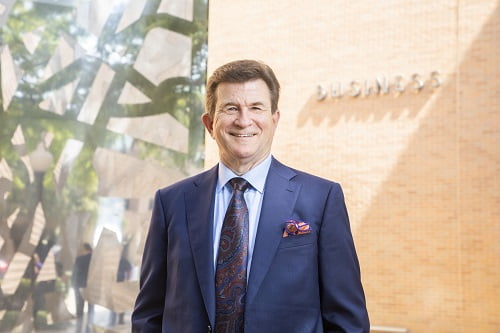 Dean Dombroski
Harry Dombroski, UTA Alumnus (1979) and longtime executive with Hunt Oil and Hunt Consolidated, was named dean of the UTA College of Business by President Vistasp Karbhari and Provost Lim.