Welcome from the Dean:
Welcome to The College of Business at The University of Texas at Arlington. Located in the middle of one of the most economically vibrant centers of the United States, the College of Business provides students a world-class business education at a cost that makes it an extraordinary value. Our dedicated faculty and staff combine extensive academic and research credentials, excellence in teaching, a real-world approach to business and a commitment to student success to create a dynamic learning environment that transforms lives through knowledge.
The College of Business is committed to developing tomorrow's leaders from one of today's most diverse student populations in the United States. While other universities discuss diversity in terms of future goals to be achieved, students at the College of Business are prepared daily for the challenges and endless opportunities of working in an increasingly diverse business environment.
The College of Business offers students a full range of business degrees and programs. From accounting to data analytics, and everything in between, the College of Business provides students with intellectually challenging and highly ranked programs to begin their journey of success.
In today's increasingly data driven world, future business leaders will be required to integrate big data, artificial intelligence, and machine learning into tomorrow's business environment. As such, data and business analytics are a core focus of the College of Business. We provide not only specific course offerings in business analytics, but also integrate analytics and advanced technology throughout our curriculum.
The state-of-the-art Sam Mahrouq Financial Markets Lab provides students interested in the financial markets access to the latest business software and hardware and real-time data, up-to-the-minute analytics and information covering virtually every asset class, spanning companies, industries, markets, countries and regions. Students can practice and explore the concepts they are learning in textbooks and study best practices in a real- world setting.
Despite the recent hardships imposed by COVID-19, this experience has nonetheless provided us significant insight in developing an array of learning modalities which, in the coming years, will enhance student education by allowing students to select the modality that best fits their learning preferences and personal schedules. Just as COVID-19 has changed the way we all interact, the College of Business is also changing and adapting.
One thing that the pandemic could not change is the quality and the work ethic of our students. Despite the challenges posed by COVID-19, our chapter of Beta Gamma Sigma, the international business honor society, again earned HIGHEST HONORS status for the 2019-2020 academic year, the highest distinction possible for BGS chapters.
Additionally, our Goolsby Leadership Academy welcomed its 17th cohort this fall. The Academy invigorates conventional learning with an approach based on leadership principles, challenging students to be problem solvers and ethical leaders. This program teaches undergraduate students how to become future business leaders by emphasizing integrity, courage, and impact. The Academy's alumni work at Goldman Sachs, BNSF, Lockheed Martin, as well as own their own businesses.
I know that we will come together again to have face-to-face interactions. Our business student Mavericks will continue to be successful in the classroom and in their chosen professions. The faculty will continue to provide outstanding educational opportunities. Our alumni and friends will continue to provide support to our students and to the College of Business. Until that time when we can be together in person, take care of yourself, take care of your families, and if you can, take care of someone else.
Mav up,
Harry Dombroski, Dean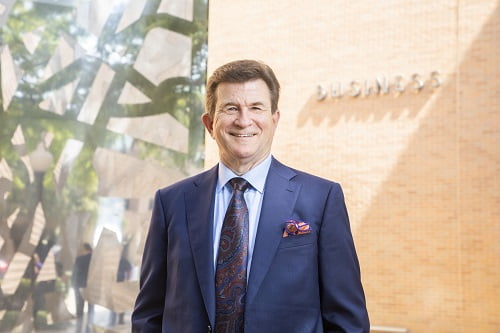 Dean Dombroski
Harry Dombroski, UTA Alumnus (1979) and longtime executive with Hunt Oil and Hunt Consolidated, was named dean of the UTA College of Business by President Vistasp Karbhari and Provost Lim.