Ph.D. in Business Administration
Overview
The UT Arlington College of Business has offered the Ph.D. in Business Administration degree for more than 20 years.
The college has graduated over 200 doctoral students.
The college offers high-quality, academically rigorous doctoral programs that prepare students to conduct relevant research on a wide variety of business issues.
All UT Arlington business programs, including the Ph.D. in Business Administration, are accredited by The Association to Advance Collegiate Schools of Business (AACSB). AACSB accreditation provides many benefits to the faculty and staff at its accredited schools by attracting higher quality students, providing greater research opportunities, and allowing for global recognition.
UT Arlington is classified by the Carnegie Foundation as a "Doctoral/Research University—Highest Research Activity (R1)." College of Business faculty members are active researchers, and many are internationally recognized for their scholarly achievements.
The DFW area has a population of around 5 million and is home to many Fortune 500 company headquarters. This fertile business environment provides many opportunities to work closely with companies on important business problems and research topics.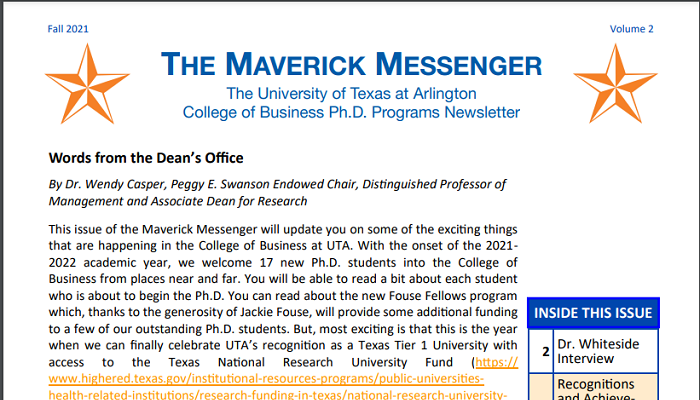 The Maverick Messenger
This issue of the Maverick Messenger will update you on some of the exciting things that are happening in the College of Business at UTA.
Major Field Seminars
– 12 Hours
Other Major Field Coursework
– 12 Hours
Research Field – 12 Hours
Dissertation Hours – 18 Hours

Contact Your Field Coordinator