Center for Innovation and Digital Transformation
The Center for Innovation and Digital Transformation (CIDT) is the bridge between businesses and digital innovation. We help organizations identify innovations that provide business value. CIDT support organizations in a variety of ways such as certificate programs, internships, and mutually beneficial research.
Mission Statement:
To help organizations pursue excellence through digital transformation.
Friend Circle
The Friend Circle is a subset of our Advisory Board that is committed to the growth and success of the Business Analytics Program at the University of Texas at Arlington. They are affiliated with the annual Business Analytics Symposium and have the opportunity to engage with faculty and students. We appreciate the financial support and time commitment of our Friends to ensure the success of our programs. For more information about the Friend Circle, please contact us at digital.innovation@uta.edu
Accenture Digital – Ashok Nayak - Managing Director, Applied Intelligence
AFLAC – Heather Avery, PhD – Vice President, Customer Analytics and Infrastructure
ALCON - David R. Nutchey - Director, Commercial Data & Analytics
Christus Health – Lauren Bui - Vice President, Enterprise Data Architecture & Information Management
INFOSYS - Ramesh Chougule – Partner/Managing Director
Advisory Board
The main objective of the advisory board is to provide advice on curriculum development focused on our undergraduate and graduate programs, along with general business advice. They keep us connected with the business community that we serve. We appreciate the time commitment of our board members to ensure the success of our programs. For more information about the Advisory Board, please contact us at digital.innovation@uta.edu
Ashok Nayak
Accenture Digital
Heather Avery, PhD
AFLAC
Shawn Kondratiuk
Alcon Labs
Paola Saibene
American Heart Association
Asim Syed
ATOS, Inc.
Shashi Vangala
Baylor Scott & White Health
Unni Rajendran
BNSF
Peter Healey
Buxton Corporation
Lauren Bui
Christus Health
Saurajit Kanungo
Cyber Group
Mandeep Kumar
Deep Cognition Labs
Brian White
Ericsson
Mahesh Khasyap
Kievanos
Victor Sandoval
Limitless Mobile
Eric Haney, PhD
Lone Star Analysis
Michael Gagne
Microsoft
Dilip Rane
Pepsico
Pedro Caceres
Petmate
Adam Carpenter
Pier 1 Imports
Venkat N. Rajan, PhD
ReNi Analytics, Inc.
Vidhya Balakrishnan
Sabre
Ashwin Vishwamitra
SEAD Solutions
Gavin Berry
Sogeti USA
Christopher Seil
TDAmeritrade
Chris Cook
Texas Instruments
Jeff Brown
USAA
Annual Analytics Symposium
MS BA Capstone Projects
Master of Science Business Analytics students are required to complete a business analytics capstone project in their last semester. Projects are based on real-world data provided by companies. We welcome participation from firms from any industry. Student teams will analyze applicable data sets which will help you make informed decisions, key to your business success. Dr. Sridhar Nerur oversees all projects. Contact:
digital.innovation@uta.edu
Examples of previous projects include the following:
Sentiment analysis of social media content (positive, negative or neutral)
Stock Market prediction based on time-series modelling
Text analysis of product/business reviews and how they impact performance
Predicting house prices based on historical data
Building a recommender system for movies
Predicting customer churn and recommending solutions to avoid this
Text analysis of blogs to identify common trends

Download Master of Science Business Analytics Capstone Projects

Over 100 companies nationwide have hired our students as interns.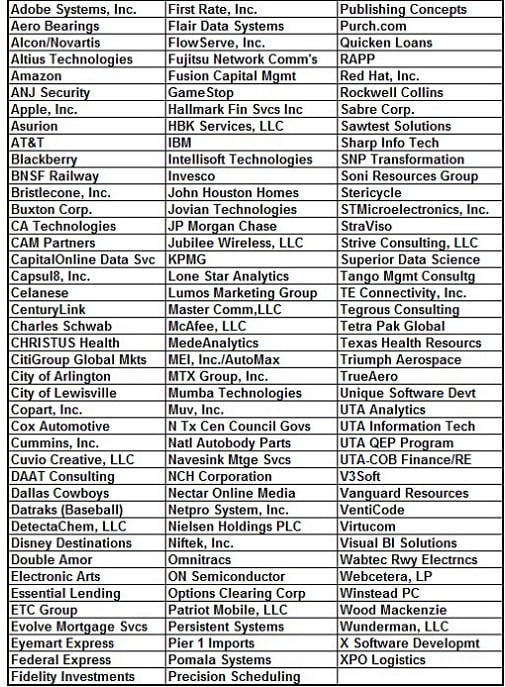 The Center for Innovation and Digital Transformation (CIDT)
Contact